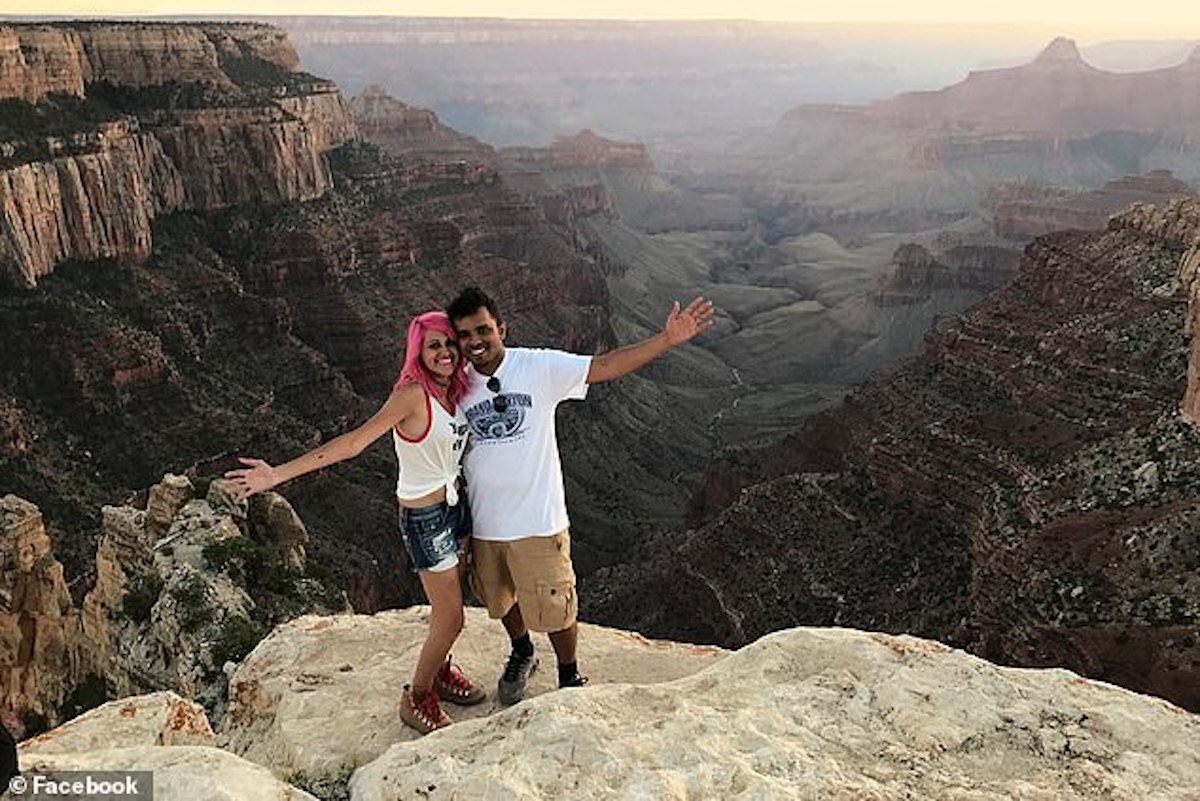 Meenakshi Moorthy and Vishnu Viswanath identified as the couple who plunged 3000ft to their deaths from 

Taft Point in Yosemite National Park. 
Officials have identified the couple that died in an apparent fall from Taft Point in Yosemite National Park as 29-year-old Vishnu Viswanath and 30-year-old Meenakshi Moorthy.
According to National Park Service spokesperson Jaime Richards, they were both Indian nationals who were living and working in the U.S.
A LinkedIn bio for Viswanath shows him working as a software engineer for Cisco in San Jose.
NBC Bay Area cited park officials who said the couple's deaths remain under investigation.

Viswanath and Moorthy appear to have shared the travel blog, Holidays and Happily Ever Afters, in which the married couple posted their musings about their world travels.
Postings told of the couple having 'wanderlust'– while also revealing Viswanath and Moorthy having been together for seven years prior to getting married.
In one musing, Moorthy described herself as an 'ardent adrenaline junkie' who wasn't scared of roller coasters and skydiving, and constantly dreaming of the couple's next trip.
The couple's blog described Viswanath being the photographer behind most of the pictures, which also appeared on their Instagram account. The couple's last social media update was October 17 with a photo of Moorthy in Vermont. They had 11,800 followers.
Viswanath and Moorthy's bodies were first spotted and reported by a tourist on October 24. Rangers then worked to recover their bodies the next day.
Meenakshi Moorthy and Vishnu Viswanath: tempted by the dare? 
In what might be its greatest allure and potential danger is the fact that Taft Point features a lookout spot from the edge of a cliff- offering visitors expansive views of Yosemite Valley, El Capitan and Yosemite Falls.
Yosemite National Park spokesman Scott Gediman says railings only exist at some parts of the overlook. Visitors can walk to the cliff's edge, where there is no railing.
Gediman says more than 10 people have died this year in Yosemite, some from natural causes and others from falls.
Last month, an Israeli teenager visiting the park fell hundreds of feet to his death while hiking near the top of 600-foot-tall Nevada Fall. The death of 18-year-old Tomer Frankfurter was considered an accident, the Mariposa County coroner's office said.
Of note the teen's death came as a result of the hiker stopping to take a selfie. An instance that has over the years led to an inordinate amount of deaths to unwitting social media users seeking to outdo and validate their social media following.