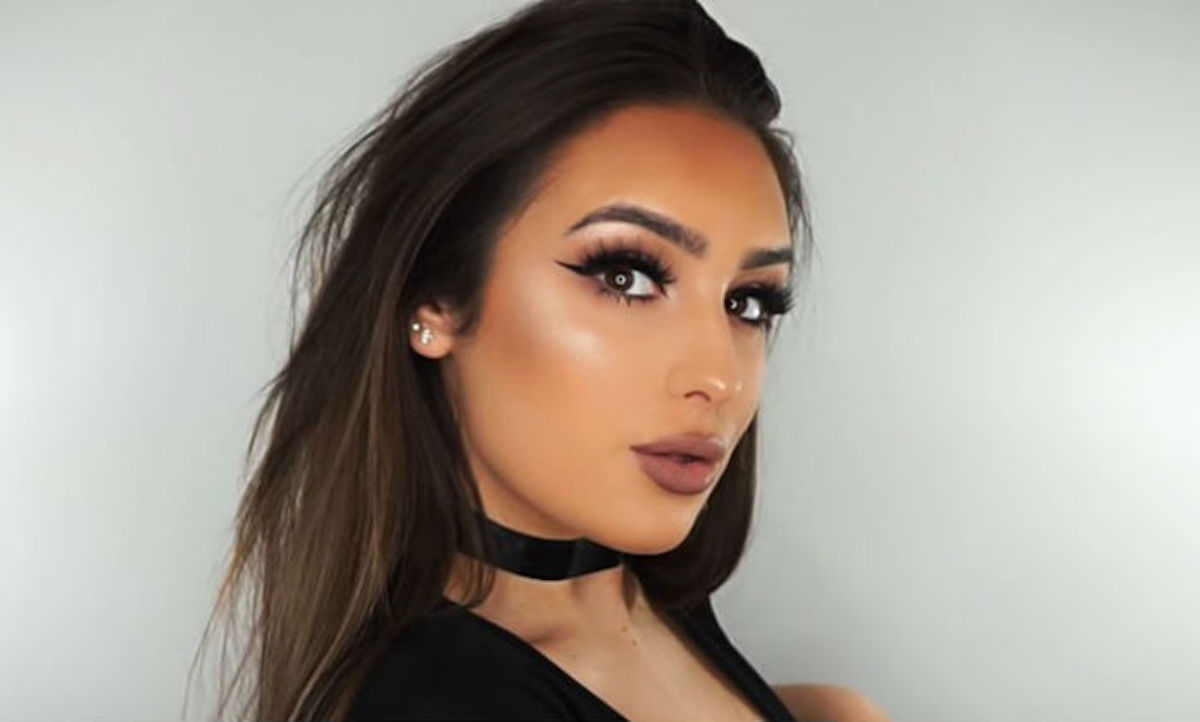 Best Makeup Tips for Black Dress! The must have necessary fashion staple of every woman comes with rules, suggestions and tips for accentuating all round beauty. 
Little black dress is a necessary element in the wardrobe of every woman. Black is a color that looks good on everyone, and the black dress can serve as a solution for all kinds of occasions. It can be worn for a meeting, party, formal occasion, and casual promenade. All you need to do is change your shoes, accessories, and makeup-your black dress will work for any circumstances.
If you have a black dress in your wardrobe and if you are confused about the makeup that you can wear it with, don't worry: we have created a list of 10 best makeup tips that will help you create the perfect image with your black dress.
1. Wear Bold Red Lips
The first tip is to wear red lipstick. Yes. Nothing looks better with a black dress than red lipstick. Use the shade that suits you the best. Make sure you line your lips with the pencil before applying the lipstick so that it stays on your lips for a longer time.
2. Go with a Smokey Eyeshadow
The smoky eyeshadow looks fabulously with a black dress. It will give you a mysterious look that will compliment your dress perfectly. You can do the all-black smoky, or you can add some colors to your eyeshadow to make your look even more unique.
3. Concentrate on One Part of the Face
If you are applying a bold eyeshadow, keep your lips neutral, and if you are going for the red lips, keep your eyes neutral. There are only a few people who can wear both bold eyeshadow and lips, but it is quite challenging to make it look perfect. So, it is better to stay safe and focus on one part of the face only.
4. Metallic Shades
Black looks best with golden or bronze shades of makeup. So try and apply makeup that has these shades. The bronze and gold can be used in highlighter, lipstick, blush, and eyeshadow. If you are a cool-toned person, you can also try out silver.
5. Apply Bold Winged Liner
Winged eyeliner goes with all kinds of looks. With a black dress, you can either go with a thick winged liner or with a thin one. For people looking for a neutral look, a thin liner is best. The ones who are looking for an evening look can apply the liner generously. Additionally, you can use other colors for an eyeliner, for example, brown, dark-blue, or olive.
6. Keep the Brows Natural and Bold
Brows need always to be a priority while applying makeup. It is better for you to keep your eyebrows natural-looking. This does not mean that you will not apply brow product and fill your eyebrows. Just pick a shade that is most similar to your actual brow color and use feather strokes to apply the eyeshadow. Make sure that you apply the brow product in the direction of the hair growth.
7. Apply Blush Depending on the Time
Blush application should depend on the time of the day. During the day your makeup is easily visible due to the natural light, and you should consider applying a lighter shade of blush. However, if you are going for a night event, you should apply a blush that is brighter than the one you used during the daytime. You can also opt for the shimmery blush in the night. If you do not want the blush to stand out much, apply it under the foundation, and it will look like you are glowing from within.
8. Don't Go with Contrasting Eye Shadow
The contrasting eyeshadow can completely ruin your look. Although black looks good with all the colors, the eyeshadows that are too bright (such as neon-pink, blue, or yellow) can do you a disservice. Try doing 'smoky eyes' and add just a bit of color to the black eyeshadow.
9. Choose the Foundation Coverage Carefully
The coverage of the foundation is one of the most significant factors in deciding the look that you are going for. So, if you are going for an event in the night, apply a full-coverage foundation. If you are going for a day event, it is better to apply sheer foundation so that you do not look too made-up. Additionally, you should also check the amount of contour you are using. The heavy contour is suitable for the night, and the lighter one is for the daytime.
10. Take a Chance with Neutral Makeup
Some people prefer to go with the bold makeup look with their black dress, but if you are not going for some special event, you must consider a more neutral look. Some eyeliner, nude eyeshadow, and peach or pink shade of nude lipstick will do the job. You can apply light-colored blush and sheer foundation. If you want to use the neutral look for a party, instead of nude eyeshadow, try to do smoky eyes.
These are some of the tips that you can consider while doing your makeup. You can buy all the makeup products on some online websites.
Fabulive is a website that is safe to buy makeup products. Here you will find a massive collection of products that can be used for different looks. Another reason for selecting Fabulive is that it offers videos from the makeup artists who share their work. You will be able to find some of the most amazing images that can be teamed up with your black dress.You can look much more attractive with the help of these tips. Also, don't forget that the smile is the best makeup you can wear. So, keep smiling and use these tips to shine!