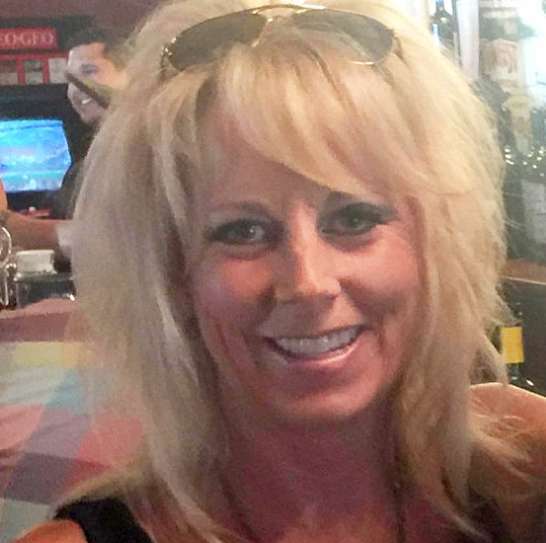 The body of Christine Lewis a Visalia, Tulare County, California woman who was one of four missing is found following 

Colorado River boat crash. 
Rescuers have identified the body of a missing California woman who was among four people missing after two boats crashed on the Colorado River, Saturday evening.
The deceased boater was identified as Christine Lewis, 51, a nurse at Kaweah Delta Medical Center in Visalia, California. The Mohave County Sheriff's Office said the Tulare County woman was located downstream of Topock, Arizona, near the California border just on 7.30am.
Rescuers have yet to locate the other three missing individuals, two women and a man. They are presumed dead.
Foxnews reported nine people injured in the two boat crash, two of them critically, when the recreational boats collided head-on and sank around twilight Saturday between Pirates Cove and Topock Marina near Moabi Regional Park.
All 16 passengers, 10 on one boat and six on the other, were either thrown or jumped into the rushing river, which was crowded with holiday weekend boaters, with 12 being accounted for following rescue missions. Each of the boats that crashed had a mix of family and friends from out of the area, some of whom were rescued by passing boaters. 
Colorado River boat crash missing victims feared dead after first victim body found.
Brian Grabowski, Kirra Drury & Raegan Heitzig feared dead after Colorado river boat crash
Colorado River boat crash leaves 4 missing, officials say https://t.co/CkuH0kFPCV pic.twitter.com/VFoY3A01Zj

— Fox News (@FoxNews) September 3, 2018
Colorado River boat crash: Did speeding play role?
Sheriff's Office spokeswoman Anita Mortensen come Monday said investigators had yet to determine what role speed might have played in the accident.
'We haven't come up with anything on contributing factors yet,' she said. 'Once (the missing) are located, then we can continue pursuing that information.'
An emergency dispatcher report cited both boats traveling at around 50 mph when they collided.
More than 60 crew members from Arizona and California resumed their search at sunrise Monday, tracking their progress with a computer program that mapped the riverbed. They headed out again after lunch and planned to continue their pursuit until it grew dark. 
Two helicopters searched by air, and divers were sent out into the river's waters, which can range from shallow to 30 feet deep.
No one on the boats was wearing a life vest, Mohave County Sheriff Doug Schuster said, adding that use of life vests is not mandatory but is recommended.
The sheriff's office said it would continue to patrol the river 'until all the unaccounted for passengers are located.'
#BREAKING Tulare County Woman killed in Colorado River boat crash where 3 are still missing, 9 injuredhttps://t.co/NQeyRiqbMb pic.twitter.com/3SX8q4GEbf

— ABC30 Fresno (@ABC30) September 3, 2018
Family members confirm Brian Grabowski (left) is among the missing after a boat crash on the Colorado River Saturday. A few years ago, the ocularist created a prosthetic eye for a Sanger gunshot victim. Two others also missing. @ABC30 pic.twitter.com/sLvUGh0sWo

— Brian Johnson (@BrianABC30) September 3, 2018