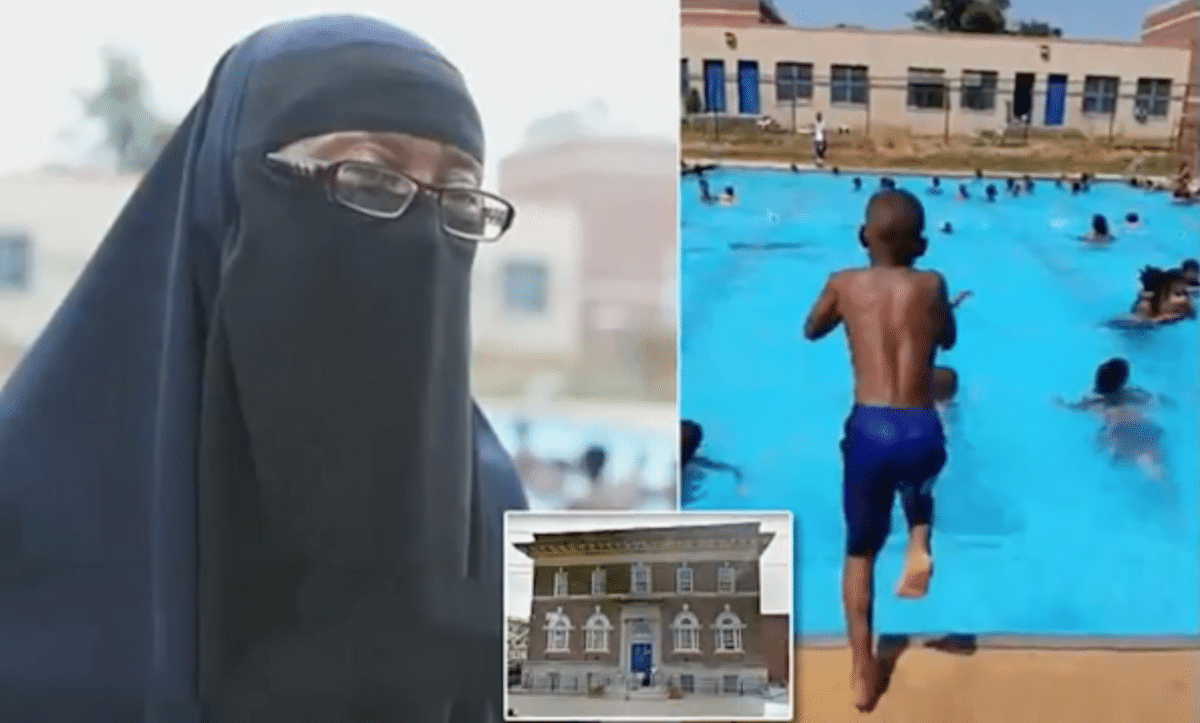 Tahsiyn Ismaa'eel- director of Delaware's Darul-Amaanah Academy claims her Muslim children charges are being thrown out of a Wilmington public pool because of traditional clothing, including hijab. 
A Wilmington, Delaware public swimming pool has come under scrutiny following allegations that Muslim children were forced to get out of the water because of their 'traditional' clothing.
The claim follows Tahsiyn Ismaa'eel, a director of a summer Arabic enrichment program, who told of recent disconcert upon taking some of her charges to the Foster Brown public pool in Wilmington.
According to Ismaa'eel, some of her campers were asked to leave the pool on June 25 because they were wearing cotton shirts, shorts and headscarves. It was one of four incidents according to the organizer of the children being forbidden from entering the pool on account of their clothing, which is part of their religious observance.
Which raises the awkward question at what point can a religious individual/entity ask society to adhere to their religious doctrines even in the face of hygienic and general swimmer protocol?
'We were harassed on four separate occasions,' the religious woman who is the owner and principal of the Darul-Amaanah Academy and director of its summer program told via nbcphiladelphia. 'She tapped several of them, like four little girls, tapped them and told them to get out of the pool.'
Intimating that the pool is pursuing discriminatory practices, Ismaa'eel said that the rule against wearing cotton in the pool wasn't published anywhere and was being enforced with prejudice towards her children.
Told Ismaa'eel who wears a hijab with a niqab covering her face, via delawareonline, 'If it's a policy I said it has to be posted and it has to be applied across the board and not arbitrarily'. 

'At the same time, there are other kids with cotton on. … I asked, 'Why are my kids being treated differently?"
Muslim swimmers asked to leave public pool in Delaware https://t.co/JHsPvN48li pic.twitter.com/f7Kazpa9S2

— 11Alive News (@11AliveNews) July 15, 2018
Wilmington Mayor, 'we were wrong'. 
An official in Mayor Mike Purzycki's office initially responded saying cotton posing a safety risk because it becomes heavy when wet and because it strains the pool's filtration system. 
Come Saturday however, Mayor Purzycki sent out a statement saying it was 'wrong of the City to ask children of the Muslin faith to leave a City pool because of religious-related clothing they were wearing.'
The mayor said the city used poor judgment in how they assessed and reacted to the situation.
'We should be held accountable for what happened and how poorly we assessed this incident,' Mayor Purzycki said. 'I apologize to the children who were directed to leave a city pool because of the religious-required clothing they were wearing. We also referred to vaguely-worded pool policies to assess and then justify our poor judgment, and that was also wrong.'
The mayor said he hopes to meet with the children and their camp director soon so that he can address their concerns and apologize directly. He also assured residents that religious-related garb is allowed in Wilmington pools.
Ismaa'eel said she was happy about the mayor's statement.
'I want to show the kids that you persevere,' she said. 'You don't quit.'
Everyone in Delaware needs to show up to this pool in cotton clothing tomorrow. https://t.co/ipUPGe9ORW

— B'Elanna Torres (@belannaresists) July 15, 2018
Muslim community director: 'A condition of constant anxiety'
Despite the Mayor's about turn face, Naveed Baqir, the executive director of the Delaware Council on Global and Muslim Affairs went on to note that Muslims have long encountered problems at public pools, with many who can afford it electing to buy memberships at private pools known to be Muslim-friendly.
'Long ago, we just gave up on the public pools,' told Baqir via delawareonline, recalling one incident in which he was asked to leave a facility after seeking to swim with his legs covered. 'For my own children, I'd rather pay the money and be treated like everyone else rather than putting myself in an anxiety situation.'
And then there were these responses on the web that made this author wonder, see what you think?
'Every pool has dress requirements – it isn't a racist or anti-religion thing, but a health and safety thing. No one should go into a public pool wearing street clothes – even the private/club pool have these rules. Why is everyone pretending that they've never heard of such a thing?'
'Orthodox Jews already do and are accommodated in Brooklyn and other communities.'
'It is the immigrant's responsibility to assimilate to America, not the reverse.'
'The topic is not immigration but the freedom to express one's religious beliefs.' 
'Racism – alive and well in Delaware. Ignorance abounds.'
'I find it funny that we are supposed to be respectful and accepting of a religion that is the least respectful and accepting to other religions.'