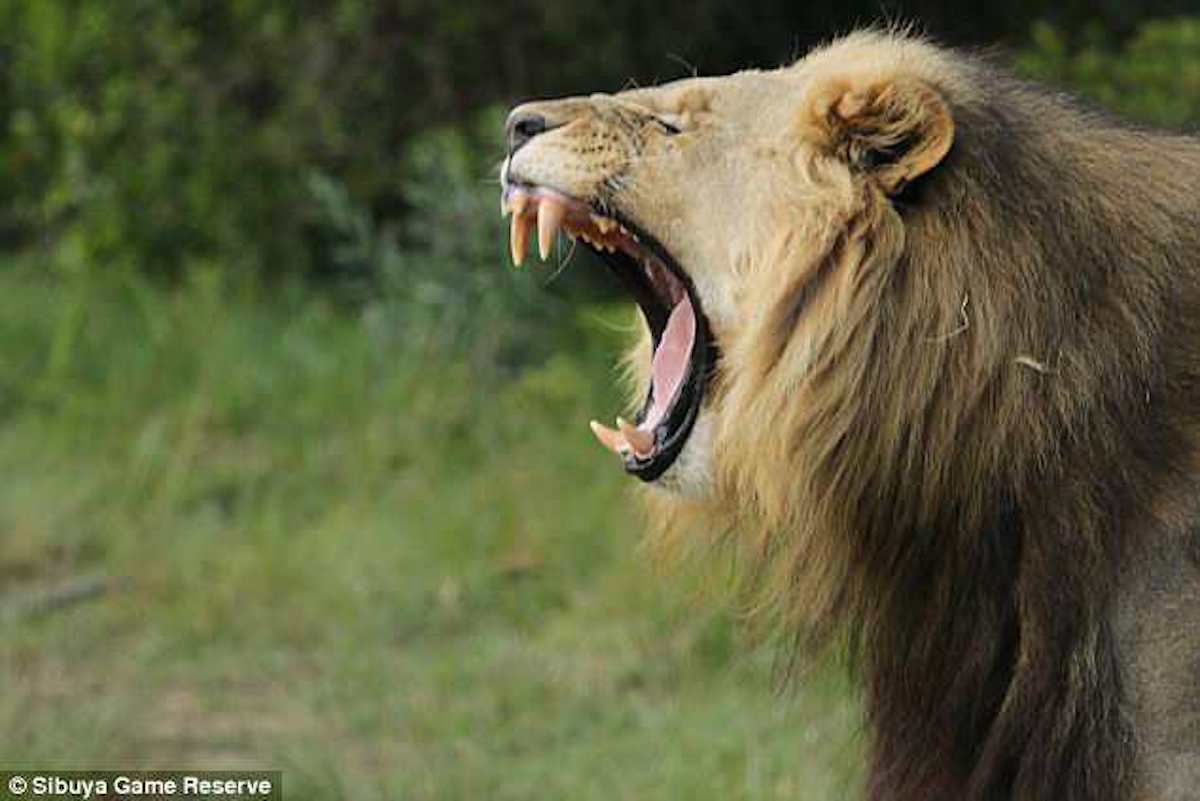 Sibuya Game Reserve poachers mauled by pride of lions hunting rhinos as rangers come across body parts belonging to at least three hunters.
Karma might exist after all. Three poachers have been killed and eaten by a pride of lions after breaking into a South African game reserve with the intent of poaching rhinos for their ivory horn.
South Africa's Herald Live, reported the hunters being 'torn to shreds' by the pride at the Sibuya Game Reserve in Kenton-on-Sea. Notice of the mass mauling came Tuesday when staffers came across scattered, charred Hunan remains, including a head and limbs.
'The lions are our watchers and guardians and they picked the wrong pride and became a meal,' said Nick Fox, 60, who owns the reserve via the Daily Express. 'Whilst we are saddened at any loss of life, the poachers came here to kill our animals and this sends out a very clear message to any other poachers that you will not always be the winner.'
A helicopter was called in to search for more poachers but none were found.
'We found enough body parts and three pairs of empty shoes which suggest to us that the lions ate at least three of them but it is thick bush and there could be more,' Fox said.
Also recovered were hunting rifles and axes, proof according to game personnel that the illicit hunters were after the threatened species.
'They were armed with high-powered rifles with silencers and an ax for the horns and wire cutters and sidearms and they had enough food with them to last for many days,' noted Fox. 'They were clearly intent on killing rhinos and cutting off their horns.'
Police were working on determining exactly how many poachers were killed and whether they've struck before.
'We do not know identities but firearms have been taken by the police and will be sent to the ballistics laboratory to see if they have been used in poaching before,' said police spokeswoman Capt. Mali Govender.
Poachers have broken into the popular 30-square-mile reserve in the Eastern Cape before.
By Wednesday, six lions in the area were tranquillized as police patrolled the area to establish if there weren't any more poachers.
Sibuya Game Reserve poachers mauled: Hunters unfazed as slain rhinos remains high.
In 2016, three rhinos were killed when poachers sneaked into the park, shooting them and cutting off their horns.
The poacher's deaths follows an incident last week at Kragga Kamma Game Park where, Bella a rare white rhino was killed for her half inch ivory horn. The attack left the female rhino's youngest calf wailing as it desperately sought to feed off its dead mother.
Nine rhinos have been killed with high-caliber hunting rifles at Eastern Cape reserves so far this year.
Of disconcert, conservation group, Save the Rhino, cited poaching incidents in South Africa increasing drastically in recent years, with 2014 recording an astounding 1,215 incidents – a steep climb, considering that only 13 rhinos were killed just seven years prior in 2007.
The numbers remain high, with 2017 1028 recorded incidents of rhino poaching.
In total, over 7 000 rhino have been killed in South Africa over the past decade.
Bella white rhino mother killed for half inch horn