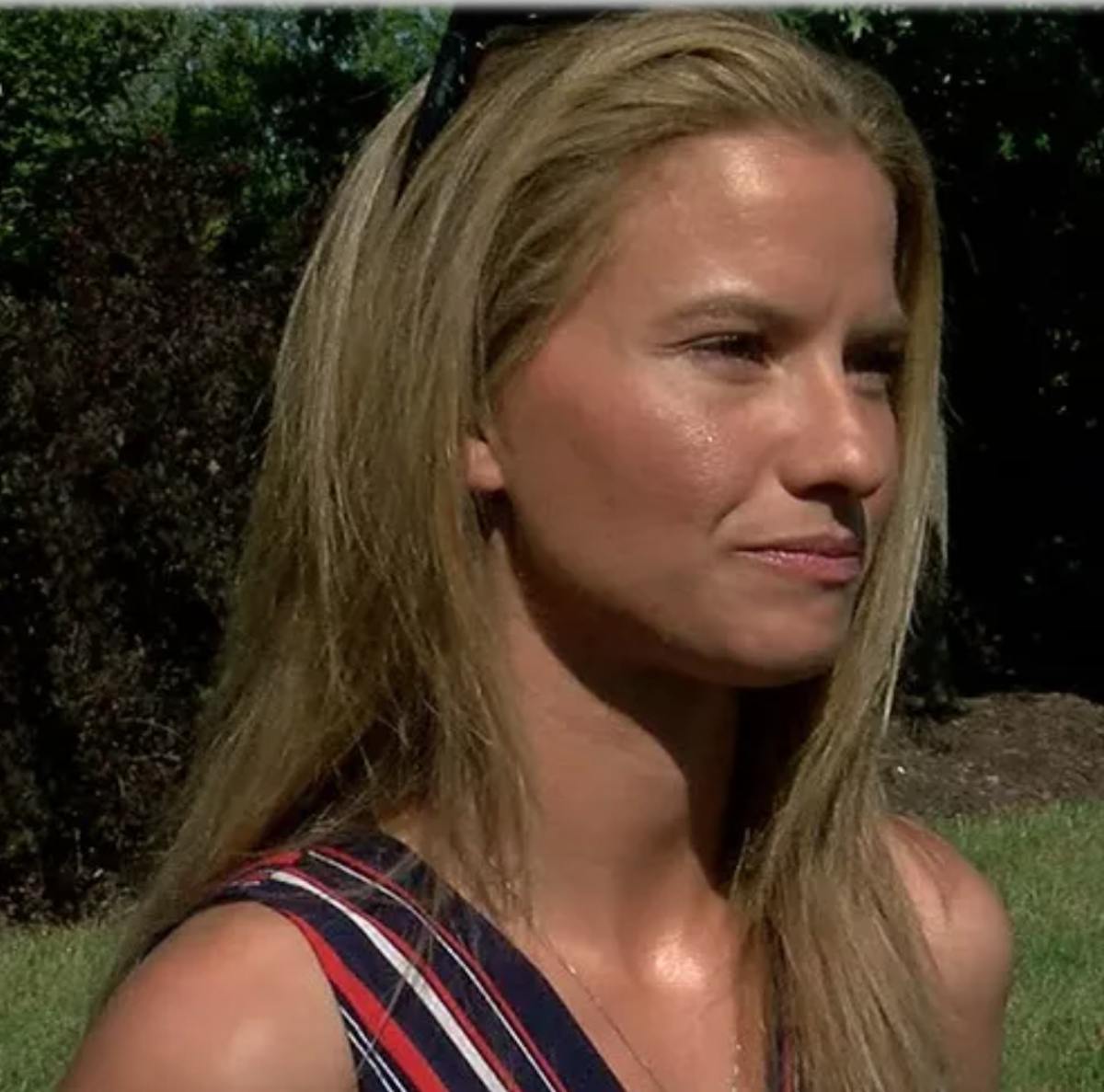 Melissa Bergman, Mason, Ohio woman and former Army vet admits going on stealing spree cause she was bored and mentally unhinged. 
A suburban Ohio mother of two young children who went on a two day crime spree last summer has admitted to her erroneous ways on account of being bored. 
The confession follows, Melissa Bergman, 30, who lived in a $470K house in Mason going on a robbery spree in July, 2017 following the women saying she lacked excitement in her life.
Following her guilty plea, cincinnati.com reported the woman on June 13 being found guilty of 12 misdemeanor theft charges after making off with more than 28 packages.
The bored house-wife-mom's crimes involved the woman committing a swath of thefts over the two days which will likely now see her having to serve jail reported WLWT. Which is a backhand way of saying the foreseeable future ought to be 'very interesting' and 'very exciting'.
'I felt like my life was going nowhere,' Bergman said. 'I felt like I had nothing to look forward to in life.'
But there's more than meets the eye. Bergman, an army veteran told of landing in hospital that summer after a suicide attempt.
Days after her release, she found a delivery mistakenly mailed to her home. She returned the package to the rightful recipient at their house, but noticed there were several other deliveries seemingly disregarded on the doorstep.
And that's when the 'bored' and 'existentially' challenged house wife- mother hatched her plans.
'I'm like, 'Oh he doesn't want these,' so I took one, and I put it in my car,' Bergman said.
Bergman conceded the act led to her feeling a certain thrill following her opening the stolen packages.
'It's not like I was selling it, not like I needed it,' she told via WLWT. 'Just the excitement of looking to see what was in that box and knowing, ya' know what, 'Since he didn't want this item, this item can be donated to someone that actually really needs it,' and that was the thought that went through my head.'
But that was just the beginning….
Mason Ohio bored housewife porch thief, 'how I destroyed my life'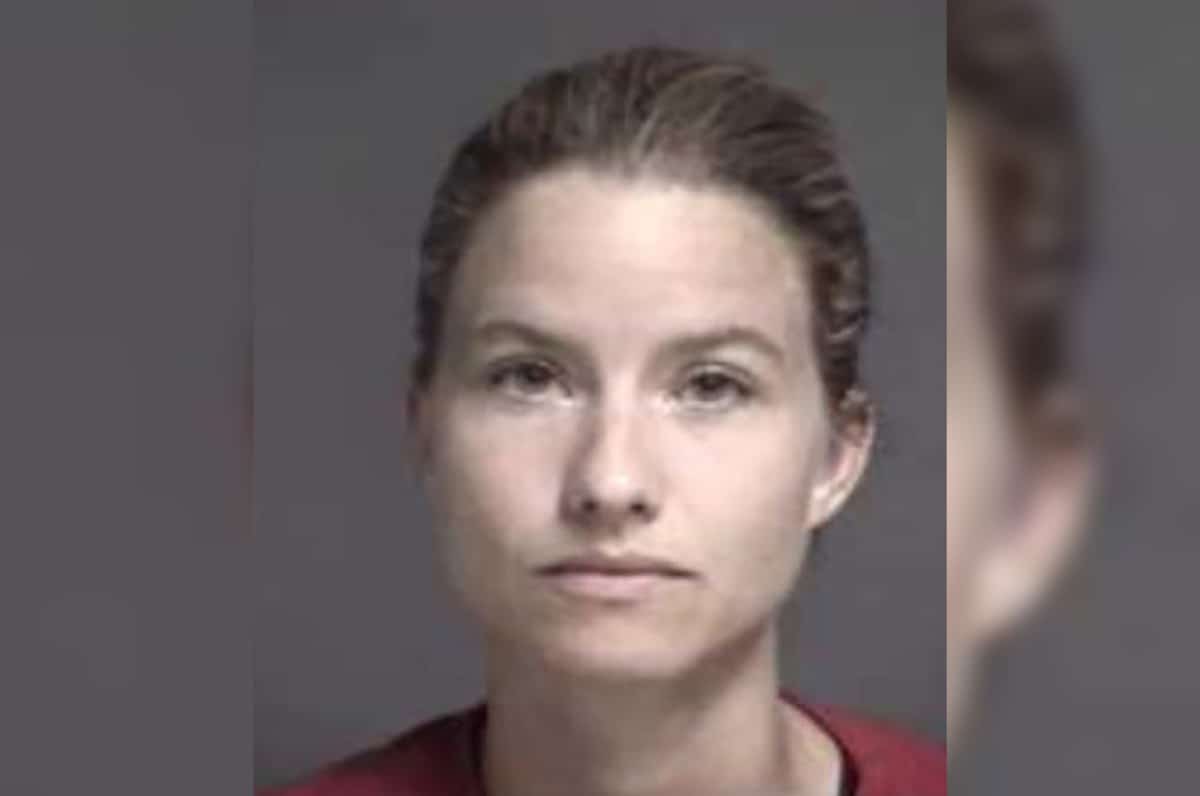 Melissa Bergman, Mason, Ohio housewife: 'That's when the urge got worse'.
If only it was opening unwanted or disregarded packages. It wasn't long before Bergman's robbery escapades escalated.
Told the army vet in search of adventure and a new identity, 'That's when the urge started getting worse and worse and worse, and I couldn't control it'. 
Within two days the mom said she drove her minivan to a dozen homes with her two children in tow, stealing more packages off porches.
She said that she later consulted a psychologist who suggested that her service in Afghanistan may have played a role.
'He's, like, 'Melissa, you were doing so much at one time and then it just stopped. So you doing this, gave you that excitement that you once had back in Afghanistan.' You got excitement out of this just like you did in Afghanistan, but it was a different type of excitement,' Bergman said.
The mom was found guilty last month on 12 misdemeanor theft charges. She was ordered to serve 30 days in jail for the crimes.
As part of her defense, Bergman included the testimonies of two psychologists due to her plea of not guilty by reason of insanity, according to a news release from Mason Municipal Prosecutor Bethany Bennett.
Bergman's mental illness 'did not prevent her from knowing the wrongfulness of her actions,' the court decided.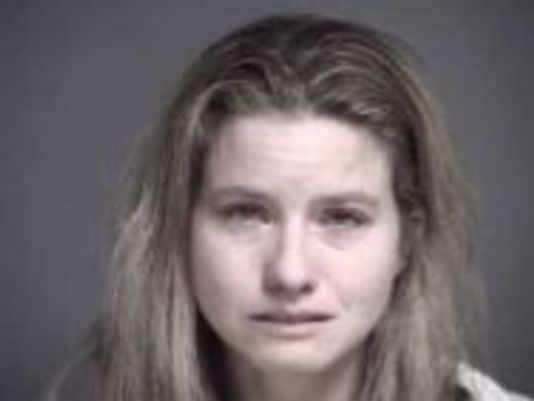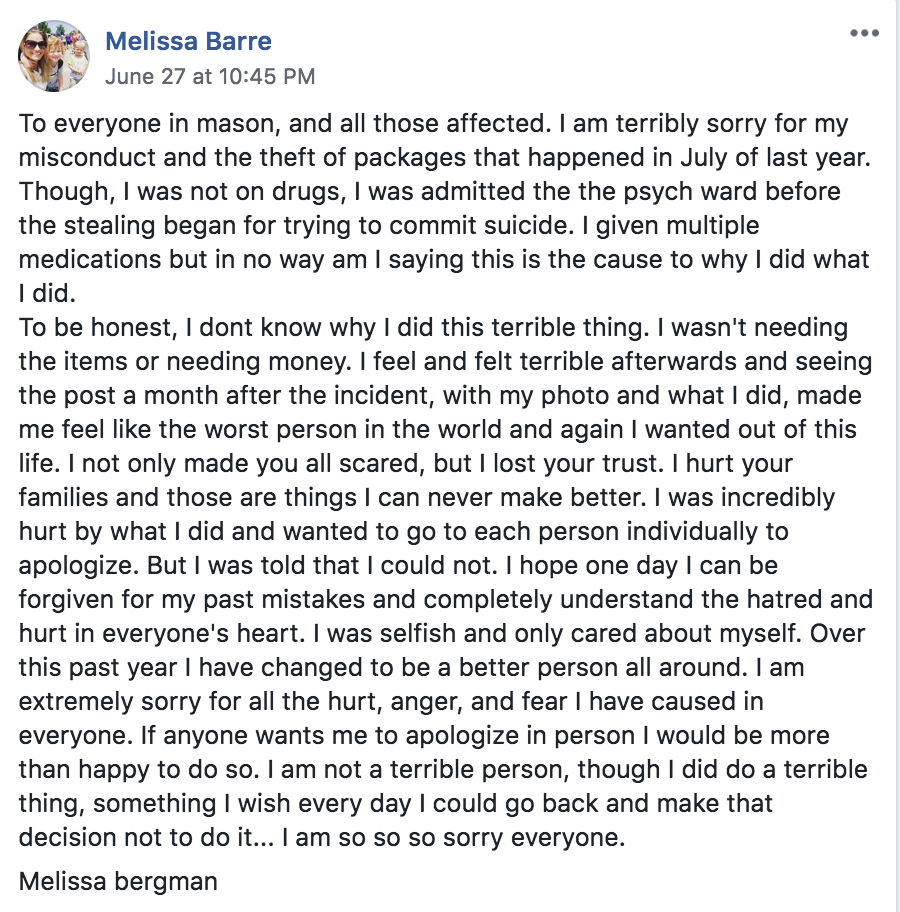 Melissa Bergman, Mason, Ohio housewife: 'Will you forgive me?'
So mortified has Bergman become over her crime spree, the Mason, Ohio housewife, using the facebook name of Melissa Barre recently posted how sorry she was and had sought forgiveness from the community reported WTOL.
Posted the woman in part, 'To everyone in mason, and all those affected. I am terribly sorry for my misconduct and the theft of packages that happened in July of last year. Though, I was not on drugs, I was admitted the the psych ward before the stealing began for trying to commit suicide. I given multiple medications but in no way am I saying this is the cause to why I did what I did.'
Adding, 'To be honest, I don't know why I did this terrible thing. I wasn't needing the items or needing money. I feel and felt terrible afterwards and seeing the post a month after the incident, with my photo and what I did, made me feel like the worst person in the world and again I wanted out of this life.'
Melissa Bergman also has other crime adventure with stolen credit cards too: 
Along with Bergman's July, 2017 'exciting' crime spree, the bored housewife harbored other secrets, including being convicted of grand larceny in the past, set to appear in court for another robbery case in a neighboring county along with previously being arrested across three states in the past decade under four different surnames for shoplifting, larceny and theft.
But we will save the best for last….
Of note, the 'bored' suburban housewife's crime spree preludes an incident in November, 2017 which involved the woman allegedly illicitly using a man's credit cards whom she had met at a local hotel bar and having sex with him only to run up charges to the tune of $2900 ($2600 for a vacation and $300 on a Walmart shopping spree) before the man realized the following day he had been duped. No court date has yet been set for that case. The woman's husband has since filed for divorce.