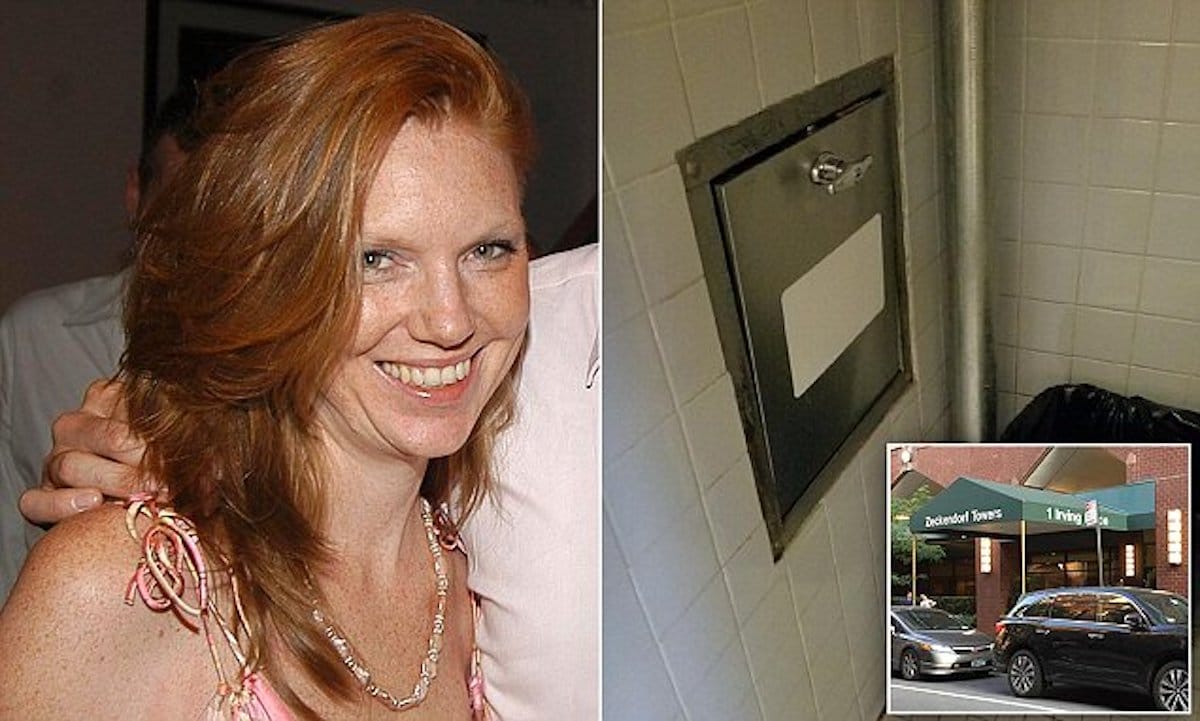 How did Lara Prychodko a resident at NYC's 

Zeckendorf Towers come to fall down 27 floors to her death? Was last seen staggering drunk 30 minutes prior. 
A woman who was found crushed to death at the bottom of a trash chute at an upscale Manhattan apartment building is believed to have slid 27 stories after becoming drunk.
Identified as the victim was 48 year old mother of one, Lara Prychodko, who resided at the tony Union Square, Zeckendorf Towers.
The nypost reported Prychodko being last seen alive on surveillance video at 4:20 p.m. Tuesday following her stumbling in a stupor from an elevator on the 27th story. 
Not immediately clear is how the woman was able to get into the chute or why she may have sought to. Some 30 minutes after being seen on video, a maintenance man found Prychodko's body 'crushed from multiple angles' in the compactor, according to cops.
Security footage also shows Prychodko walking into the apartment building shortly before she was found inside the machine, PIX11 reported.
Police are now looking at the woman's purse, which the mother of an eleven year old son had left behind on the building's 27th floor in a bid to garner further clues.
Cops told of not suspecting foul play, as the woman was alone when she was seen on video 'staggering' from the elevator. It wasn't immediately clear if the woman may have sought 'at the moment' to kill herself on purpose.
Wondered one commentator on the web, 'I doubt if the woman would have been capable of climbing through that opening by herself. Either she was rendered unconscious and forced through, or she was already dead when she was pushed in.'
Of note, the nydailynews reported on Wednesday the woman's death now being treated as a homicide. It remained unclear if the woman was already dead prior to landing down the chute.
The city medical examiner was set to determine how Prychodko died.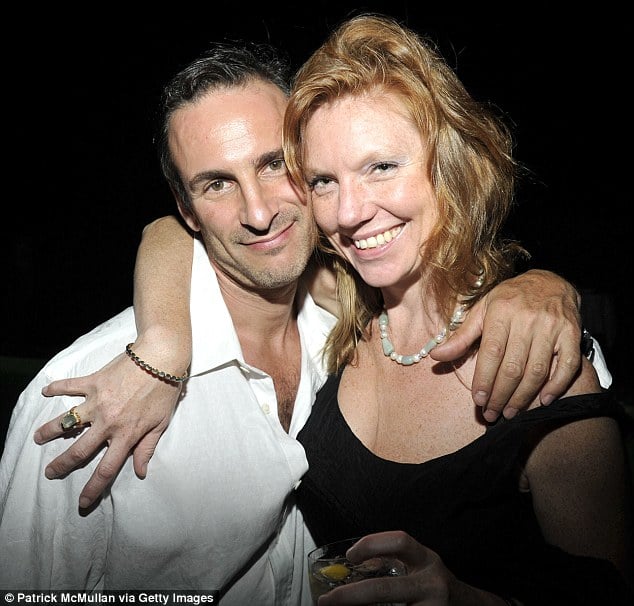 Lara Prychodko: A history of being publicly drunk.
Prychodko had moved to the building at 1 Irving Place about two years ago, after splitting from her husband of 13 years, David Christopher Schlachet, who owns a Manhattan construction company called Taocon, Inc.
According to the dead woman's LinkedIn page, Prychodko had worked for about 10 years as a marketing manager for WebMD until 2013. 
She filed for divorce from Schlachet in 2014, with a legal battle between the two still unresolved, according to court records. It remained unclear what led to the former couple calling it quits on their marriage.
The couple had been married in 2003 in Prychodko's native Canada, according to a New York Times wedding announcement. The couple went on to have a son.
A source at an apartment in Chelsea where the couple once lived said he saw the son and father Tuesday morning, hours before police confirmed the victim's identity, and they were 'acting normally.'
'He wasn't like sad or anything.'
Following the woman's death, the post reported at least two residents of the Chelsea building saying the former wife 'appearing' to have a drinking problem, as they regularly saw her stumbling drunk when she used to live there.
'She would come home drunk. Like, she couldn't walk. I don't remember a specific time, but I remember many times [more than once a week] . . . this was about three years ago,' a source told via the nypost.
Residents of the Union Square building where the woman lived said she had only lived there for a short time and wasn't well known.