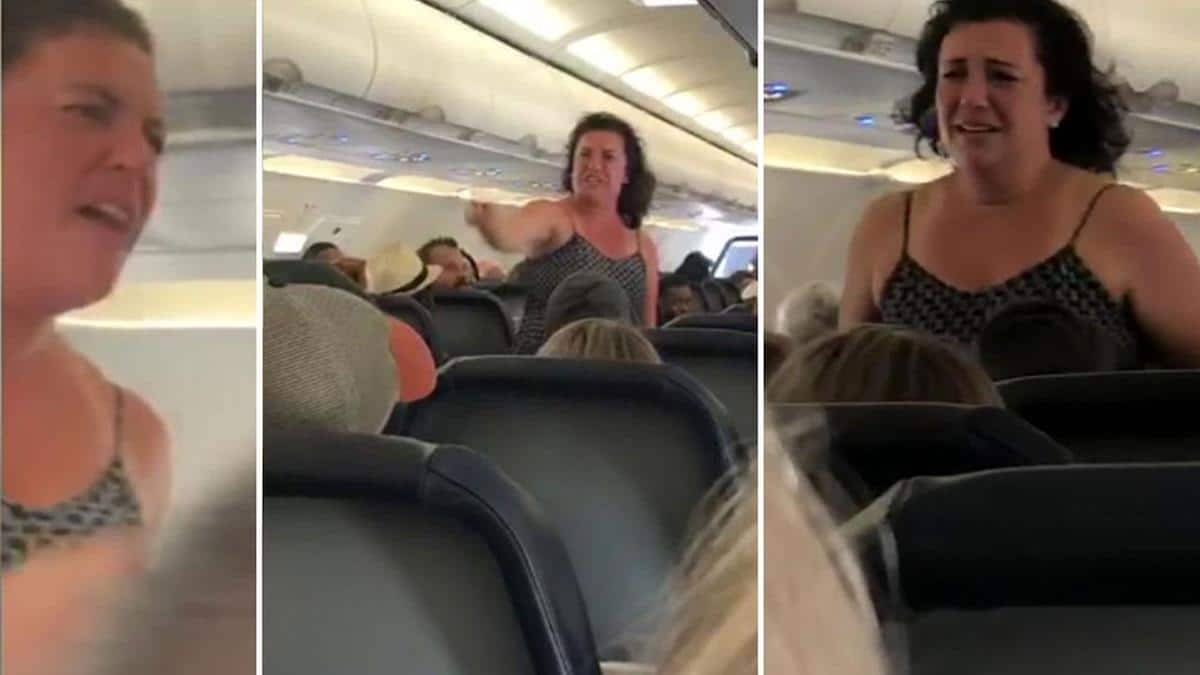 Spirit Airlines passenger meltdown video: How footage shot by fellow passenger, Chianti Washington underscores the unrelenting tension, anxiety of flying America's skies. 
Captivating America is video footage of a recent Spirit Airlines passenger meltdown following an emergency landing at Rochester, Minnesota. 
Cellphone footage caught the moment a female passenger running up and down the aisle way going 'ballistic' during a recent Houston to Minneapolis flight. An episode which later led to passengers and one flight attendant breaking down in tears, underscoring once again the fragility of flying over America's skies. 
The flight diversion had occurred an hour into the flight when a male passenger needed medical attention after having gone into a coma.
'The attendant thought that he was just sleeping but he was actually in a coma,' passenger Stephanie Calder told KHOU.
But that was just the beginning, matters escalated when a female passenger proceeded marching up and down the aisle and launched a profanity-laden threatening tirade.
Screamed the female passenger as two male passengers tried to intercede: 'I don't f**king care! Put me in a f**king psych vest,'
Adding, 'You know who my brothers are? They're f**king Marine snipers. You want to f**k with the f**king Marines? Let me the f**k out this bastard!'
And moments later, 'Get me the f*** off this God d*** f***ing plane'.
Spirit Airlines passenger meltdown: 'I was worried she was going to be even more irate…'
Offered Calder, 'All of a sudden that's where the lady came running from the back of the plane,'
'She started saying she's not going to calm down and wanted off the plane and such.'
Calder told of becoming concerned about her 15-year-old daughter's safety.
Added the worried passenger, 'I (was just) worried (the angry passenger was) going to go even more irate and so I just put my back toward my daughter and shielded my daughter in case this woman decided to'.
'I was one row behind the emergency exit door. Now, we were landed but who knows what this woman could have done.'
The video, which was taken and shared on social media by passenger Chianti Washington showed fellow flyers praying and consoling each other during the woman's meltdown.
'She was yelling at the two gentlemen that were trying to block her — it was very scary,' Washington told ABC News.
"Adding, 'She would just not stop, and as police escorted her off the aircraft continued to remain belligerent,'
'All I could think about was the children on the aircraft — I said a prayer. You just didn't know what she was going to do. We were very much scared and shaken by her behavior.'
Washington told click2houston.com at least one flight attendant being left in tears after along with other crew members handing out tissues to passengers who were crying.
'Just to be in that confined space when someone that is going through something very traumatic in their life and there's nothing you can do,' Washington said.
'There's nowhere you can go.'
Eventually, cops took the woman off the aircraft and sent her to a hospital for a mental health evaluation after being told she is a military veteran who suffers from PTSD.
'That saddens me,' Ms Calder said. 'Now looking back at it all you just wish there was somebody on that plane (who) could have helped at that moment.'
An hour after the frightening incident, flight 346 took off for Minneapolis.
In a statement, Spirit spokesman Stephen Schuler said the woman 'became erratic and irate and was removed from the aircraft with the assistance of law enforcement'.
'We apologize to our guests who had to witness this and for the inconvenience of the delay. Safety is our top priority at Spirit Airlines.'
Spirit Airlines passenger meltdown: Social media reacts.
Then there were the following comments on the web that caught this author's attention, see what you think?
'People have lost their sense of propriety. I'm amazed at how crass many people are. They've lost their manners and any sense of their responsibilities and other people's rights.'
'It would be nice & make everybody safe to have Air Marshall's on every flight. They need to arrest her as soon as the plane lands.'
'Obviously there are issues here, but she should also have earned a 'no fly' designation.'
'Most likely on psychotropic medication.'