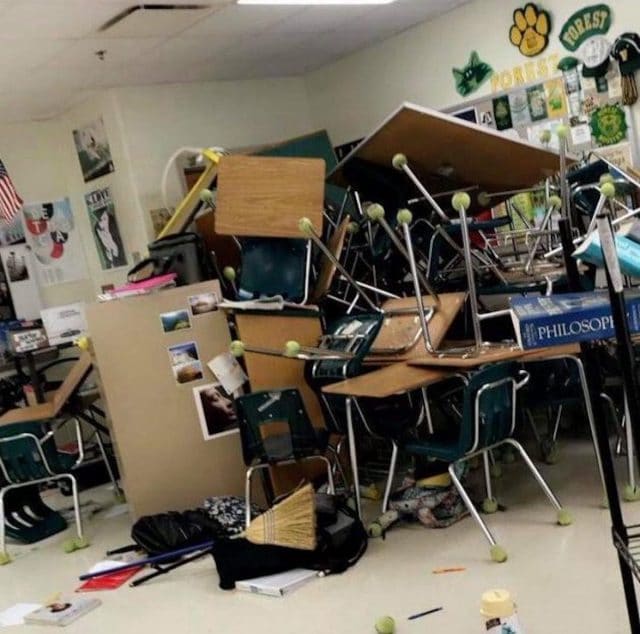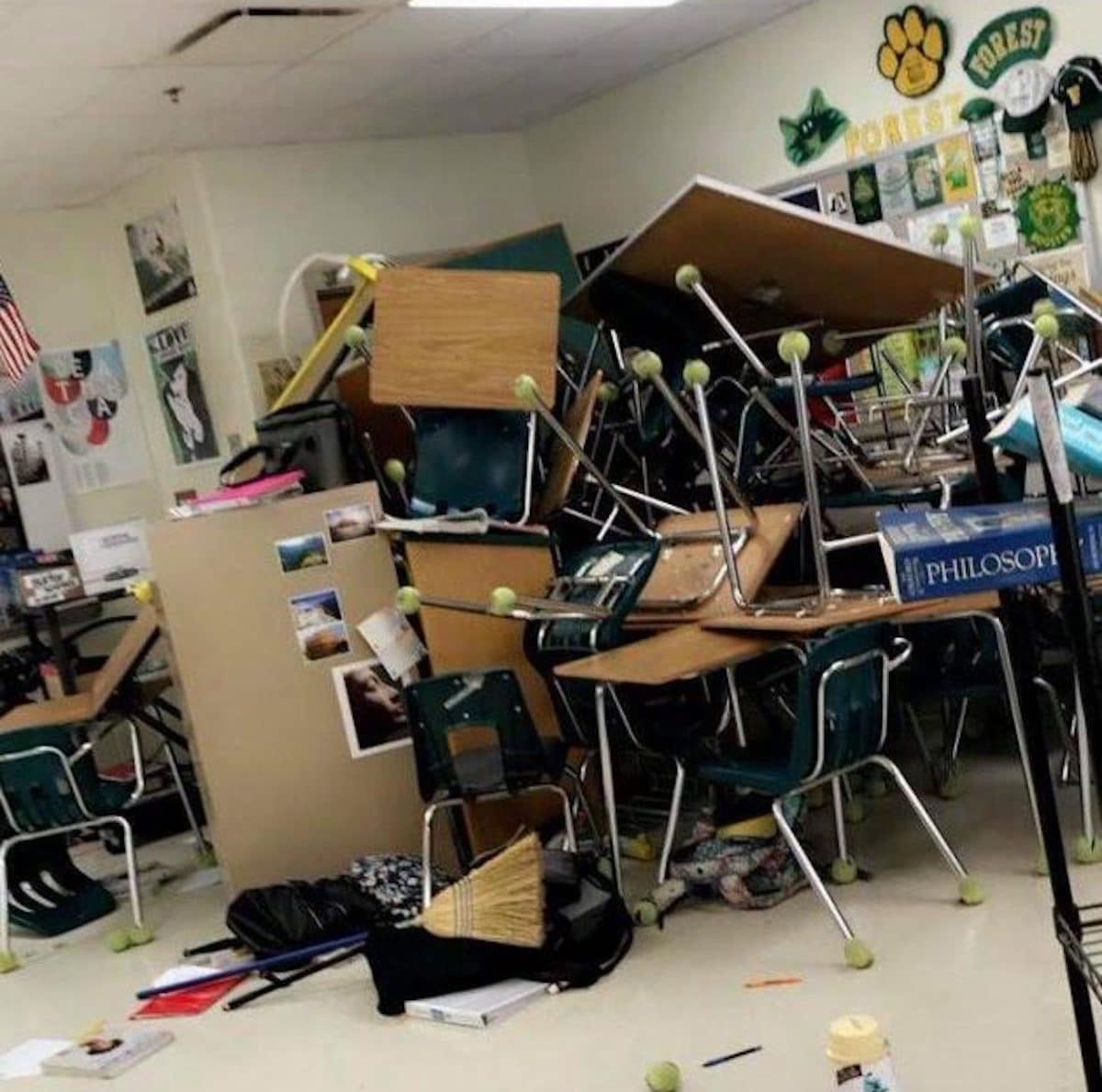 Forest High School shooting: What led to one teen male student shooting another? Shooting comes off heels of holding student national 

walkouts protesting gun violence

.
A Marion County, Florida high school student is in custody after allegedly shooting another student in the ankle.
The shooting happened Friday morning at Forest High School, Ocala, Florida- leading to the school being put on lockdown reported WKMG.
Following the shooting, the injured student was taken to a local hospital for treatment.
Marion County Schools spokesman Kevin Christian said the male teen student suffered non-life-threatening injuries.
The age of the shooting victim and the shooting suspect was not immediately available.
Friday's shooting happened as students around the country prepared to walk out to protest gun violence on the anniversary of the massacre at Colorado's Columbine High School.
SCHOOL SHOOTING – This emergency message was sent to parents after one student was injured in a shooting at Forest High School in Ocala.

DETAILS | https://t.co/gokOThOQTp pic.twitter.com/LHfi5sKWAI

— News4JAX (@wjxt4) April 20, 2018
Forest High School shooting follows increased furore over gun violence in the USA.
Chris Oliver said his 16-year-old son, a Forest student, told him the shooting happened near his classroom. The boy told Oliver the shooter was standing in a hallway and shot at a closed classroom door. The shooter then dropped an unspecified weapon, ran and tried to hide, the boy told his father.
Unclear was whether the victim had been specifically targeted or shot randomly?
School district spokesman Kevin Christian sent a recorded phone message (listen above) to parents by phone urging them to stay away from the school.
School officials told of students being taken by bus to First Baptist Church of Ocala, where parents could pick them up.
'We are asking the citizens to avoid the area,' deputies said on Facebook, according to WKMG. 'Parents please stand by for further direction from the school on how to pick up your children.'
Forest High has an enrollment of more than 2,000 students, according to the National Center for Education Statistics.
To date authorities released no possible motive for Friday's Forest High School shooting.
The shooting comes on the same day many schools across the country are holding walkouts to protest gun violence. The Columbine High School shooting occurred on April 20, 1999.  
The shooting is the second shooting in the last two months, with thousands of students from across the country demanding action on gun reform.
In February, 17 people were shot and killed at Marjory Stoneman Douglas High School in Parkland, Florida.
The killing by gunman Nikolas Cruz has sparked a national debate across the US on controls over gun ownership and triggered a number of nationwide protests.
Apart from token shows of public sympathy, legislators have declined seeing through any meaningful reform in public life as they continue to be beholden to special needs groups, whether gun lobby group- the NRA, banking conglomerates, defense contractors or pharmaceutical juggernauts who continue to insist on their mandates at the collective expense and disillusionment of average Americans…..
It's #NationalSchoolWalkout and my school is on lock down because of school shooting at forest high school pic.twitter.com/ezyroqoA2k

— ˗ˏˋJˎˊ˗ (@agustdpiper) April 20, 2018
There is an Active shooting occurring at Forest High School in my town Ocala, Florida. When will this end? Why must I be afraid to go to school? To be a normal teen? To take an Anatomy quiz? To learn about the Civil Rights movement? This is unbelievable.

— Athena Atsides (@AthenaAtsides) April 20, 2018
Today is the 19th Anniversary of the Columbine shooting. Today our kids across the US walked out of class to mark that anniversary. Today was another shooting at Forest High School in Ocala Fl. When will it end! #NationalSchoolWalkout pic.twitter.com/4FjU7m3UNz

— Kimberly Walker (@kw4congress) April 20, 2018