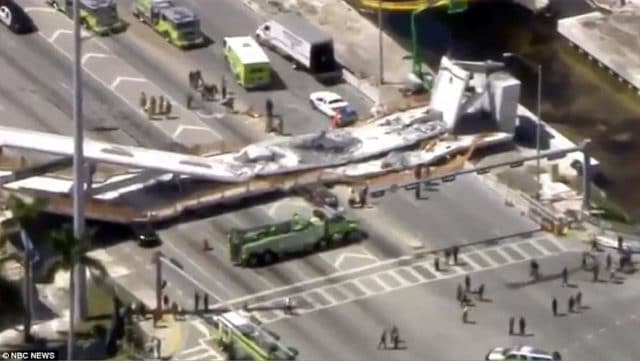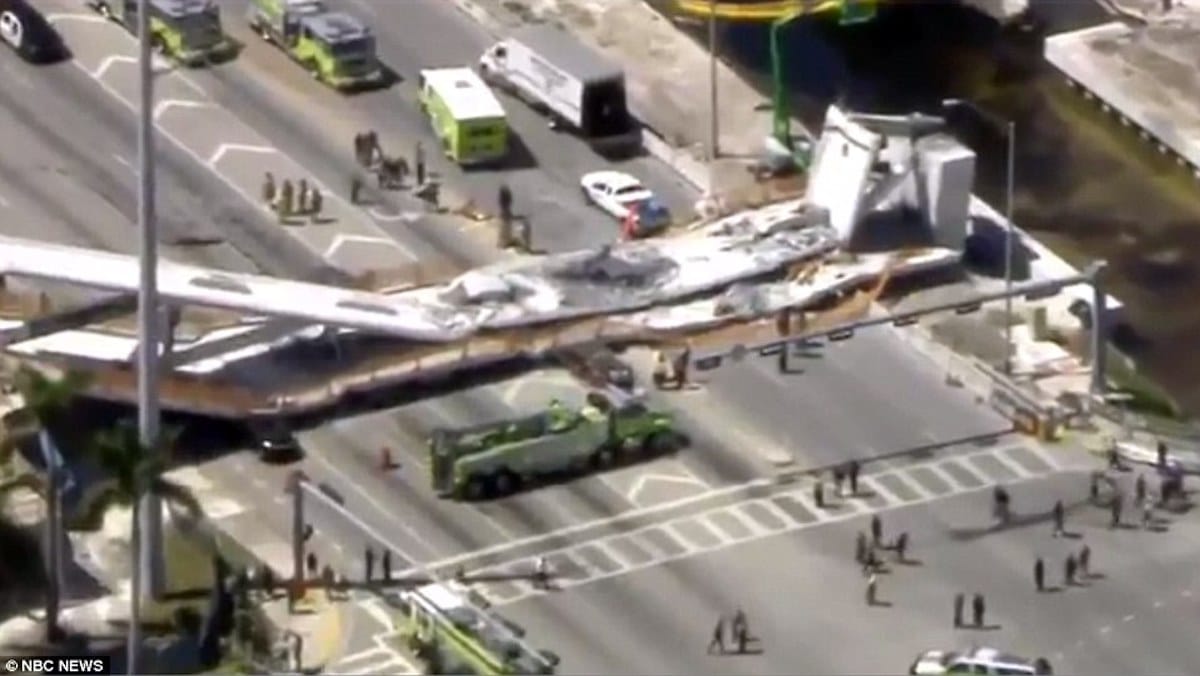 FIU bridge collapses: What led to a recently completed foot bridge collapsing less than a week after it was unveiled? Countless deaths as emergency crews attend to the trapped.
Countless individuals have died after a 950 ton pedestrian bridge at Florida International University in Miami, suddenly gave way Thursday afternoon, crushing on top of cars below which had come to stop for red lights. 
The incident led to a frantic search for survivors, some of who could be heard from underneath the rubble. As of late Thursday afternoon, authorities told of six to ten individuals killed, with at least six injured people taken away from the scene with eight vehicles trapped in the bridge wreckage.
While authorities have yet to say what led to the 'engineering feet' toppling, the Miami Herald reported that the FIU bridge span had been 'rapidly' installed in less than a day, following months of planning and going live less than a week ago, last Saturday. Of note, the bridge had been expected to open in 2019. 
'Before Saturday's installation, FIU said the method of overall installation significantly reduced the risk to workers, walkers, drivers and minimized traffic disruptions for construction,' the Herald reported.
Posted Munilla Construction Management on Facebook, one of the companies involved in the project, 'we're doing everything we can to assist.'
Adding, 'We will conduct a full investigation to determine exactly what went wrong and will cooperate with investigators on scene in every way'.  
Told FIU university in a statement following the 'incident':  'We are shocked and saddened about the tragic events'. 
'At this time we are still involved in rescue efforts and gathering information,' the statement added. 'We are working closely with authorities and first responders on the scene.'
THE FIU BRIDGE COLLAPSED OH MY GOD pic.twitter.com/JO7jfx5AoN

— Gabriela Collazo (@GabrielaRose12) March 15, 2018
First-of-its-kind pedestrian bridge "swings" into place. "FIU is about building bridges and student safety. This project accomplishes our mission beautifully," -President Mark B. Rosenberg. https://t.co/x8gPM9A4DG #worldsahead pic.twitter.com/mPEMeh2zmw

— FIU (@FIU) March 10, 2018
FIU bridge collapses: 'first-of-its-kind' and 'about building bridge and student safety.' But was it? 
Thursday's carnage follows the university releasing a video last week, calling the bridge span the 'first-of-its-kind' and saying it was 'about building bridge and student safety.'
The 174-foot span weighed 950 tons and was built using so-called Accelerated Bridge Construction Methods that were designed by the university's Accelerated Bridge Construction University Transportation Center.
'This method of construction reduces potential risks to workers, commuters and pedestrians and minimizes traffic interruptions,'  the university said in a press release on Saturday. 'The main span of the FIU-Sweetwater UniversityCity Bridge was installed in a few hours with limited disruption to traffic over this weekend.'
The $14.2 million project was designed as a cable-supported bridge by Munilla Construction Management (MCM) and Figg Bridge Design. Figg was hired to design the replacement for a bridge on I35 in Minnesota that collapsed in 2007 and killed 13 people.
Figg issued a statement saying it was 'stunned' by the collapse and that it would cooperate with investigators.
'In our 40-year history, nothing like this has ever happened before,' Figg said. 'Our entire team mourns the loss of life and injuries associated with this devastating tragedy, and our prayers go out to all involved.'
Both FIGG and Munilla have been accused in years past of unsafe practices.
On March 5, Munilla was sued by a TSA employee at Fort Lauderdale-Hollywood International Airport who claims that a pedestrian bridge built by the firm collapsed under his weight, sending him falling to the ground.
In June 2012, a bridge built by FIGG in Virginia fell apart during construction, injuring four workers, according to The Virginian-Pilot.
FIU has deleted statements on social media and press releases from earlier this week touting the construction of the bridge.
'This bridge is the result of great support from our congressional delegation and the US Department of Transportation,' FIU Senior Vice President and CFO Kenneth Jessell had announced over the weekend in since scrubbed comments.
'This bridge has already been the catalyst for significant economic development in the City of Sweetwater. FIU and our surrounding community will benefit from this project for generations to come.' 
FIU Bridge collapses: Innovative Installation technique a gamble.
AP cited an engineering professor saying the decision to use what the builders called an "innovative installation" for a Florida pedestrian bridge that collapsed was risky.
Robert Bea of the University of California, Berkeley, said it was too early to know exactly what happened in Thursday's collapse.
That said the engineer questioned builders' decision to try a 'rapid span installation' where the 174-foot-long (55-meter-long) span was prefabricated, then swung into place before its central support tower was built. The section was put into place across a busy eight-lane road Saturday.
Bea said trying something new that crossed a highway was a gamble.
The FIU bridge is coming along ?? @OfficialJoelF pic.twitter.com/D3qVv6y5Ap

— Sydney? (@Sydblancoo) March 11, 2018
just drove under the new FIU bridge before it collapsed on the road pic.twitter.com/zmHfB9Z143

— isa (@isaaacarrasco) March 15, 2018
UPDATE: Multiple fatalities, 5 treated for injuries after pedestrian bridge collapses near FIU. LIVE COVERAGE here: https://t.co/HyqJ0EOZ6f pic.twitter.com/Uh4txfCR1U

— NBC 6 South Florida (@nbc6) March 15, 2018
Video shot seconds after the collapse. Credit: Unknown Prayers for all the Victims. #fiu #fiubridge #miami #florida pic.twitter.com/5rjrYhTakQ

— Florida Street Team ?? (@ChatRevolve) March 15, 2018
A couple of years ago the parking garage for Miami Dade College collapsed before it was completed… fast forward to today & now a bridge collapses at FIU before completion… Miami you need to hire better architects/engineers

— LS (@LivitUpLeo) March 15, 2018
Regarding the pedestrian bridge collapse at @FIU one official tells me: "At this point we can't even tell how many cars are under there. We won't have a count on bodies for awhile. It's bad. It's really bad." @CBSMiami

— Jim DeFede (@DeFede) March 15, 2018