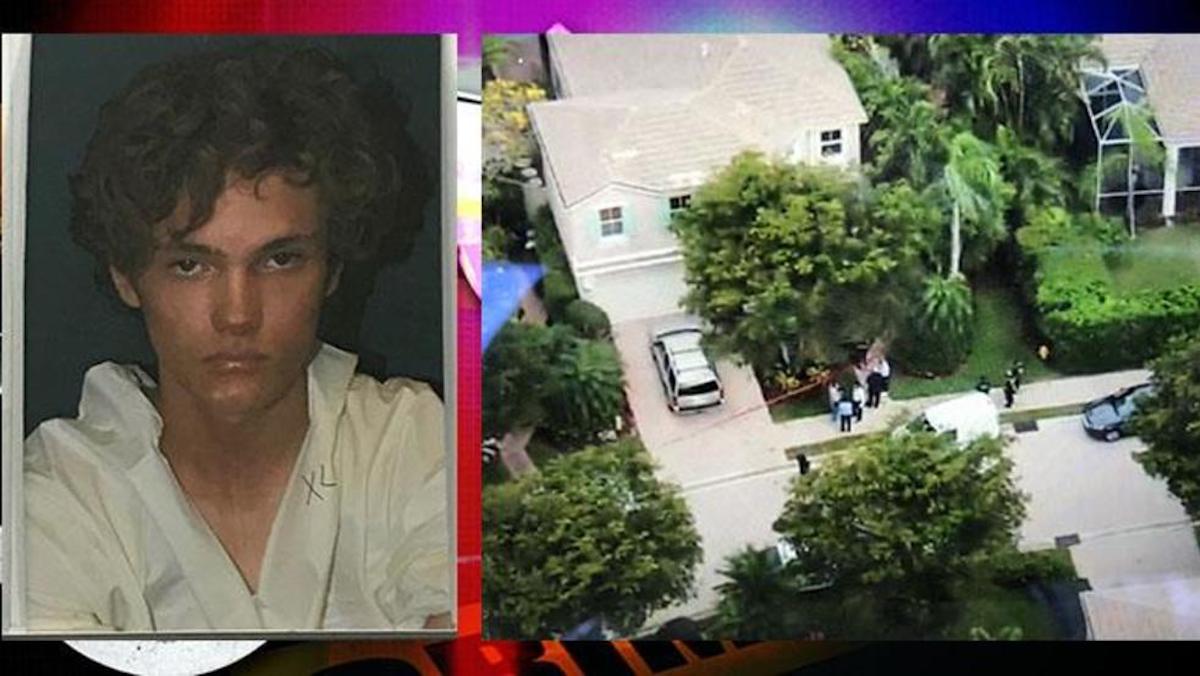 What led to Corey Johnson a Jupiter, Florida teen seeking to stab members at a sleepover? A history of prior violent tendencies and purported Jihadi affiliations. 
Corey Johnson a 17 year old Jupiter, Florida teen has been arrested stabbing a 13-year-old boy to death and seriously injuring two others at a birthday sleepover Monday.
The Palm Beach Post reported Johnson being charged with first-degree murder and attempted first-degree murder after cops said he confessed to the assault at the 13th birthday sleepover party at a BallenIsles Country Club home.
The stabbings follow Johnson previously being investigated for 'alleged violent tendencies' along with claims of watching jihadist videos as well as reading the Koran 'to give him courage'.
Jupiter Police, Palm Beach County School District police and the FBI told of previously receiving 'intelligence gathering' on Johnson, prompting an investigation into his 'alleged violent tendencies'.
During his confessional, Johnson reportedly told police he woke up at 4 a.m. Monday at Kyle Bancroft's home where he had an urge to kill Kyle's mother, Elaine Simon; Kyle's brother, 13-year-old Dane Bancroft; and Dane's friend, 13-year-old Jovanni Sierra. The three victims were each asleep at the time.
Noted an arrest affidavit, 'In his statement, Johnson advised he stabbed the victims because of his Muslim faith'. 
Police say 17-year-old suspect Corey Johnson stabbed a mother 12 times, then her son 30+ times as he tried to save her at a home in Palm Beach Gardens. Second juvenile, Giovanni Brand, died of stab wounds. https://t.co/uVDRan75Tf pic.twitter.com/hHOqZiRSed

— WPEC CBS12 News (@CBS12) March 13, 2018
Corey Johnson read the Koran prior to stabbings to give him courage in planned attack:
Johnson and Kyle Bancroft allegedly watched violent jihadist videos the night before the 17-year-old carried out the deadly stabbing. Using a knife he brought to the home, Johnson stabbed Sierra multiple times before slitting his throat.
Simon, apparently hearing Sierra moaning in pain, began walking upstairs around 6 a.m. when Johnson allegedly lunged at her. Police say he stabbed her at least a dozen times before she fell down the stairs. Dane was stabbed 32 times while attempting to help his mother, according to cops.
'He's a hero,' the boy's father said during a phone interview with the Post. 'He saved his mom.'
Sierra was pronounced dead at the scene. Simon and Dane were taken to the hospital, where Simon remains in good condition as of Tuesday.
Kyle Bancroft and Johnson were not harmed in the incident.
Police were alerted after Simon ran to a neighbor begging to call 911.
'She rang my bell, she's bleeding,' the neighbor said later. 'Corey Johnson is out there with a knife. He's a murderer. That's all I know. They're trying to help the kid the kids filled with blood.'
Johnson was taken into custody about 8 a.m. after briefly barricading himself in a room.
He later told authorities he was upset Sierra, who turned 13 on Monday, called celebrities 'gods' because it went against his Muslim faith. Johnson also said Dane made fun of his Islamic faith.
The teen told police he read the Koran before going to the sleepover 'to give him courage to carry out his intentions,' according to an affidavit.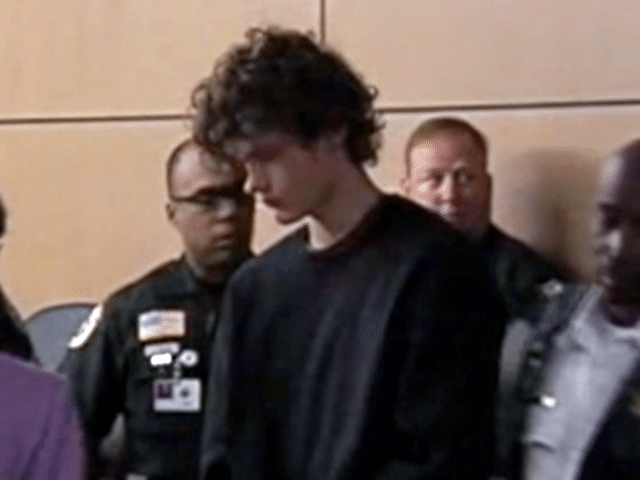 Corey Johnson Jupiter, Florida teen: A history of extreme beliefs.
Of disconcert, The Palm Beach County Sheriff's Office received information prior to the stabbings of Johnson reaching out to ISIS online where he expressed a desire to join the terror group.
The episode led to law enforcement tracking Johnson's social media accounts and movements and interviewing his family. The teen was also being investigated for several threats that prompted evacuations at a British school in October 2016.
So credible were the threats that Johnson had made, that up to 100 students were removed from the Catholic school fearing some sort of attack.
Interviews with family members led to Corey Johnson's mother and grandparents telling police that he was fascinated with dictators and their role in history, including Adolf Hitler, Joseph Stalin and Kim Jung Un.
They also advised police that he recently began discovering religion and stated that he owned a Muslim prayer cloth, a Kufi and had been studying the Quran.
In March 2017, Johnson denied he had any affiliation with ISIS, while stating he was supportive of known terrorist Anwar al Awlaki.
FBI agents advised Johnson to cease all social media activities related to ISIS and any other terrorist organization. He was also advised to have no further communications with anyone associated with the Catholic school he threatened.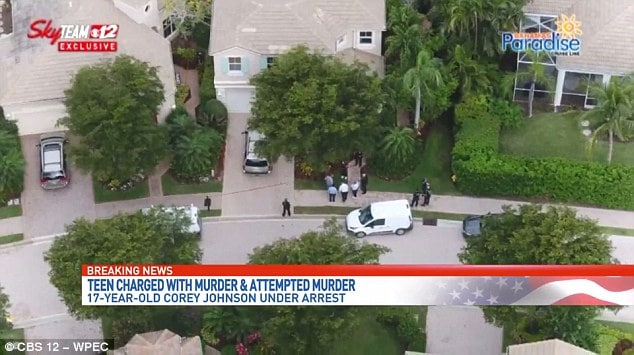 Corey Johnson: FBI had been orchestrating to bring the teen in.
Responding to claims as to why Johnson hadn't been previously brought in, Stuart Kaplan a former FBI agent told WPTV that while the youth had expressed interest in groups, reading material that 'we might offensive,' that in itself didn't make it a crime.
By early March, 2018, authorities had been orchestrating to have Johnson arrested as concerns grew as to possible 'terrorist' threats.
Reported wptv: 'A Jupiter Police report states that as recent as March 1, the FBI had met with one of Corey Johnson's friends as part of its investigation. FBI agents told Jupiter Police that they were meeting with the Assistant U.S. Attorney to develop affidavits for Johnson's arrest and advised it would be coming in the next several weeks'.
Johnson went to William T. Dwyer High School in Palm Beach Gardens, but recently withdrew, according to reports. Dane Bancroft and Jovanni Sierra were attending Watson B. Duncan Middle School.
Following the stabbings, local Islamic organizations said they were unfamiliar with Johnson, with mosque officials saying they did not recall seeing the boy or knowing of him.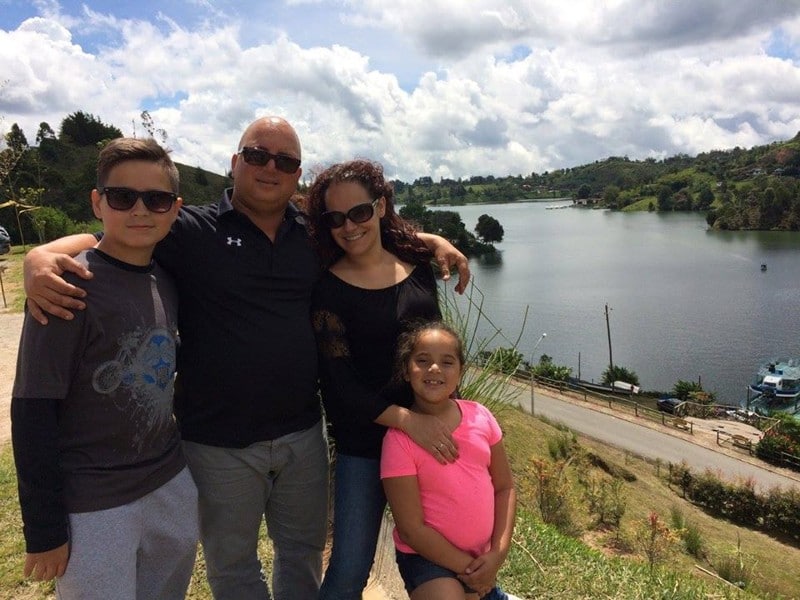 Jovanni (yellow shirt)… his family & friends at his 13th birthday party Sunday night. Jovanni invited Corey Johnson (end of the table, curly hair). Police say, Johnson stabbed Jovanni to death at a sleepover the following morning. @CBS12 pic.twitter.com/6lktZwB3XV

— Luli Ortiz (@LuliOrtizTV) March 15, 2018