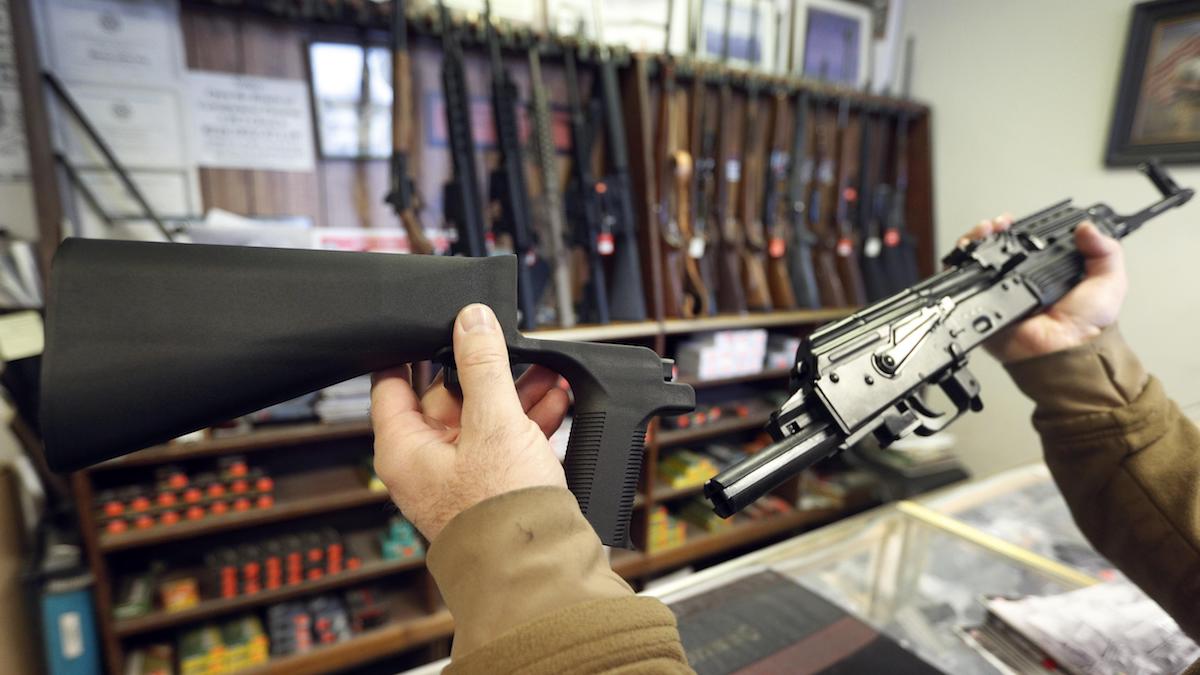 Walmart bans sale of firearms hours after Dick's 

Sporting Goods announces ban on assault rifle sales. Corporate America pays attention to public outcry. 
In a sign of changing attitudes and retailers reacting to general unease over gun sales, and recent gun shootings, mega retailer, Walmart on Wednesday announced the banning of the sale of guns and ammunition to persons under 21. The move comes hours after Dick's Sporting Goods announced it was no longer selling assault rifles.
In a statement, Walmart said it felt an 'obligation to be a responsible seller of firearms' and 'go beyond' federal law by requiring customers to pass a background check before purchasing a gun.
Walmart said that it will continue to adhere to a policy in place since 2015 of banning the sale of 'modern sporting rifles' like the AR-15 – the semi-automatic weapon used by 19 year old gunman, Nikolas Cruz in the Parkland, Florida shooting as well as other incidents. 
Reiterated Walmart, 'We are also removing items from our website resembling assault-style rifles, including nonlethal airsoft guns and toys'. 
'Our heritage as a company has always been in serving sportsmen and hunters, and we will continue to do so in a responsible way.'
We at DICK'S Sporting Goods are deeply disturbed and saddened by the tragic events in Parkland. Our thoughts and prayers are with all of the victims and their loved ones. https://t.co/J4OcB6XJnu pic.twitter.com/WmT50BO7mx

— DICK'S Sporting Goods (@DICKS) February 28, 2018
Walmart bans and Dick's Sporting Goods measures latest in corporate America shift in policy: 
The move follows Dick's Sporting Goods earlier on Wednesday announced it would immediately end sales of assault-style rifles in its stores and won't sell guns to anyone under 21 years old. 
In an open letter released on its website on Wednesday, the chain's CEO Edward Stack said it was time for the country to do more to end violence. 
He acknowledged the Parkland massacre at which 17 people were killed and credited the student protesters who have been calling for gun reform ever since, saying: 'We heard you. 
'The nation heard you.'  
Whether politicians who appear to be in the grips of NRA lobbying money (add big pharma, the financial industry, Monsanto, etc etc) will follow suit remains to be seen as the public has amped up demands for government and corporate America to pursue policies to stem the ongoing carnage relating to mass shootings.
Dick Stores' ban comes after it was revealed Cruz bought one of his weapons at a Dick's. It was not the AR-15 he used in the killings but Stack said he should not have been able to purchase any weapons in the first place. 
Of note, Walmarts and Dick's Sporting Stores 'adjustments' come in the wake of multiple companies having cut ties with the National Rifle Association, including Delta, Hertz, and First National Bank of Omaha, along with financial firms such as BlackRock and Bank of America, who have said they will take a hard look at their relationships with gun manufacturers.
The moves likely come with concern over corporate public image and fears that lawmakers will be forced to buckle to public outcry and install measures antithetical to weapons retailers.
Reiterated the CEO who likely sensed it was his turn to take a stand against the latest gun violence onslaught in the US:
'Following all of the rules and laws, we sold a shotgun to the Parkland shooter in November of 2017. It was not the gun, nor type of gun, he used in the shooting. But it could have been.
'Clearly this indicates on so many levels that the systems in place are not effective to protect our kids and our citizens.
'We believe it's time to do something about it
'We will no longer sell assault-style rifles, also referred to as modern sporting rifles. We had already removed them from all DICK'S stores after the Sandy Hook massacre, but we will now remove them from sale at all 35 Field & Stream stores.
'We will no longer sell firearms to anyone under 21 years of age.' 
The store will also stop selling high capacity magazines and is calling on congress to ban assault rifles all together. 
Chairman and CEO of Dick's Sporting Goods tells @GStephanopoulos why the company has decided to no longer sell assault style rifles or firearms to anyone under 21 years of age, and no longer sell high capacity magazines. pic.twitter.com/xiuMfqIZLd

— Good Morning America (@GMA) February 28, 2018
Dick's Sporting Goods says it won't sell assault weapons anymore. It said the same thing in 2012.
Stack later appeared on Good Morning America where he argued that the system that's in place won't stop sales to dangerous people and said lawmakers must do something.
'We're staunch supporters of the Second Amendment. I'm a gun owner myself,' Stack said on the show. 'We've just decided that based on what's happened with these guns, we don't want to be a part of this story and we've eliminated these guns permanently.'
Adding, 'As we looked at what happened down in Parkland, we were so disturbed and saddened by what happened. We felt we really needed to do something,'
'We've decided not to sell these assault weapons any longer and the other things we talked about.
'He bought a shotgun from us back in November. It wasn't the gun or the type of gun that he used in the shooting but when that happened, we realized that the system – and we did everything by the book – [meant that he] was able to buy a gun.
'When we looked at that, we said the systems that are in place across the board just aren't effective enough to keep us from selling a gun to a person like that,' he said. 
While Dick's removed assault rifles from its Dick's Sporting Goods stores after the 2012 Sandy Hook massacre, the weapons continued to still been available in their 35 Field & Stream stores. 
'We hope others join us in this effort to let our kids know that their pleas are being taken seriously.
'Some will say these steps can't guarantee tragedies like Parkland will never happen again. They may be correct – but if common sense reform is enacted and even one life is saved, it will have been worth it.
'We deeply believe that this country's most precious gift is our children. They are our future. We must keep them safe,' Stack said at the end of his statement.
Gun measures: But will it work? 
And then there were these comments on the web that caught this author's attention, see what you think?
'Long overdue and I¿m an NRA member. Times have changed.'
'No one is suggesting that this is going to solve the problem. But it shows that they are willing to be a part of the bigger solution, which is an important message.'
'I have nothing against Walmart for their decision…but generally speaking, when the next mass shooter at another gun-free zone is 22, then what?'