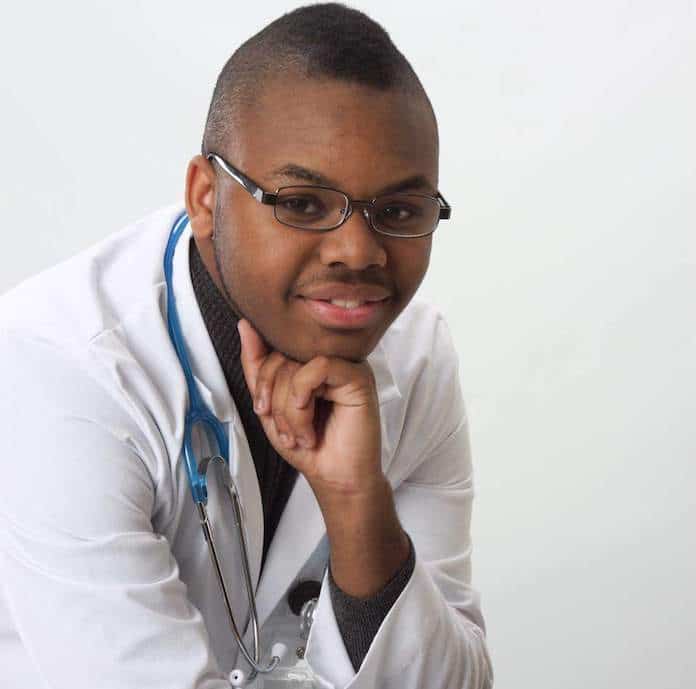 Malachi Love-Robinson pleads guilty: A fake teen doctor, Dr Love is sentenced to 3.5 years jail after impersonating a doctor.
Malachi Love-Robinson a 20 year old Florida man accused of having impersonating a doctor and stealing from a patient when he was a teen has been sentenced to three and half years jail.
The Palm Beach native's sentencing comes after appearing in court Thursday where 'Dr Love' (as he had come to be known) pleaded guilty to grand theft, practicing medicine without a license and other charges. 
His trial was scheduled to begin later this month.
Love-Robinson by then was facing a total of 14 criminal charges, according to the Sun Sentinel. Prosecutors dropped other charges as part of the deal, such as forgery and practicing naturopathy without a license.
As part of his sentence, he must repay his victims $80,000 when he gets out of prison.
'I'm not a fraud' Malachi Love-Robinson fake teen doctor
Malachi Love-Robinson pleads guilty: 'I never told anyone I am a doctor'.
Love-Robinson was arrested in February 2016 after law enforcement officials said he was practicing medicine without a license. 
Authorities say Love-Robinson was illegally operating a medical practice, complete with an office, a lab coat and stethoscope. 
The then teen's downfall came when an undercover police officer went to his office, 'The New Birth New Life Medical Center' complaining of lethargy, sneezing and a sore throat.
He took the undercover officer's temperature and also used a stethoscope to check her heart and lungs.
He then told her she was suffering from allergies and recommended she take an over-the-counter medication, police say.
The police report said that Love-Robinson told the officer he was a doctor of homeopathic medicine and said he had a medical doctor on staff to prescribe antibiotics.
Love-Robinson has defended his actions in several interviews and claims that he never told anyone he was a medical doctor.
However, he has claimed to have a PHD, but has never shown documentation or said what field it is in.
'There are many types of degrees out there that hold the title of doctor – whether they are physicists or engineers. Just because someone has the title of doctor in front of their name does not necessarily imply "MD",' he once told ABC.
Malachi Love-Robinson forges check belonging to 86 year old patient:
Love-Robinson was first detained at age 17 when he was found wandering around St. Mary's Medical Center wearing a doctor's coat and speaking with patients.
He then filed paperwork and began his own 'practice'.
Other exploits included Dr Love at age 16, allegedly going to high schools claiming to be a doctor looking for a position on the schools' medical staffs, according to a police report.
Love-Robinson also pleaded guilty to stealing $35,000 from an 86 year old female patient. 
According to his arrest report in that case, Love-Robinson forged checks belonging to the elderly woman who sought help for her stomach pain.
Malachi Love-Robinson, who posed as doctor, in court, pleading guilty to several charges, including fraud. Plea deal gives him 3 and a half yr prison term. @CBS12 pic.twitter.com/5G2C1MqV6n

— Chuck Weber (@ChuckWeber12) January 4, 2018
Malachi Love-Robinson pleads guilty: fraud, fake checks but still a good person says grandmother.
The the then teen previously pleaded guilty to charges in Virginia related to trying to buy a Lexus using a fake earnings statement.
He was then arrested again in March and charged with two counts of practicing medicine without a license, two counts of practice of naturopathy without a license, three counts of forgery, two counts of grand theft from a person 65 or older, and three counts of fraudulent use of personal identification information.
In August of 2016, the fake teen doctor was arrested again after writing a bad check for $1,500 as a down payment for a car at West Palm Nissan in May 2015. 
Previously, Grieco Mazda in Delray Beach filed a lawsuit seeking roughly $7,200 in damages and interest claiming that he wrote them a bad check for a new car.
A lawsuit claims that in June 2015, Love-Robinson gave a salesman a Wells Fargo check for $1,800 as a down payment for a 2016 red Mazda 6 costing more than $27,000.
The bank refused to cash the check, saying the account was closed.
Records show Love-Robinson responded to the suit in writing in August. He claimed the bad check was a mistake, and that the dealership didn't give him enough time to fix it.
The Sun Sentinel reported Love-Robinson lost that case in April 2016.
Love-Robinson has already served a year behind bars, which will count towards his sentence. When he finally gets out, he'll have two years to pay court costs. He also has to pay restitution to his victims.
Dr. Love's grandmother, Rebecca McKenzi, told WPTV following the 20 year old's sentencing, "what he was trying to do, he was trying to do for the better good, and not harm anybody."
Adding that her grandson, 'is a good person, who made a bad decision.'
Combined Love-Robinson could have been sentenced to as many as 90 years in prison.