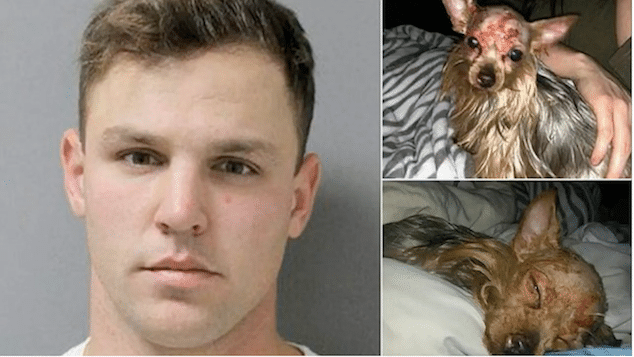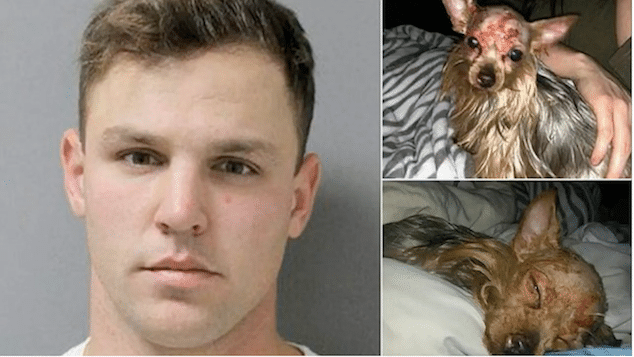 What led to Samuel Smith a Louisiana man spraying a dog with hot water and then placing it in the freezer? Was taking care of friend's Yorkshire terrier dog.
Samuel Smith a 24 year old West Monroe, Louisiana man was on Wednesday arrested after egregiously injuring his friend's dog after exposing it to hot water and then placing the helpless animal inside a freezer.
Monroe police charged Smith was one count of animal cruelty after the dog's owner called to report the alleged crime.  
Local authorities say that Smith, 24, inflicted severe injuries to the face and head of 'Bitty Boo', a two-year-old Yorkshire terrier, whose eyes were discovered swollen shut. 
Police said that the dog was also found with missing skin and hair, reported USA Today. 
Sara Durbin, Bitty Boo's owner, said that 'her heart is broken' after hearing of the abuse her beloved animal suffered. 
She told police that she left the Yorkshire in the care of Smith at her apartment. 
Less than two hours later, Durbin said she'd received a call from Smith, circa 9.am, claiming the dog had 'somehow escaped' from the apartment and returned with injuries to its face.  
According to the arrest report, Durbin called the police after finding blood and dog fur inside her freezer. 
Bitty Boo was taken to a nearby vet for treatment, but it remains unclear if the dog's eyes are permanently damaged. 
The police report states that Smith had taken the dog into the bathroom and sprayed it with hot water. He then placed the animal inside Durban's freezer for 30 seconds.
Smith told police that he disliked Durban's pet but did not intend to mutilate it, describing his actions as just 'messing with the dog.'
A Monroe judge set his bond for $5,000 Friday morning.