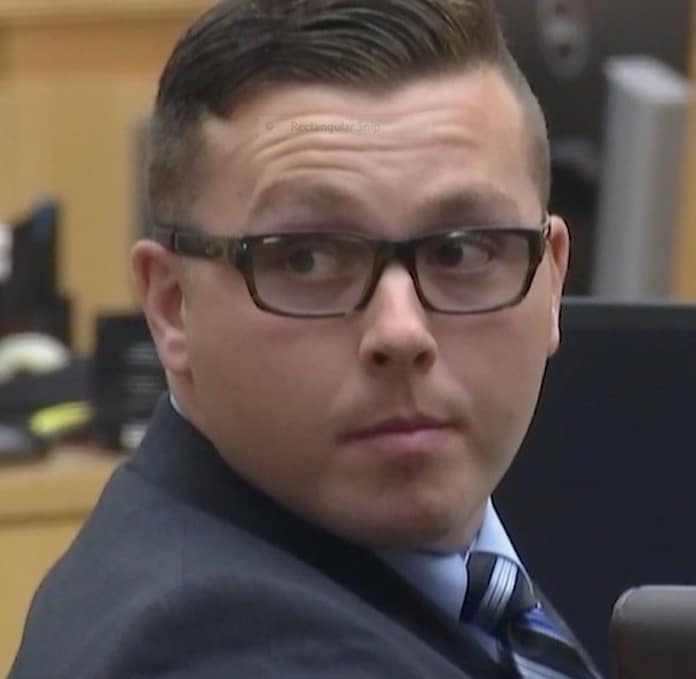 Officer Philip Mitchell Brailsford cleared in the shooting death of Daniel Shaver. Another instance of police getting away with execution style murder?
Disconcert has come to the fore after a jury on Thursday acquitted former Mesa, Arizona police officer, Philip Mitchell Brailsford, 27, in the January, 2016 fatal shooting of an unarmed man outside his hotel room.
The shooting death of Daniel Shaver of Granbury, Texas a 26 year old father of two, came after Officer Philip Brailsford responded to a call that someone at the hotel was pointing a gun out a window.
The verdict cleared Philip Brailsford of second-degree murder and reckless manslaughter and of all criminal culpability. That said, there is suggestion that the man's family will seek to pursue a civil suit after expressing outrage following yesterday's verdict.
Nbcnews reported the shooting occurred in the Phoenix suburb of Mesa after officers ordered Shaver to exit his hotel room, lay face-down in a hallway and refrain from making sudden movements — or he risked being shot.
Video footage (see below) which captured the ensuing scene, shows Shaver, sobbing while begging police not to shoot after being ordered to crawl toward officers. As he inched forward, the father can be seen reaching toward the waistband of his shorts.
During testimony, Brailsford insisted he fired his rifle after believing Shaver grabbing what he thought (feared?/presumed?) was a handgun in his waistband.
While no gun was found on Shaver's body, two pellet rifles related to his pest-control job were later found in his room.
Ex-Police Officer Philip Mitchell Brailsford ACQUITTED in Fatal Arizona Hotel Shooting of Unarmed Man Who Begged for His Life. #DanielShaver https://t.co/m1zNW3VFeA pic.twitter.com/eZ7QlU2dVu

— Shomari Stone (@shomaristone) December 8, 2017
Officer Philip Mitchell Brailsford not properly trained? Did demands and police procedure only escalate matters?
During trial proceedings, the detective investigating the shooting agreed Shaver's movement were similar to reaching for a pistol, while also acknowledging it also looked as though Shaver was pulling up his loose-fitting basketball shorts that had fallen down as he was ordered to crawl toward officers.
Of particular disconcert, the investigator noted he did not see anything that would have prevented officers from simply handcuffing Shaver as he was on the floor.
Following the no guilty verdict, Brailsford's attorney Michael Piccarreta offered the following statement, 'There are no winners in this case, but Mitch Brailsford had to make a split-second decision on a situation that he was trained to recognize as someone drawing a weapon and had one second to react.'
Adding, 'He didn't want to harm Mr. Shaver… The circumstances that night that were presented led him to conclude that he was in danger. Try to make a decision in one second, life or death. It's pretty hard.'
Piccarreta also said he wasn't sure his client would be interested in trying to get his police job back.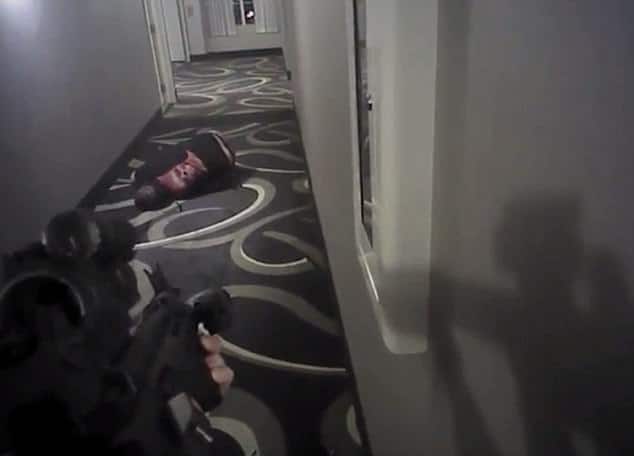 Officer Philip Mitchell Brailsford police protocol: Excess and un-necessary use of violence? 
During his trial testimony, Brailsford described the stress that he faced in responding to the call and his split-second decision to shoot Shaver.
Brailsford told jurors that he was terrified for the safety of officers and a woman who in the hallway. He also said he felt 'incredibly sad' for Shaver.
Brailsford served as a Mesa officer for about two years before he was fired for violations of departmental policy, including unsatisfactory performance two months after the fatal shooting.
He is one of the few police officers in the U.S. to be charged with murder for shooting someone while on duty.
The shooting occurred as police departments across the U.S. became focal points of protests over deadly encounters with law enforcement.
Shaver's widow, Laney Sweet, and Shaver's parents have since filed wrongful-death lawsuits against the city of Mesa over the shooting death.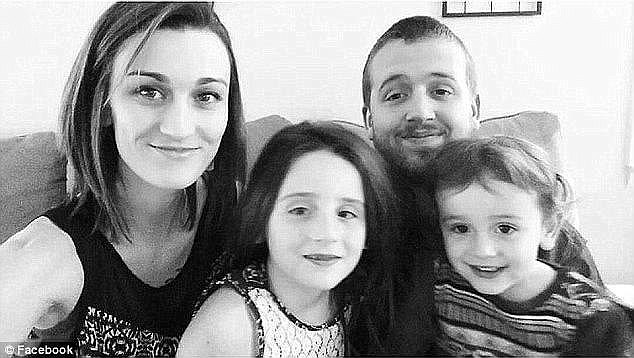 His name is Philip Mitchell Brailsford.. He actually claimed he was scared.. ?

— lyric thompson (@lyric_thompson) December 8, 2017
Officer Philip Mitchell Brailsford. Arizona resident. I will never forgot your face and I pray to God, for the sake of my own soul, that I never, ever, ever find you. pic.twitter.com/ZKlQ1pCGgM

— Adolin Kholin (@DavidEatsViagra) December 8, 2017
This is the Punk cop-#PhilipMitchellBrailsford who executed #DanielShaver. When charged with murder he said he was stunned he was charged. The Police Dept said "It was a good shot"
This is why Colin kneels. pic.twitter.com/Amqm5XBW7T

— PennyLane (@FreePennyPress) December 8, 2017
Our neighbours in #Arizona have got it wrong. Philip Mitchell Brailsford committed murder. He had no cause, he saw no gun. His actions were the execution of an innocent man all proven by the footage. This verdict is wrong, the court is complicit in murder. #DanielShaver

— polymorph (@republik_now) December 8, 2017