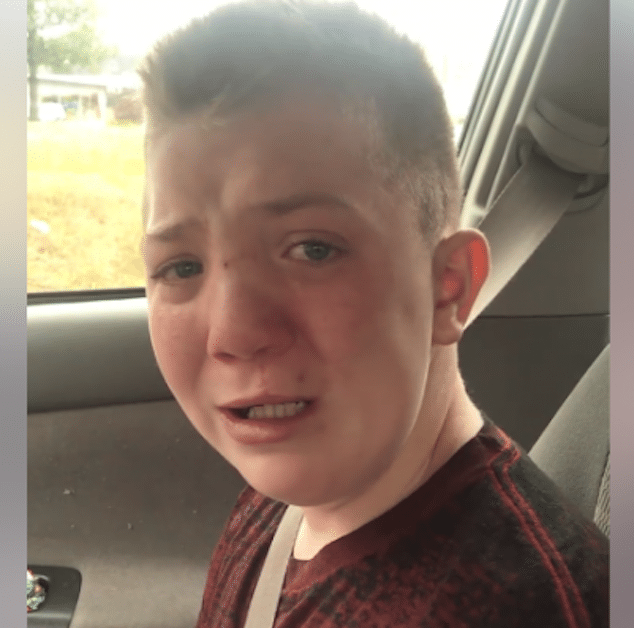 How Keaton Jones a bullied Tennessee boy became a social media hero after the child's mother uploaded a video of him lamenting being picked on.
Going viral Sunday afternoon is video of Keaton Jones, a young Knoxville, Tennessee boy pleading to be left alone after being picked on by bullies.
The video which sees the child questioning why bullies pick on him, with the boy asking why do bullies make fun of his nose or pour milk on him soon found an avalanche of support with celebrities responding to the boy's agony, ensuring in turn the boy's plea for help being amplified.
Asks Keaton of his mother in video since viewed 17M times: 'Just out of curiosity, why do they bully? What's the point of it? Why do you find joy in taking innocent people and finding a way to be mean to them,'
Adds the boy through tears, 'It's not okay,'
Asks Keaton's mom, Kimberly Jones, 'What did they say to you?' 
Responds the tearful boy, 'They make fun of my nose. They call me ugly. They say I have no friends,'
'What did they do to you at lunch?' his mom asked. 
Keaton replied: 'Poured milk on me and put ham down my clothes. Threw bread at me.'
In the video, Keaton said it's not just him, but others are bullied by kids at school. 
'I don't like that they do it to me and I for sure don't like that they do it to other people because it's not okay,' he told his mother. 
'People that are different, don't need to be criticized about it. It's not their fault. If you are made fun of just don't let it bother you. Stay strong I guess. It's hard,'
'But it'll probably get better one day,' Keaton concluded. 
Keaton Jones bullied Tennessee boy: coming to terms with how society and the real world actually works.
Keaton's mother, uploaded the video to Facebook on Friday, noting that she was picking up her son early from school again because he had been too afraid to go to lunch. Recording the video had been Keaton's idea, she said.
Wrote Kimberly Jones along the video, 'For the record, Keaton asked to do this AFTER he had he me pick him up AGAIN because he was afraid to go to lunch,'
'My kids are by no stretch perfect, & at home, he's as all boy as they come, but by all accounts he's good at school. Talk to your kids. I've even had friends of mine tell me their kids were only nice to him to get him to mess with people.
'We all know how it feels to want to belong, but only a select few know how it really feels not to belong anywhere'.
And then something magical happened. A young boy came to find out that his pain and vilification wasn't unique and endemic just to him, but sadly a condition that so many children at some point undergo growing up (thanks to ignorance, fear, poor parenting, inertia, insecurity, unsettling the status quo for being unique or different) as his video came to find multitude of support and a viral life of its own.
Keaton Jones bullied Tennessee boy experiences the power of viral social media
At some point, the video migrated to Twitter, where it was shared and watched by hundreds of thousands more — including scores of athletes, celebrities and public figures, who said Keaton's raw distress had struck a nerve with them.
Come Sunday afternoon, EST, Keaton's video had garnered more than 349.6K Shares shares on Facebook, even reaching the eyes and ears of several celebrities who have tweeted their support for young Keaton, including Stranger Things star Millie Bobby Brown. 
Tweeted Brown, 'Keaton, this is so accurate. Why do people do this? I think your sooo cool Keaton! I wanna be your friend ( but srsly) ur freakin awesome [sic]'
UFC President Dana White tweeted about Keaton's emotional video early Sunday morning.
Posted White, 'Meet Keaton Jones a very smart little boy who is being bullied at school. This video is heartbreaking!! I want to bring Keaton to Vegas and hang out at UFC Headquarters. If anyone knows how i can reach the family please let me know. Thank u everyone,' 
Also responding was Tennessee Titans football star Delanie Walker, who offered Keaton tickets to an upcoming game, along wih recorded a video of himself reading a poem for Keaton. 
@DonteStallworth @Lakyn_Jones hopefully my video and the tweets that Keaton have been getting brings awareness to bullying and how serious it is in our school system pic.twitter.com/1Dujv3RxA5

— Delanie walker (@delaniewalker82) December 9, 2017
Keaton Jones an inspiration (and reminder) to the more than 3.2 million students who fall victim to bullying each year. 
Tennessee wide receiver Tyler Byrd said he's going to go eat lunch with Keaton at school this coming week reported the dailymail.
'We going to the middle school next Tuesday show young Man some love we will also TWITTER LIVE some of it so everyone can show there love and support #vols #StopBullying,' Byrd tweeted. 
Actor Will Poulter, executive producer of The Vampire Diaries & The Originals, Julie Plec, Chris Brown, Cardi B, actress and activist Patricia Arquette, actor Patrick J Adams and actress Jaimie Alexander, all expressed their support Keaton. 
'Friends, overwhelmed is the understatement of the world right now,' Kimberly Jones wrote on Facebook on Saturday afternoon. 'I'm humbled by the voice my boy has been given, but he's still just a little boy, & he's a little boy who desperately wants acceptance, that I have to try to find a way to navigate him through the difference in true acceptance & attention. I know God has His hand in this, & I trust that the right things will happen in the right time.'
Keaton is an inspiration to the more than 3.2 million students who fall victim to bullying each year. 
His story echoes that of the 17 per cent of American students who report being bullied two to three times a month or more within a school semester according to one study.
Of course not all bullied children have the fortune of being adulated and made popular and publicly redeemed, and thus given a 'cool factor' or desirability/popular factor which endears most and wanting in- but that too might be the real challenge, challenging attitudes of exclusion based on nothing more than a child being different or outside the mold, or click or the preferred political or social attitudes that so many adults affix themselves on to and perhaps shamelessly unwittingly pass on to their children…..
We going to the middle school next Tuesday show young Man some love we will also TWITTER LIVE some of it so everyone can show there love and support #vols #StopBullying @cboystunna3 @BroadwayJay2 @JKShuttlesworth @smithtrey98

— Tyler Byrd (@D1fuzzymuffin17) December 9, 2017