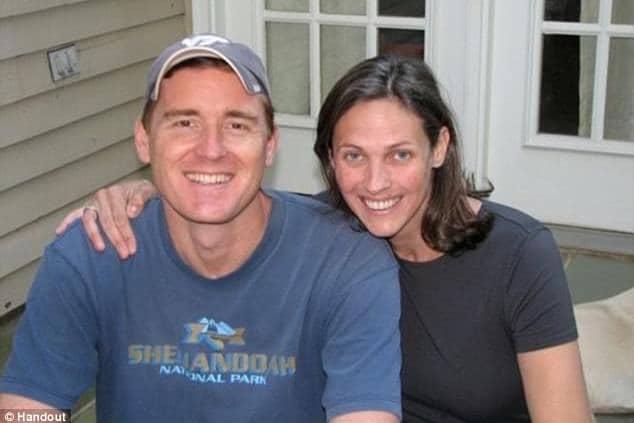 Virginia couple, Buckley Kuhn Fricker and Scott Fricker murdered after being shot dead by daughter's Neo Nazi teen boyfriend. Wanted to remove hate from their home. 
An alleged 17 year old Virginia Neo Nazi youth is in critical condition after allegedly shooting dead his former girlfriend's parents after forcing the teen girl to break up and then shooting himself.
Killed were Reston couple, Buckley Kuhn Fricker, 43, and her husband Scott Fricker, 48, who were shot dead on Friday at 5am after allegedly finding the boy in their daughter's room
Upon having shot his former girlfriend's parents, the 17-year-old boyfriend from Lorton turned his gun on himself and is now in hospital in a life-threatening condition, according to police. 
The parents' murders come up after the girlfriend's mother had sought to break the teen couple up over recent months and having gone so far as to report her concerns about her daughter's boyfriend to the private school the teen lovers attended.
The parents according to fox5dc were concerned that their daughter's involvement with the 17 year old youth would bring 'hate into their homes.'
A report via the WashingtonPost told of Kuhn Fricker sending an email to the Fairfax County private school outlining her concerns. 
She had found Twitter messages and posts on her 16 year old daughter's phone which she believed were written by her boyfriend. 
In her email to school staff, she said the boy was a 'monster' who was 'spreading hate'. 
Kuhn Fricker, who ran an elderly care business, was determined to keep the youth away from their 'impressionable daughter' who she feared he was indoctrinating, they said. 
We are thinking of Buckley and Scott Kuhn-Fricker, who stood up against Nazism and lost their lives on Friday.

Their story reminds us how intimate partner violence and toxic masculinity are tied to neo-Nazi ideologies. https://t.co/aRbWIEPefY

— shut it down RVA! ? (@MayDayRVA) December 24, 2017
Buckley Kuhn Fricker stages an intervention to get teen daughter to stop seeing Neo Nazi boyfriend.
On Wednesday, she and her mother Janet staged an intervention with the girl to try again to persuade her to break up with the youth. It was successful – after a long conversation about Jews and the Nazis, the girl agreed to break off the romance, they said. 
It is not clear if the school made contact with the boy's family or if it was the teen herself who told him of her decision. 
Kuhn Fricker believed the issue was settled and told friends of her relief.  
But on Friday at 5am, she and her husband went to their daughter's room after hearing a noise and found him inside.  
At some stage afterwards, he pulled the weapon on them, police say. 
Authorities have not indicated whether they believe he intended to shoot the teenage girl, himself, or her parents. 
It remains unclear how he got the gun and who it belongs to. Also not clear was how the teen boy came to be 'radicalized?' What media sources and forums he frequented and what were his family, religion and culture's influence on his terrorist ideology?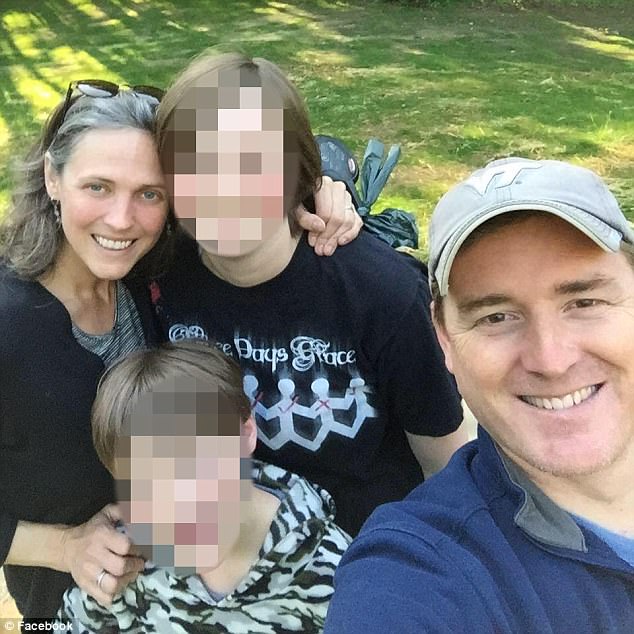 Buckley Kuhn Fricker final Facebook wall post: The only thing necessary for the triumph of evil is for good men to do nothing.'
Scott worked for the US Bureau of Labor Statistics while Buckley was an attorney and author who specialized in elder care and end-of-life issues. 
She started a company to help the elderly in 2005 called Buckley's For Seniors, which she ran from home. 
Her small team contacted out with seniors who maintained their independence but needed help getting to stores and doctors, and in accomplishing other chores 
Four months ago, the Fricker family moved from a smaller home in Reston into the bigger one on Black Fir Court where the fatal tragedy occurred.
Police say up to four people were inside the home when the shooting happened. 
Detectives took away a white Honda CRV with North Carolina plates.
Ironically the last post on Kuhn-Fricker's Facebook wall was a quote from Irish philosopher Edmund Burke, which read, 'The only thing necessary for the triumph of evil is for good men to do nothing.'
The 17 year old youth has since been charged with two counts of murder.
Buckley was my friend and defied the darkness growing in this country. She was fiercely bright, loving, respectful and brave and she fought against the cancer of Nazi hatred. Buckley's blood is on your hands @realDonaldTrump, yours alone. #sayhername #BuckleyKuhnFricker

— Ayla Master Owen (@aylaowen) December 24, 2017
aka14kgold:

steviemcfly:

"Oh, we just need to talk to them, and then they'll stop being Nazis!" –centrists and liberals who are wrong and stupid.

Buckley Kuhn-Fricker was so disturbed by what she discovered about her teenage daughter's boyfriend, she … https://t.co/22C9Z1e7Jk

— Max Stirling (@StirlingMaxwell) December 23, 2017
The final Facebook post of Buckley Kuhn-Fricker read:

"The only thing necessary for the triumph of evil is for good men to do nothing." -Edmund Burke

— The Grinch Who Stole Covfefe (@VinceValence) December 24, 2017