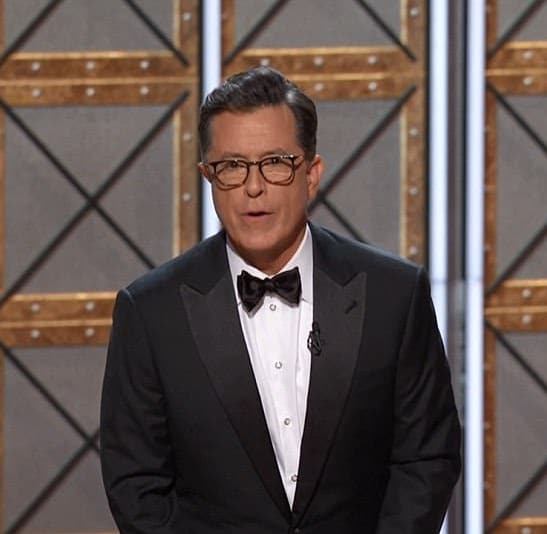 2017 Emmy Awards politicized: How what used to be a podium for Hollywood self congratulation became a mud throwing political spectacle. 
Stars were out for the 69th annual Primetime 2017 Emmy Awards last night in Tinseltown, L.A. Those stars were certainly taking the opportunity to do more than their much-touted peer recognition of Television accomplishment this year of 2017.
Did they stick to the purpose of this glorified celebration of acting and dramatization of modern life? What can we glean from those who portray humanity's experiences within their glamorous productions? How they hone their skillful craft and keep it real? How they are skilled at bringing screenplays to dramatization? How their TV world is a stage and they are merely players? 
Not merely that, they relished it as a complaints department thrust towards whom it may concern – the public at large. Who was the object of whiny politically corrected angst?  Of course (you are probably desensitized by now), it was none other than the Donald himself, our 45th P.O.T.U.S. We, as the un-famous denizens of the public, must be reminded of Trump's failed policies and his heinous character. 
We must be harangued and dumbed-down in every possible way and through every possible outlet of the mainstream media and popular culture. There is no room for civil discussion on this, is there? Obviously not! The selection has been made… and the winner is?!  It doesn't matter, as long as we know who the loser is! So much for entertainment. 
But the real news from the formal Awards ceremony: "What really matters to Donald Trump is ratings, you have to have the big numbers," said (Stephen) Colbert, noting that he was flummoxed about how to predict the night's crowd size. Then, wheeling his own podium, the former White House press secretary (Sean Spicer) appeared to offer his own prediction about the audience size at the awards show. 
"This will be the largest audience to witness an Emmys, period. Both in person and around the world," Spicer said, referencing the now-infamous press conference he gave regarding the crowds at Trump's presidential inauguration in January reported Hollywoodreporter. Jabs and more jabs, some within reason, others way below the belt. 
2017 Emmy Awards politicized: Hollywood conveniently serving up one side of the political maelstrom. 
Then actress, Julia-Louis Dreyfus quickly upped the ante, joining in and singing, "Imagine if your president wasn't loved by Nazis." Assuming that it's true, then take for another example, who was Obama loved by? Was he directly associated to all of them?  That's not possible. 
Actress Lily Tomlin, who appeared alongside Dolly Parton and Jane Fonda as awards presenters (all of whom also appeared together on the 1980s show "9 to 5"), said just like the 80s, "We still refused to be controlled by a sexist, egotistical, lying, hypocritical bigot." The 1980's ended almost 30 years ago; guess things haven't changed much.  The divisions in society are still the obsession. 
Dolly Parton, Lily Tomlin & Jane Fonda "still refuse to be controlled by a sexist, lying, egotistical bigot" https://t.co/wvJkc1TOJl #Emmys pic.twitter.com/Zgr8cj53To

— Hollywood Reporter (@THR) September 18, 2017
2017 Emmy Awards politicized: Did it really matter in the end who won what? 
But really the news is who won the awards, correct?  LA Times reported: "The winner in the drama category was "The Handmaid's Tale," a Hulu series based on Margaret Atwood's dystopian tale in which America becomes an theocracy in which dissidents are executed and all women become property. …swept all the big categories in which it was nominated — writer, director, supporting actress and actress.
There was also the more tactful (and understandably so!) Kate McKinnon, who nabbed the Emmy for supporting actress in a comedy series for her work on 'Saturday Night Live' who …never spoke more than a sentence or two at a time and shied away from saying anything overtly political, other than repeating the fact that she was a fan of Hillary Clinton, whom she famously portrayed during the run-up to the 2016 presidential election.
But McKinnon did explain that she "…could write a book. Satire is so important whenever there is anything floating around in the national consciousness, and the salience of our show this year just proves that."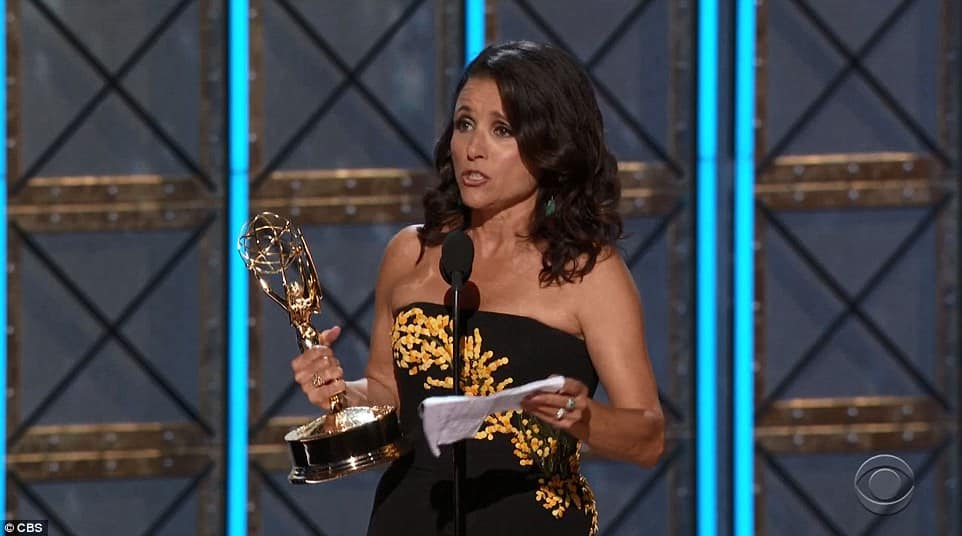 2017 Emmy Awards politicized: Adventures in political correctness for sale.
Also addressing the shit fest designed to placate the spell bound masses (can we be brutally honest?) was slate's Willa Paskin who came up with her own theory of how political solipsism and adventures in political correctness has become an omnipresent sport in Hollywood.
Contemplated Paskin, "What did we used to watch award shows for? To celebrate talented people winning awards? To gripe about them losing awards to less talented people? To scope the outfits? To gossip and laugh and tear up with friends while eating something unhealthy? The days of the award show as a lark, as an exercise in Hollywood grandiosity and our love-hate relationship to it, seem long gone. Even before the election of Donald Trump, award shows had become the flash-points of Hollywood's ongoing failures to diversify, each show either flaunting a failing report card or a self-congratulatory series of small improvements."  
It does raise questions for the un-famous public, of how we are being manipulated by this form of imposed diversity. As it should internally, for those almighty who are the makers of our refined political correctness. The rich and powerful should know and set the standard! But for whose benefit?
RETWEET IF YOU WILL NOT BE WATCHING THE #Emmys BECAUSE IT'S FULL OF HOLLYWOOD SELLOUTS BASHING TRUMP & REPUBLICANS.

— Sassy Gay Republican (@sassygayrepub) September 18, 2017
2017 Emmy Awards politicized: But here's the part the Hollywood elite declined to mention.
And if we are really going to address the hubris of living in America why not also have a stab at the exasperating divide between the haves (which included everyone sitting at the Emmy's) and the have nots (pretty much everyone watching on TV), how the banking and oligarchic offices of the healthcare, pharmacy, energy, defense contractors, entertainment industry etc continue to call the shots, as everyday existence for most Americans continues to denigrate for those of us not part of the liberal elite brigade. 
Alec Baldwin, made a case in point, tapped as best supporting actor in a comedy for his Trump impersonation.
Told America's funny man "I suppose I should say at long last, Mr President, here is your Emmy," in a dig at Trump's oft-stated annoyance at never having won a statuette for NBC reality show 'The Apprentice' or its celebrity spin-off.
Alec Baldwin won an #Emmy for his SNL impressions of me! NOT FAIR! He made me look like an idiot & I do that much better than he can! #Emmys pic.twitter.com/udvs8PrIkE

— Donald J. Trump (@RealDonaldTrFan) September 18, 2017
2017 Emmy Awards politicized: Two wrongs don't make a right? 
That would be civil and honorable if only it didn't smack of bullying, because that is indeed what bullies do. They put you down, they belittle you, they chide you for your faults and failures and weaknesses, they mock you because they believe they are the winners and you are the losers.  Let's call a spade a spade. What kind of behavior and attitude are Baldwin, Colbert, et al. skillfully promoting?
Should a patriotic American question all of this and want more fair treatment of our Executive in Chief and perhaps attempt a real discussion of what irks beneath the veneer of presupposed American exceptionalism? 
However, we cannot stop short of defending Trump. One who is seeking truth must seek the full story. Isn't this battling between the liberal left and the nationalist right, tit for tat? Didn't Trump always bully others during his career and his rise to the highest government position? Supposing he is getting his just desserts, is it what we have stooped to as a nation and culture? Sorry, two wrongs do not make a right, not that barely crossed your mind as you carelessly dozed off asleep, resigned to another mud-fest political thriller and the dreary existence of your next morning awaiting….
The Emmys showed us exactly why Trump won. Out of touch Hollywood coastal elites mocking middle America & those who don't share their values

— Charlie Kirk (@charliekirk11) September 18, 2017