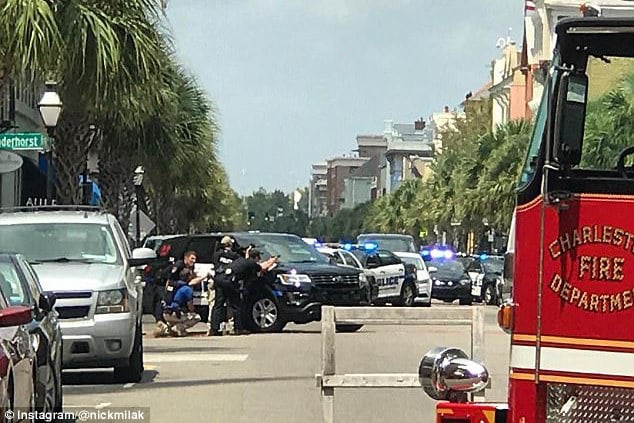 Virginia's On King shooting: A former worker takes employees and diners hostage before being shot and taken into custody. Had recently been fired. 
A Virginia's On King shooter is in custody after going on a shooting rampage at the fast food restaurant in Charleston, South Carolina.
Commotion came to the fore circa 12.17pm when the shooter, a former disgruntled restaurant worker and dishwasher arrived at the downtown 'southern food' outlet seeking to settle scores.
Police say the shooter killed a chef along with taking several people hostage. 
Authorities declined to release the names of the gunman or the employee he killed, along with the number of hostages that had been held.
It wasn't until 3pm that the mayor of Charleston announced the gunman had been shot by cops and taken to hospital in critical condition.
A report via the Charleston Post and Courier cited Interim Charleston Police Chief Jerome Taylor saying all the hostages at Virginia's restaurant were rescued safely. He didn't say how many there were.   
What we know:
-Virginia's On King active shooter situation is over
-One shot and killed
-Police shot gunman
-Gunman in critical condition pic.twitter.com/coAkNIItNV

— Danielle Herman (@daniherman93) August 24, 2017
Charleston mayor says one person dead in the shooter-hostage situation at Virginia's on King restaurant. Assailant shot; critical condition.

— Michael Turner (@1987Turner) August 24, 2017
Witnesses told of eating at the luncheon spot when a middle aged man emerged from the kitchen brandishing a loaded revolver and announced, 'There's a new boss in town.'
Reiterated another witness of the gunman, 'I am the new king of Charleston'. 
The gunman's sudden appearance sent patrons fleeing for their lives out of the eatery. There were about 30 people having lunch at Virginia's during the incident.
Witnesses say the gunman let diners, waitresses and some kitchen staff out of the restaurant before closing the door. 
The shooter was described as a black man in his late 50s, with one witness saying the gunman had 'a crazy look.'
These folks say the gunman came in through the back, yelled "There's a new boss in town." These folks also escaped unharmed. #chsnews pic.twitter.com/wobAWFF9uB

— Harve Jacobs (@policereporter) August 24, 2017
Virginia's owner, John Aquino, told WCSC-TV he thought the gunman was a dishwasher who was fired and came back to Virginia's to get revenge by shooting a male chef because he was angry at him.
Authorities said a hostage negotiation team in the intervening hours had sought to talk to the gunman. 
The unfolding scene led to a heavy police presence in the area along with lockdowns at nearby businesses, which have since been lifted.
Heavily armed SWAT officers and a bomb squad also responded to the scene.  
'This was not an act of terrorism,' Charleston Mayor John Tecklenburg said. 'This was not a hate crime. This was a disgruntled employee.' 
Adding, 'This was a tragic case of a disturbed individual, I think, with a history of some mental health challenges.' 
It wasn't immediately understood what led to the man's recent firing.
The restaurant is located a few blocks away from Emanuel AME church, where nine black members of a church were killed by a white man during a June 2015 Bible study. Dylann Roof was sentenced to death in the case. 
Welcome to a brave new America…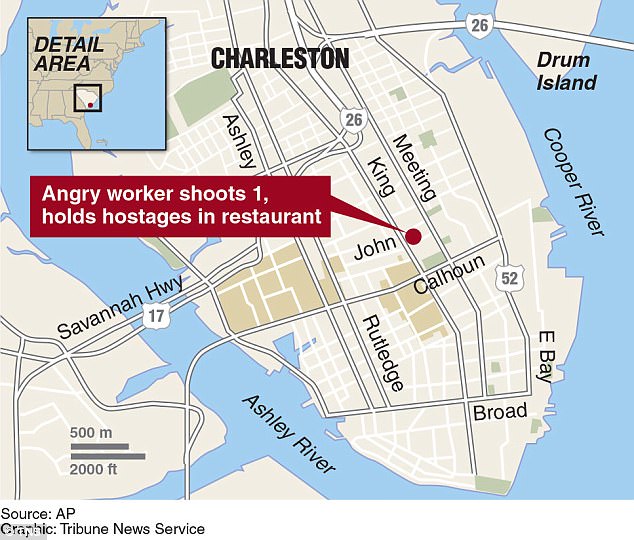 The standoff at Virginia's On King has ended: https://t.co/ikV93g5bZv

— Stephen Harris (@sharrislaw) August 24, 2017
Door busted open at Virginia's on King St @Live5News #chsnews pic.twitter.com/mCG1lvVC24

— Sydney Ryan (@SydneyLive5) August 24, 2017