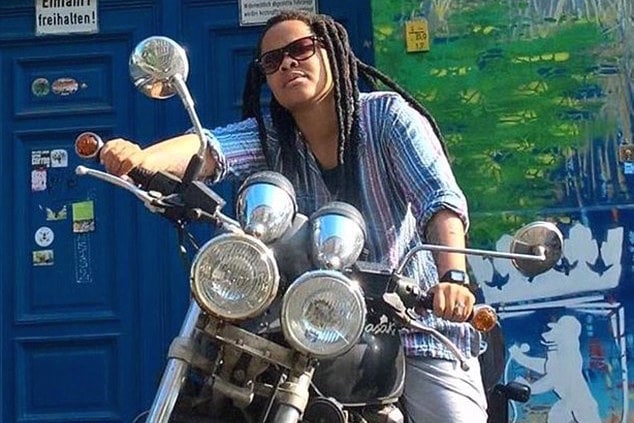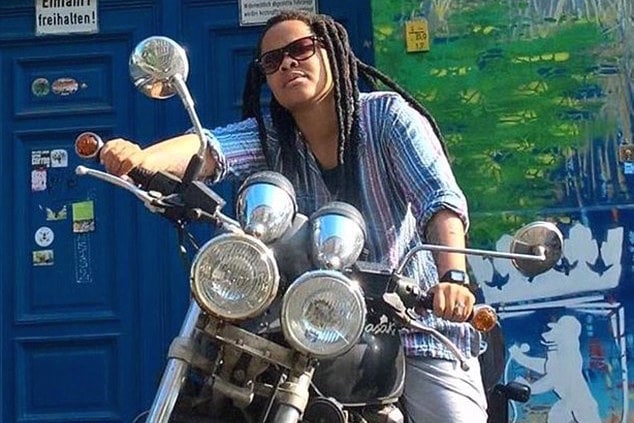 Sibahle Nkumbi airbnb guest pushed down stairs over late check out: Was an assault against a South African film-maker motivated by racism? 
A scene caught on video has caused disconcert after a Dutch AirBnb landlord was filmed pushing airbnb tourist, Sibahle Steve Nkumbi down a steep set of stairs.
Lucky to survive the harrowing fall, the landlord is now facing possible attempted murder charges.
The video which has since gone viral (see below) showed the moment the landlord entered the home, after Sibahle Nkumbi, a South African film-maker and her cohort had overstayed check out time by two hours. Nkumbi had been scheduled to check out at 11am and come 1pm she was still at the home this weekend past.
With the man's wife having gone to get her husband, the man confronts what he perceives to be 'delinquent' renters who have refused to leave his home.
Despite repeated apologies and assurances that they were on their way, save for a few more minutes of packing, the landlord is unable to contain his rage.
Shouts the landlord, 'out now!'.
Adding, 'this is not Africa!'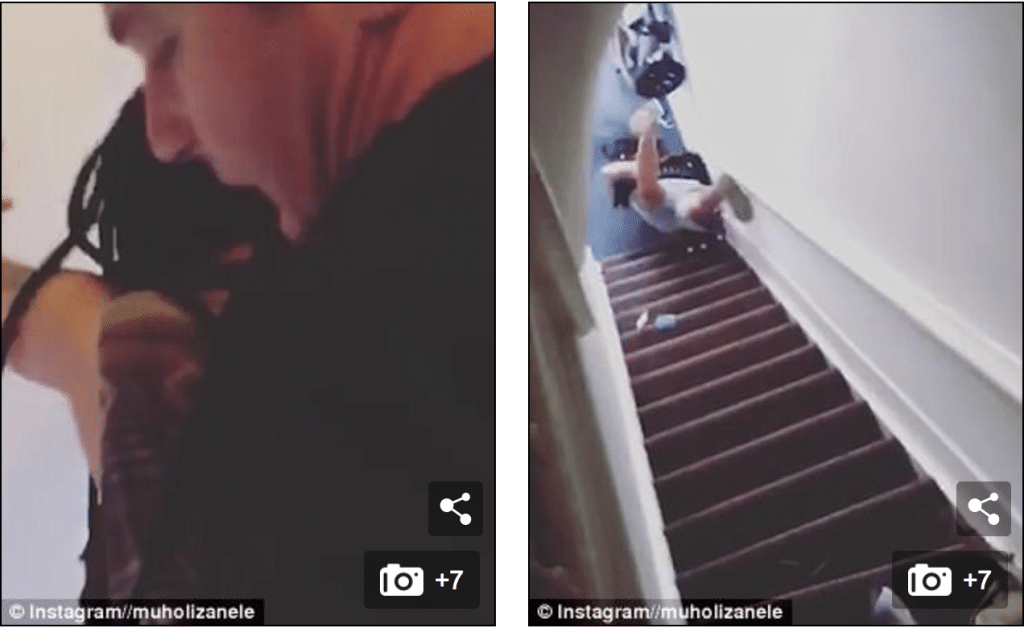 From there, Nkumbi is pushed down a steep flight of stairs, with the woman hitting the wall and the floor below, as she now lies motionless.
Below the stairs, one of Nkumbi's friends is heard crying in distress, while the landlord rushes down the stairs to observe in his horror what he has just done.
Fortunately the woman survived the impact and soon regained consciousness.
In a video interview, Nkumbi reveals that she is studying in Bern, Switzerland and had been in Amsterdam for an exhibition.
Told the film-maker: 'We knew that we were late and we heard a bell ring. We opened the door to this lady. 
'She stated that this is not acceptable, you guys need to pack and leave now. And I was like, "Yes, give us a few minutes to pack and I apologised profusely for us being late and we were getting ready to leave".
'And that's when she came back a few minutes later with the husband and he was banging the door. 
'He was like open up open up open up and then she opened and this guy was extremely emotional… I asked him why he was being so emotional, we are leaving.'
Nkumbi said the husband then became 'verbally abusive' while saying 'you need to leave now, this is not Africa'.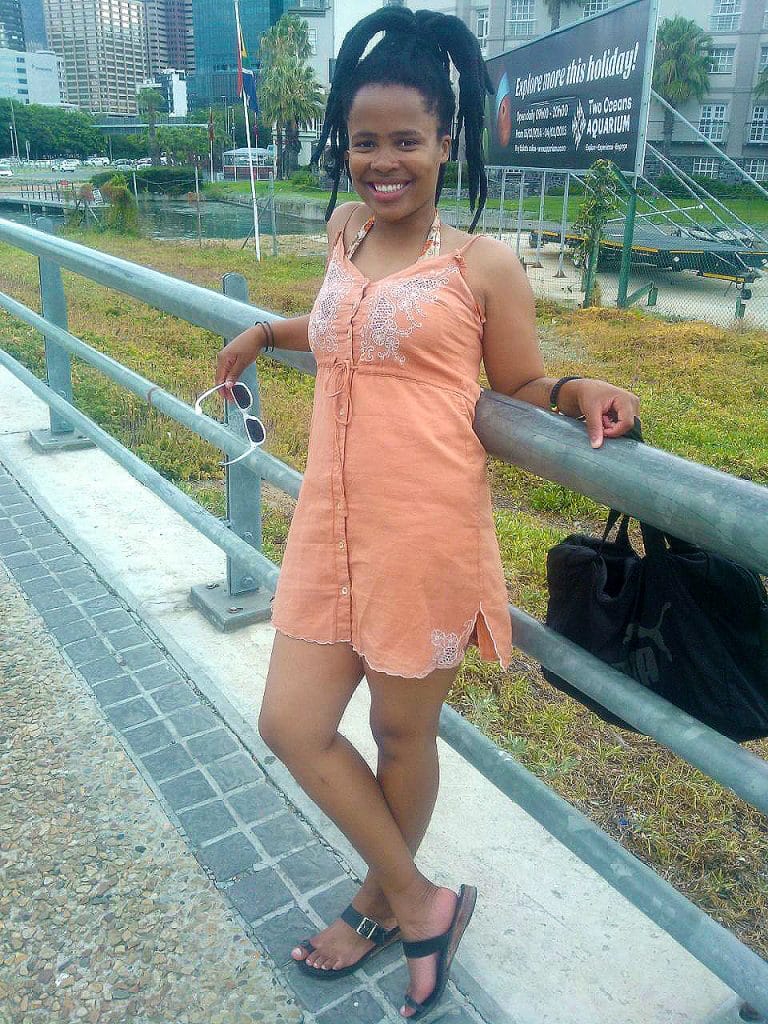 The filmmaker said when she tried to leave, her attacker 'couldn't resist' the opportunity to grab her.
'The way he grabbed me, I knew he was going to throw me down there. I freaked out.
'As I'm resisting against the wall, he's trying to get me to his position and eventually I lost grip of the wall because it's a wall, there's nothing to hold on to. That's when I flew down, all the way down.'
Showing off her bruises under her arms from where he allegedly grabbed her, the filmmaker, who has concussion, added: 'The last thing I remember was when I realised he was going to throw me down there.
'Flying down the stairs, I don't remember, I passed out and woke up in hospital.'
I believe the SA woman #SibahleNkumbi pushed down the stairs by Amsterdam @airbnb landlord was… (#ZaneleMuholi)

— Anil Salick (@AnilSalick) July 10, 2017
The incident has since led to accusations that the attack was racially motivated.
Wrote photographer and artist Muholi Zanele, a friend of Ms Nkumbi on Instagram: 'One of my friends/Inkanyiso crew members was pushed downstairs by the Airbnb owner where we stayed. He threw their belongings out… for few mins late checkout.
'She collapsed and ended up in hospital. She suffered internal injuries and bruises. Am so angry with this I couldn't even sleep. This is racism and can't be justified… violence on black bodies as you can see in this video.'
Prosecutors were considering a charge of attempted murder but were still studying the facts, an official from the prosecutors office told Reuters.
Airbnb chief executive Brian Chesky would contact the guests involved, the company said in a statement.
'Appalling and unconscionable behavior against members of our community runs counter to everything Airbnb stands for,' David King, an Airbnb official, told the dailymail.
Adding, 'We will take the strongest actions we can against such abhorrent conduct, including banning people for life from our platform and assisting law enforcement with their investigation and potential prosecution. 
'Nobody should ever be treated like this and it will not be tolerated.'
The incident has since led to commentators on the web divided, with many arguing that Nkumbi had behaved with extreme disrespect by overstaying by over two hours, and that the man's rage had nothing to do with race (otherwise why even rent in the first place?) but what he perceived to be extreme rude behavior not typically observed in Holland.
Others meanwhile, including this author retain the view, no matter how egregious Nkumi had behaved, at no point should she ever have been manhandled and that the issue could have been resolved with the aid of police….and a subsequent bad report on her file.