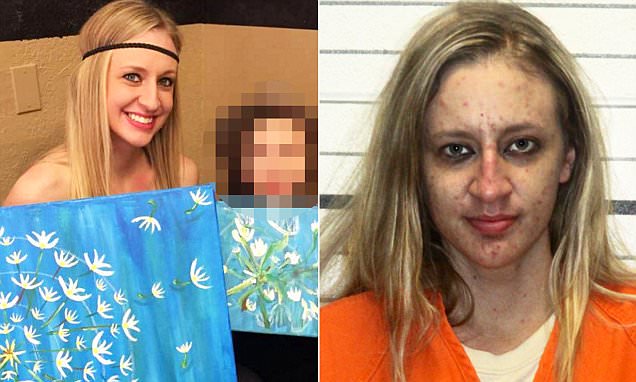 Megan Sloan sentenced: A Sapulpa, Oklahoma teacher agrees to a plea deal which will see her serve 10 years jail after bringing heroin to school.
Megan Nicole Sloan a former Sapulpa Public Schools elementary teacher was on Wednesday sentenced to 10 years jail after pleading guilty to bringing heroin to her classroom.
In her plea deal, Megan Sloan, 27 pleaded guilty to unlawful possession of a controlled substance in the presence of a minor and embezzlement, Creek County Assistant District Attorney Mike Loeffler said.
A judge handed down a 10-year prison sentence for the possession charge and a five-year sentence for the embezzlement charge, which are set to run concurrently reported tulsaworld.
As part of an agreement, Loeffler said, Sloan will have an opportunity to reduce her sentence by taking a 120-day course for women in recovery. She will not be able to start the course until after at least a year in prison.
Sloan was arrested May 1 after a fellow teacher at Holmes Park Elementary School reported an online conversation in which Sloan discussed using heroin and pawning school property. Sapulpa police searched her classroom and found black tar heroin, methamphetamine, prescription drugs and paraphernalia in her purse. 
An arrest affidavit also noted Sloan having up to 40 used syringes in her bag as well, many with brown resin identified as heroin.
Megan Sloan teacher brings heroin and 40 used needles to school in her purse
#Exclusive video showing former #Sapulpa teacher walking into court for guilty plea today in Creek County. Details coming up on @KTULNews pic.twitter.com/bmlrfOtwPZ

— Ethan Hutchins (@ehutchinsnews) July 5, 2017
Sloan at the time had also confessed to pawning two tablet computers belonging to the school along with stealing $125 in student field trip money in which she used to feed her addiction.
Subsequent to her May arrest, Sloan resigned from her job a week later.
A motion was also filed leading to the woman's teaching license also being revoked.
Loeffler described the teacher's demise as a 'classic case' of someone getting addicted to pain pills and turning to heroin when they couldn't get the pills.
Loeffler said the school district agreed to the plea deal in the hope that Sloan is able to 'get cleaned up.'