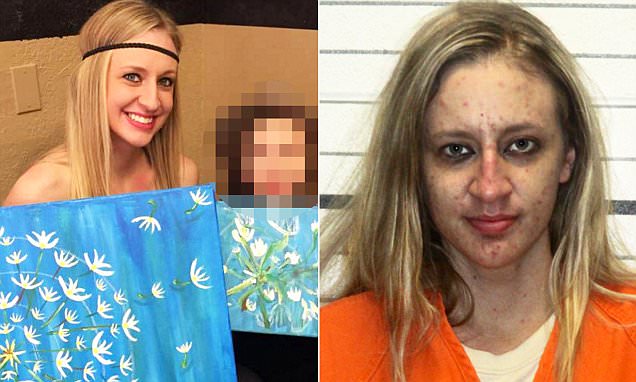 Megan Sloan an Oklahoma second grade teacher is charged with heroin possession after turning up to work with a heroin stash and 40 syringes.
Going viral Wednesday is the middle America tale of woe starring Oklahoma teacher, Megan Sloan, 27, who was arrested after turning up to class with her heroin stash and 13 used needles.
A further investigation also led to the self destructive second-grade teacher being booked with child neglect.
Sloan's lukewarm misery came as the teacher riddled with her affliction literally all over her face turned up to Holmes Park Elementary School in Sapula, May 1 loaded with the good stuff.
It was a day like every other (deep sigh…) except this time, Sloan forgot to sign out of her Facebook account after using a school computer. That's when a fellow teacher spied on a Facebook message revealing Sloan allegedly pawning school items along with heroin. Go straight to jail. F report card.
Appearing in court on Tuesday, the Creek County District Attorney's Office added an additional charge of child neglect related specifically to the students in her class reported  News 9.
Sloan's descent into middle America negation and favorite past-time led to the woman facing five charges, including drug possession in the presence of a minor, child neglect, two counts of embezzlement and possession of drug paraphernalia. 
Police said at the time of her arrest, Sloan admitted to using the good shit before police arrived at school. 
While talking to police in the principal's office, Sloan admitted to possessing Xanax, pawning two tablet computers belonging to the school and stealing $125 in student field trip money. 
When the need is nigh and the self loathing unfettered, think of new ways to sink lower..
A report via Tulsa World cited police believing that Sloan used the money to buy gas and drugs.  
Megan Sloan sentenced 10 years after bringing heroin and 40 used needles to school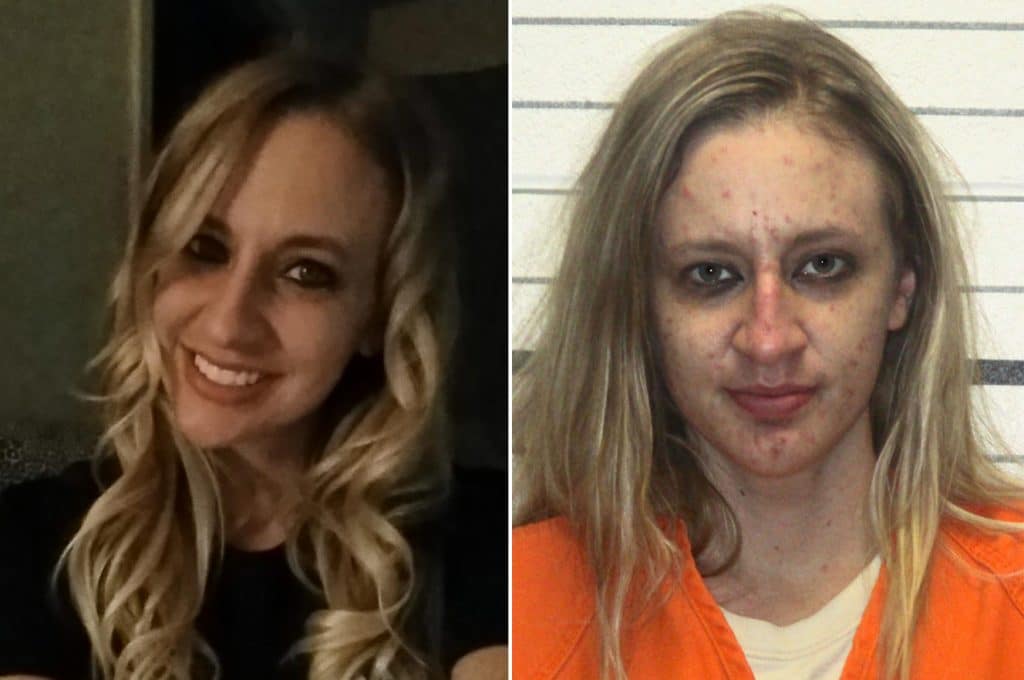 It was when police searched the school teacher's purse that the biggest fun surprise was in wait- with the discovery of 40 syringes, one of which had a brown substance in it that turned out to be heroin. Others appeared to be used, while others were still in their wrapper. 
Told Lieutenant Philip Diehl, Sapulpa Police: 'Multiple – I would guess maybe 40 syringes, some empty, some still had liquid in them, some still had needles, some did not'. 
A further inventory stock led to the discovery of meth, spoons to cook drugs (on the go), and the prescription drug Suboxone – which is used to treat pain and opioid addition.
Police noted that Sloan did not appear high when they spoke to her. 
Sloan said she did not take drugs at school and never left her purse within reach of students. 
The school said they were cooperating with police and that student safety is their number one priority.
Sloan had been a teacher at the school for the last two years.
Sapulpa Public Schools assistant superintendent Johnny Bilby released a statement noting the second grade teacher not having a previous criminal history. 
Sloan remains in Creek County Jail on a $41,000 bond.
Middle America's saddest second grade teacher is due to face court again on May 24.