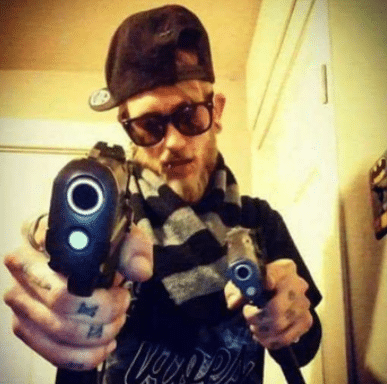 Jason Brown lt Aaron Allan shooting: What led to a Southport, Indianapolis tattoo artist shooting dead a police officer who'd come to save his life? 
Jason Brown a 28 year old Southport, Indianapolis, Indiana tattoo artist has been identified as the suspect in the Thursday afternoon fatal shooting of a police officer who was killed while responding to a car crash.
Killed was Lt Aaron Allan, 38 a law enforcement agent of 20 years after responding to a report of an overturned vehicle in a single car crash. At the time a report via fox50 told of the vehicle as driven by Brown crashing through a fence and flipping over.
A vehicle as driven by Brown had flipped over striking the center median at a high speed near Madison Avenue and Maynard Drive, trapping him.
As Allan sought to make his way towards the vehicle, Brown is alleged to have shot out a volley of gunfire, fatally striking Allan multiple times.
Despite being rushed to hospital, Allan succumbed to his fatal injuries, with a report via wsbt saying he had incurred no less than 14 gunshot wounds.
At the time, Brown was upside-down in the vehicle and being held in by his seat belt, with witnesses saying Brown was 'hysterical' with Allan telling Brown to be calm, before gunfire rang out.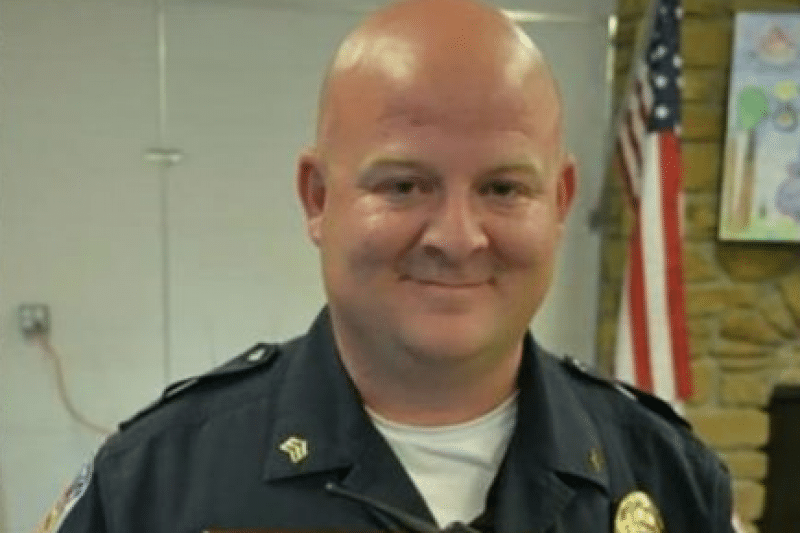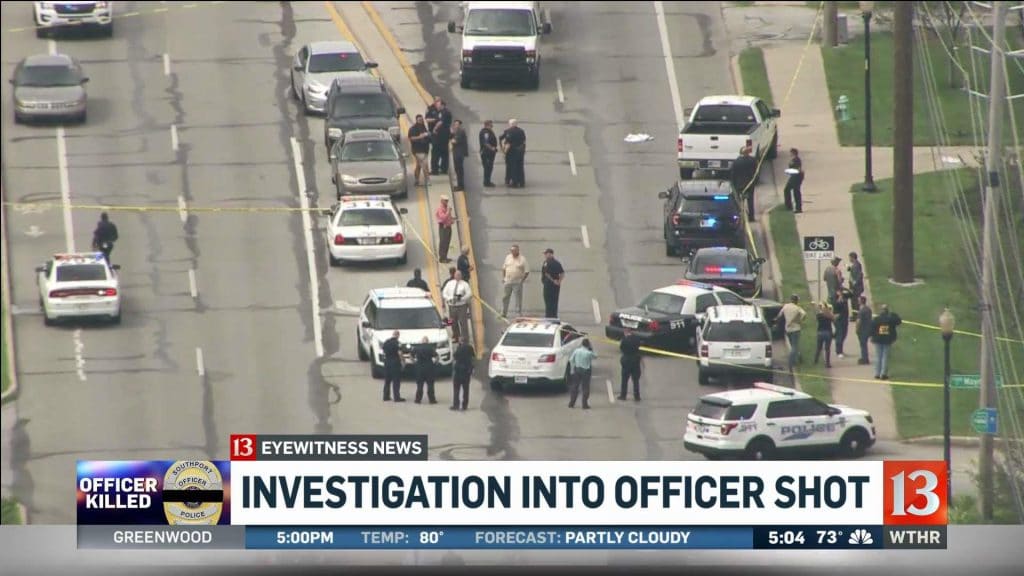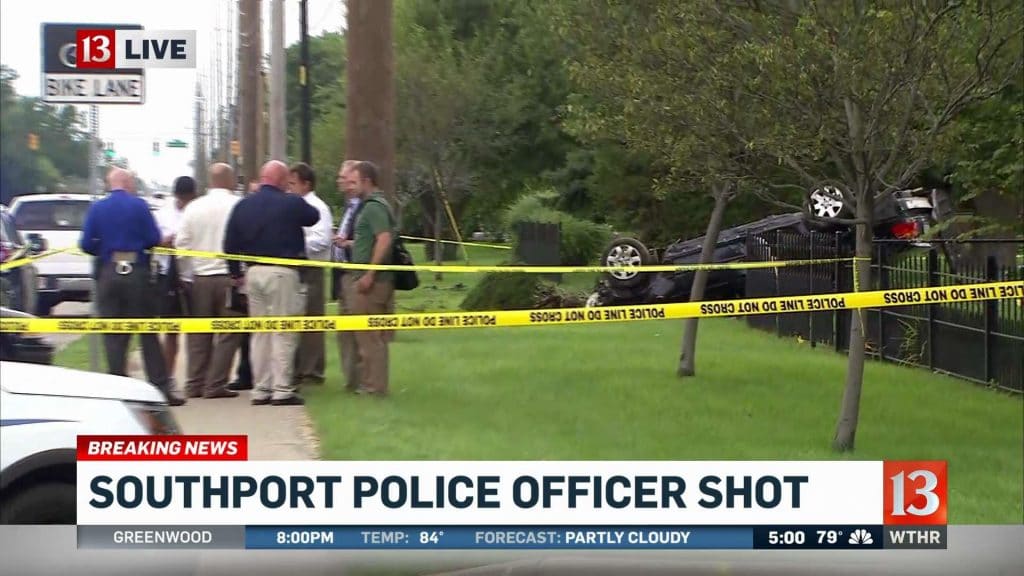 Told Gordon Cocke, a retired police officer from Kansas City, 'I don't think he had any idea what he was getting into and didn't have a chance to defend himself. It was a cold blooded murder. It's a shame that it happened'.
Revelations on social media have since intimated the high speeds that Brown had been traveling may have been the result of a high speed police chase moments before. Or at least the belief by the driver police had come to apprehend him for reckless speeding driving.
That said, Southport Police Chief Thomas Vaughn said the car as driven by Brown wasn't stolen and no arrest warrants were pending for the driver.
Told Vaughn, 'I think that's the hard part some of the officers and our community are dealing with now — they don't understand why you would shoot someone who was there to help you. He wasn't there to arrest you'.
Meet Jason Brown, just killed police officer Lt. Aaron Allen, Indiana. Trump must want more police killings by egging on police violence. pic.twitter.com/iCMjr8tV8r

— Jana Blade (@JanaBlade1) July 28, 2017
Witness describes chase crash an officer shot at Southport @WTHRcom pic.twitter.com/I4OtVMjYFQ

— David MacAnally (@DavidMacAnally) July 27, 2017
In the days since the shooting, friends of Allan, have expressed disbelief that the father of a three year old and normally 'timid' man with no major criminal history could have shot the officer.
Told friend, Traci Wagner via RTV6, 'He's shy, he's timid,' 
Adding, 'He's just not – he's not – How would you say it? He's not the kind of person who goes out and creates trouble.'
'Jason lives for three things: tattoos, skateboarding and his son'.
Nevertheless, Brown's social media accounts showed the 'apparent timid' man having a fascination with handguns.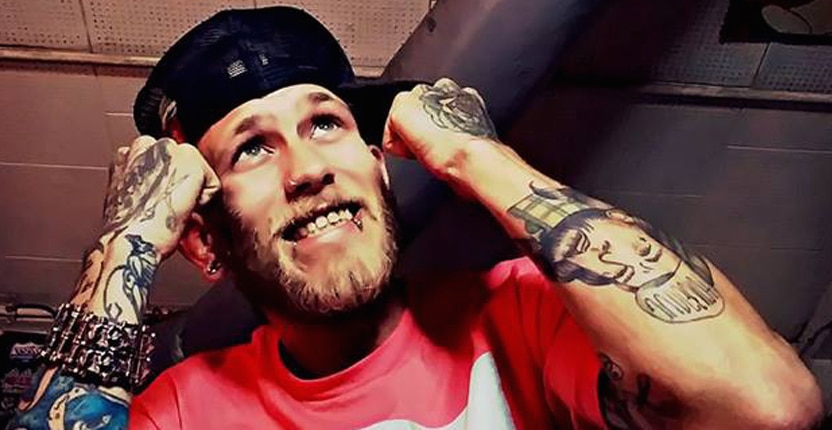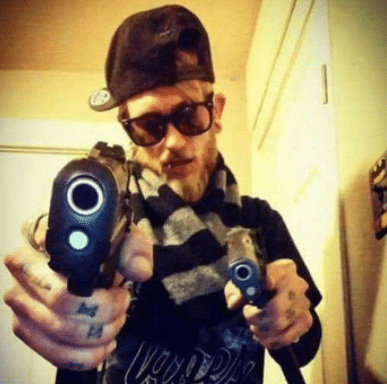 In one photo on Instagram, Brown poses with matching semi-auto pistols carrying extended magazines in each hand.
Another post on Facebook reads: 'Why do I carry a pistol? Because my AR15 doesn't fit in my pants,' referring to the popular semi-automatic rifle platform. 
Of note, on July 24, three days before Allan was killed, Brown had posted on Facebook saying he was interested in bartering tattoo work for electronics, vehicles, or 'bang bangs'.
When someone replied publicly asking what a 'bang bang' was, Brown responded: 'A gun'. 
Brown has no major criminal conviction history, with records showing four civil infractions and one misdemeanor, a 2013 bust for possession of marijuana or synthetic cannabinoid, which garnered him a 30 day sentence. 
Reiterated the man's friend, Traci Wagner, 'Something had to have happened. I don't know if the wreck triggered something in his mind. I don't know if they were being chased. I don't know. I don't know'.
Witnesses said shots flew from the overturned car while the occupants were still hanging upside down by their seat belts.
RIP Lt Aaron Allan. Shot and killed while trying to help car crash victims.#BlueLivesMatter ?https://t.co/QoqwB5VDf9

— klarson (@kglarson) July 29, 2017
Long line of police vehicles leaving Eskenazi hospital after the shooting death of Lt Aaron Allan pic.twitter.com/TQTPrr4yGU

— Trevor Shirley (@Trevor_Reports) July 28, 2017
Told Julian Dewbrew who had gone to assist an off-duty sheriff's deputy who'd pulled over to assist via WTHR, 'all you see is, like, a bullet go and look like it hit their car. It almost hit our car if we didn't back up'.
All the while, motorists had continued slowing down in what they perceived to be just a car crash scenario.
Added Dewbrew, 'While the police were firing at the vehicle, they had to literally yell at people to get back'.
Police returning fire struck one of the individuals in the overturned car, although it isn't clear if that was Brown or the other man in the car.
Both men are currently hospitalized, one with injuries from the crash, and the other with the gunshot wound.
The other occupant, who has not been named, has been interviewed as a witness and police say they are not pursing charges against him.
Brown faces preliminary charges of murder and marijuana possession.
Allan was a 20 year veteran of law enforcement, who had served the past six years on the Southport Police Department, in the enclave of Indianapolis.
In 2015 Allan was named 'Officer of the Year' after saving two people in 2015.
During a local media interview at the time, Aaron Allan said, 'I'm very surprised,'
Adding, 'I don't like to be recognized for [my actions]. It's part of the job.'
Allan is survived by his wife and children. A funeral service has since been scheduled for Lt. Aaron Allan on Saturday, August 5 at 11 a.m. at Bankers Life Fieldhouse. 
To date police have yet to say what might have led to Jason Brown shooting out at one police officer who had simply sought to save the man and his fellow passengers' lives…
A GoFundme page for the slain officer's family has as time of publishing raised $50,500 of its $100K goal.
This is a photo of Lt. Aaron Allen walking his son to the bus stop hours before he was killed in the line of duty. Teared up looking at this pic.twitter.com/tJRNEaTWjJ

— Ryan Fournier (@RyanAFournier) July 29, 2017