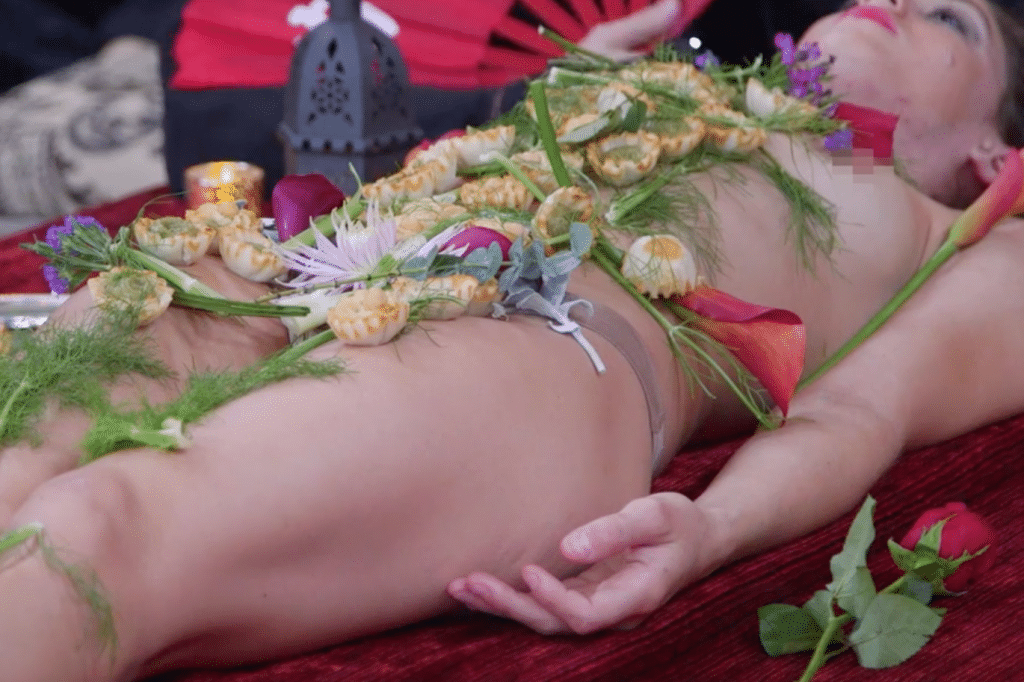 Miranda Robero human food tray: How one performance artist came to be part of Lust's NYC erotic dinner party where abandonment and empowerment rule. 
Also arriving on the weekend tabloid covers is the story of self confessed human food tray, Miranda Robero, a 24 year old Bushwick, Brooklyn native.
According to a report via the nypost, the woman who makes anywhere between $200 to $400 a night allowing ravished guests cherry picking gourmet food canapes off her body parts finds herself being 'incredibly aroused', never quite knowing which body part guests will eat from.
Wearing nothing but a fresh colored thong, the 'performance artist' lays flat as a kind of food platter as event guests mill, picking and choosing from the arrays of indelible delights on display. Indeed.
Robero, who also works as a fire juggler and gentlemen's club dancer according to the nypost is one of eight so-called 'human trays' at Brooklyn's latest hipster fad, Lust, an 'immersive erotically charged dinner party' with tickets costing between $90 and $140 a pop. It's a gig that she's been doing for just on a year, coming across the opportunity through networking (otherwise known as hustling to all you New Yorkers).
Explains Robero, 'I definitely feel empowered,'
Adding, 'I feel like a goddess.'
Told one female dinner guest, 'Eating off another woman is very sexy, very sensual.'
Do you suppose?
According to its website, Lust, which began in February 2016, is the creation of artist and performer Abby Hertz, 33.
Explains Hertz, who insists no sex takes place (at least not on the dinner tray), 'I want to teach people the idea of connecting sensually without engaging in sex,'
Adding, 'One of my inspirations is the Japanese fetish tradition of nyotaimori, in which you eat sushi off the body.'
Robero, as with all the human trays, must take a shower within an hour of assuming her place on the table. A 'food artist' then 'adorns' her with food fare, from vegetable crudites, to sushi and other yummy finger foods.
Explains Robero further, 'My favorite part is the surrender — not having to check my phone or worry about what's going on because I am, quite literally, here to serve'.
According to its website, the crowd at Lust typically consists of of millennials (many of whom identified themselves as "bi-curious" or "sex positive") with a sprinkling of Gen Xers.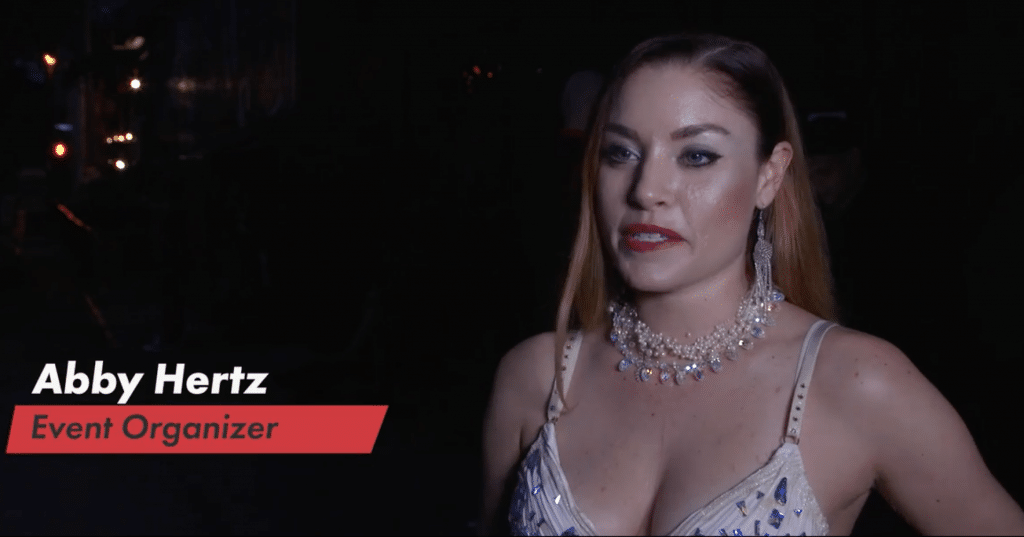 Depending on the personality of the living platter, conversation with diners is either flirty or kept to a minimum — 'to preserve the mystery,' explains Robero.
Which raises the awkward question, is there the occasional dinner guest wanton to chew off more than they ought to …?
To date, Robero reckons she's never had a guest overstep boundaries, fondle her, while having trained herself not to flinch when someone plucks food from her private parts — whether they use their hands or their mouth.
While Robero snags herself $200 and $400 per two-hour stint, the work for the time being is only coming in at two or three times a week, raising questions if it is a career home runner? That said, who can ever anticipate the ever changing dinner appetites of revelers in the future to come?
While the work itself is well paying, it appears it's not for everybody (alas…another side job I'll have to scratch myself off from), with Lust's Hertz pointing out that it takes a 'certain type of person to do this well.'
'What makes a good platter is [someone] with really good energy, really positive and who actually enjoys it,' explains Hertz. 'I don't want somebody that is like, 'When is this going to end?' but somebody who is more into tantra and meditation.'
Which is to immediately say this author is forever off limits to being a human food tray, even with his polka dot undies. Alas.
Isn' it time you also tried your hand and become your own naked human food tray? Or at the very least nibbled off one or two …