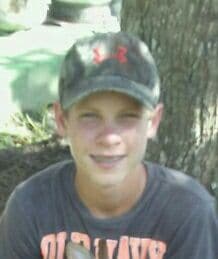 Kollsen Carter a 14 year old boy dies after accidentally shot in the head by his twin brother while trying to kill a snake. A community mourns.
Kollsen Ray Carter a 14 year old Liberty, Texas teen boy has died after his twin brother accidentally shot him in the head as the brothers tried to kill a snake near their home.
The boy's death came Tuesday night after being airlifted to Memorial Hermann Hospital in Texas, Monday afternoon.
According to the dailymail, Kollsen was preceded in death by his father Michael, who died in 2015.
Liberty County Sheriff's officials called the incident a tragic accident and said they don't anticipate pressing charges against the twin for manslaughter.  
Prior to Kollsen passing away, fellow students at Central Middle School, where the brothers attended, gathered for a vigil, Tuesday night.
Told school teacher, Jessi Farmer who attended the vigil via 12 News Now, 'They are, they are the biggest rays of sunshine, both of them'.
The incident happened just circa 3.45pm on Monday, when the twins found a snake in a drainage ditch near their home, so they went back to the house to get a pair of .22 caliber rifles to kill the reptile. 
Tragedy would strike as the brothers returned when Kollsen suddenly dropped down between his brother's gun and the snake and was hit in the head – just above his right ear.
The other brother called 911 and a sheriff's deputy arrived on the scene to start CPR while they waited for paramedics. 
The boy was eventually taken by life flight to Memorial Hermann Hospital in Houston.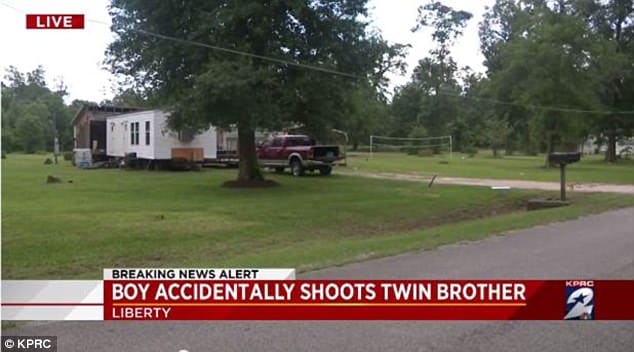 In the aftermath of Kollsen's death, family member wrote that arrangements are pending and asked mourners to pray for the boy's grief-struck brother.
'He's feeling that the burden is his,' Mary Carter wrote. 'Please pray that God will heal his heart and mind and comfort him.'
Captain Ken DeFoor told ABC 13 that the incident should be a lesson to parents.  
'These guns that are left unsupervised in the home. There should definitely be training on how do you properly use these weapons,' he said. 'These boys were 14 years old. They were certainly old enough to be taught the proper handling of firearms, what they should and should not do. Never ever put yourself in the front of one like was done today. It was a thoughtless act that resulted in a tragic accident.'