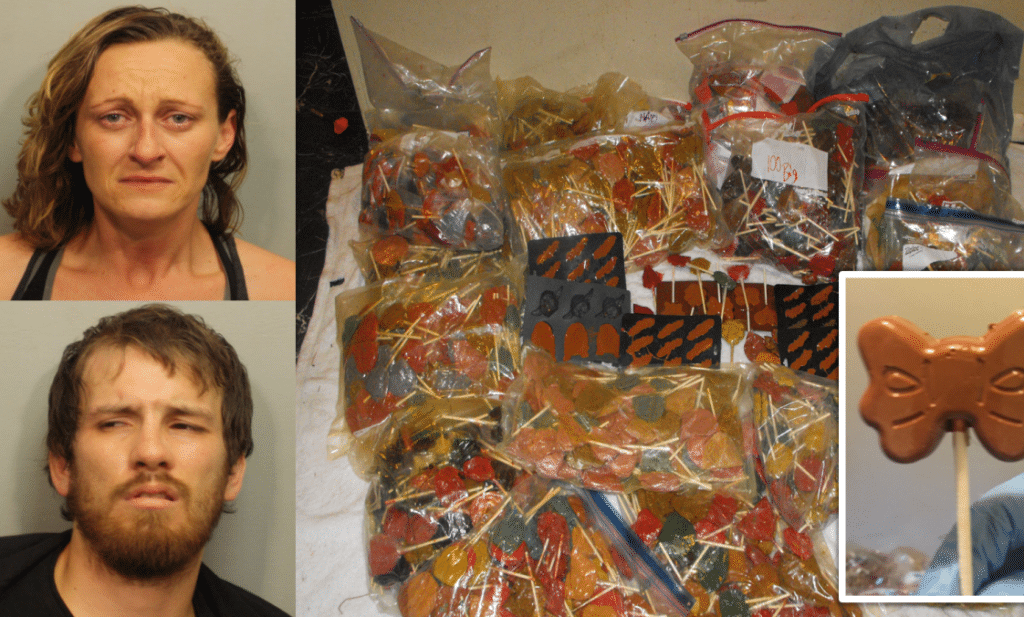 How Evonne Mick and David Salinas a Texas couple conspired to steal $1m worth of meth lollipops. Destined for Harris County. 
Evonne Christine Mick, 36 and David Salinas a Texas couple have been arrested after cops uncovered nearly $1million worth of meth laced lollipops in their vehicle.
The boyfriend and girlfriend's arrest came after police responded to a call about a burglary at a Harris County, Houston home, where upon responding officers came across Mick and Salinas as they were making their get away reported Click Houston.
At the time, the couple had conspired to steal the illicit contraband from an alleged meth dealer's house.
The sheriff's office believe Evonne Mick may have lived inside the home prior to the drug bust. Knowing the drugs were inside, officers speculate the suspects returned to burglarize the house and steal the candies inside.
A search of the couple's vehicles led to the discovery of the contraband filled to the brim in the back seat.
So packed was the back seat, that the suspects couldn't even close the car door. 
Including the contraband in the couple's car and what was discovered in the home, police said the haul came to a street value of just on $1million noted KIAH.
'I don't believe these two people were the actual people making them,' a HCSO official said. 'The other part of our investigation is going to be trying to figure out who's actually making them.'
Police surmised the huge amount of methamphetamine-laced candy was being made inside the home and sold on the streets of Harris County. 
They also said the arrests and seizure happened nearby to a school, with concern the drugs were targeted at children.
Told a Harris County Sheriff's spokesperson: 'Even if they were not sold directly to a child, what if they were dropped anywhere in a neighborhood, and a child were to pick them up is going to see them and think its regular candy'.
Harris County Police noted the lollipops coming in a variety of different characters, including Batman and Yoda, along with more simple designs such as a butterfly or a flower.
Each piece of candy was meant to be sold at a price ranging from $20-$40, depending on its size. 
Court documents revealed Mick being charged with possession of a controlled substance, with the woman's bond set at an estimated $100,000, according to court records.
Police believe there are more people involved, and the investigation is ongoing.
Welcome to a brave new America addicted to its existential highs and lows…