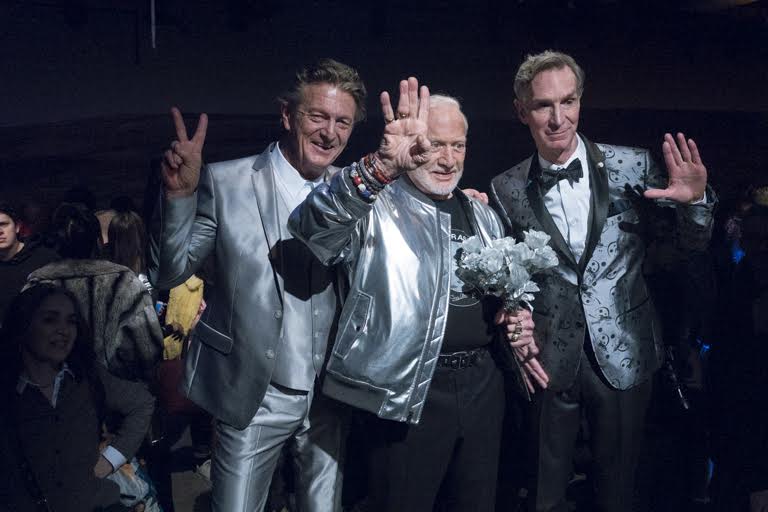 Nick Graham Fashion show F/W 2017 pays homage to Life on Mars come 2035 as the designer draws inspiration to science and innovation and its stars. 
Tuesday morning saw a cheeky and camp esplanade of gallant pretty boys moon gliding strutting down the planks on behalf of fashion designer, Nick Graham who was showing his 2017, Fall Winter Life on Mars 2035 collection in NYC.
With a wink to space exploration, sci-fi, David Bowie, chivalry, whimsy and mankind's need to ever evolve and innovate, Graham set off a range of outfits that included sharkskin suits, metallic rainwear, along with space orientated formal wear which included wool blended tailoring that one might once found on London's Saville Row.
Explains the designer on his website: 'At Nick Graham, we believe that Modern Menswear is a mix of two parts tradition, two parts attitude and one part pure fun. Its what we call "Post-Prep."
Prior to the show's commencement, guests (and there were quite a few of you…) were treated to an expose of Graham's inter-galactic vision courtesy of Bill Nye the science guy who exhorted astronaut Buzz Aldrin's feats along with the space traveler's aspirations to land people on Mars by 2035.
Said Graham of Aldrin: 'He's had such an amazing and positive impact on millions of people and their understanding of science,'
'The more people know about science, the better off the planet will be.'
'I'm a huge fan of both Bill Nye and Buzz Aldrin', said Nick Graham after the show. 'Both of them have had an enormous impact on our understanding of science and space. To work with them on the Mars show is so exciting. And besides Mars is the new black. '
Walking the runway for @itsnickgraham #Mars collection WAS as easy as walking on the moon. #NYFWM pic.twitter.com/iTxgOuFLrU

— Buzz Aldrin (@TheRealBuzz) January 31, 2017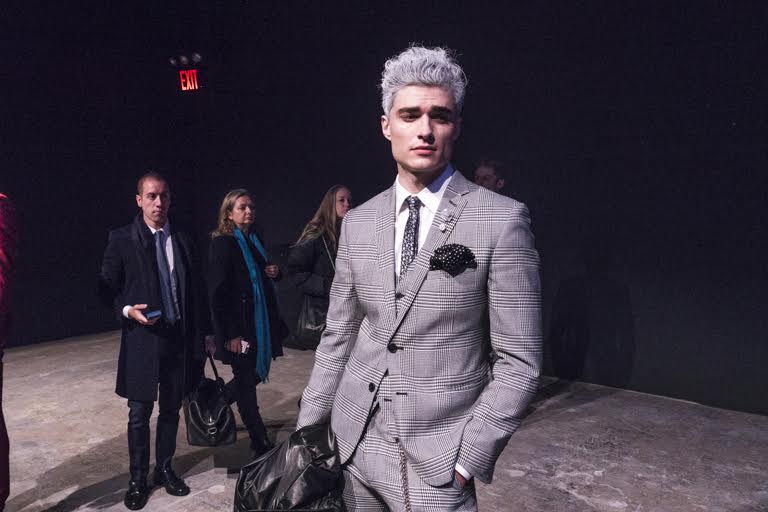 Aldrin is one of the first two people to have walked on the moon, and since then has been an ardent proponent for space exploration, especially Mars. Aldrin published Mission to Mars in 2013 where he plots out his vision to taking humans to Mars by 2035. His current initiative, "Get Your Ass To Mars", is meant to inspire young astronauts everywhere to reach the red planet.
Mused Aldrin, "I've walked on the moon, so how hard can it be to walk in a fashion show? Nick's collection is very Mars friendly and every astronaut should look their best when they land there." 
And with that against film video of red planet Mars a gangly set of chaps proceeded in wry humor and silver hair along with one model carrying a silver briefcase (why not) to make their way in Nick Graham's smart and cheeky 2017 fall winter collection.
Not to be out-done, Buzz Aldrin wearing a chrome bomber jacket, silver sneakers and a t-shirt bearing the phrase "Get your a** to Mars", closed out the show, as he graciously received the ensuing applause.
Told the former astronaut via WWD: "I've walked on the Moon, so how hard can it be to walk in a fashion show". 
Noted guests (besides the usual party crashers- you know who you are…) included Fabulous, Ja Rule, Q Chi Webster, Gamila Smith, Jesper Lannung, Fern Mallis, Dale Moss, Renaud Vuaillat, Ty Hunter and Tommy Dorfman among others.