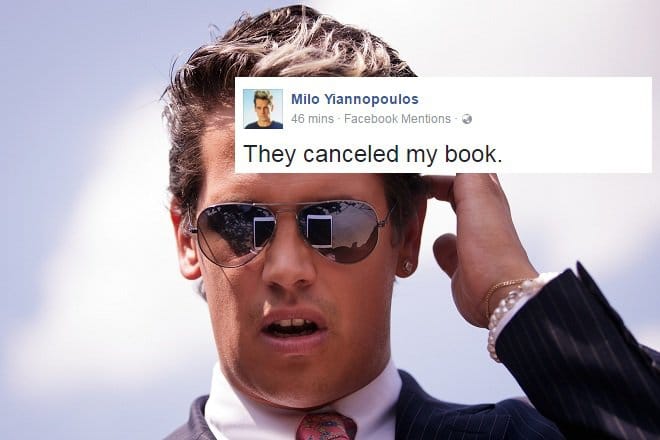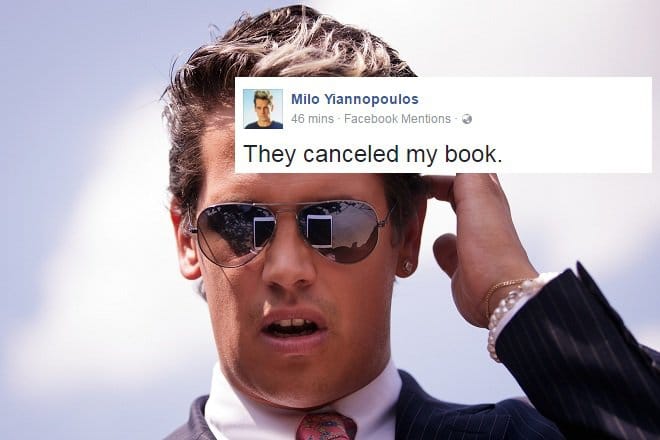 Milo Yiannopoulos loses book deal: Has the dizzy ascent of the alt right poster boy come to an end as a triage of calamity strike the Breitbart editor?  
It must have been good while it lasted. Alt right poster boy, Milo Yiannopoulos and likely to be soon former senior Breitbart editor is facing personal catastrophe after unearthed pedophilia comments have led to the wonder boy going through a triage of upheaval.
Disinvited Monday lunchtime by the American Conservative Union to address the conservative forum after leaks of former cringe worthy comments the wonder boy had made in a January 2016 video seemingly affirming the sexual abuse of young boys at the hands of older men, things only continued to spiral out of control come Monday afternoon.
By late Monday afternoon it was also announced that book publishers, Simon & Schuster had canceled on the $250K 'Dangerous' (indeed….) book deal along with fellow Breitbart workers according to a report via foxbusiness now demanding that the until now 'could do no wrong' poster boy be fired or threaten to walk out.
'Did I step in a pile of dog-shit?'
Things came to a head after picked up lewd comments (to put it nicely) from Yiannopoulos featured the senior Breitbart tech editor saying during a Drunken Peasants Podcast, 'older men help those young boys to discover who they are ' obtained by conservative blog, the Reagan Battalion. 
? Breaking: We obtained the #CPAC2017 Milo Yiannopoulos introductory video.

This is a must watch!

Well done @mschlapp. pic.twitter.com/2nA0H9woUX

— The Reagan Battalion (@ReaganBattalion) February 19, 2017
Told Milo in the video which featured two other men discussing 'coming of age' male on male relationships: 'This is a controversial view, I accept. But we get caught up in this whole child abuse thing even to the extent we are policing consensual relationships between consenting adults, such as grad students and professors at universities.
'The whole consent thing is not as black and white as people try and paint it.'
By early Monday morning it was off to the races as a the tabloids set missiles in the boy wonder's direction.
Sensing his dizzy world was about to implode and off the back of a string of contentious episodes including protesters demanding the 'hate speaker' be dis-invited from speaking at California's UC Berkely and a less than sanguine appearance on HBO's 'Real Time' with Bill Maher on Friday, the alt right poster boy desperately sought to salvage the world falling all over him.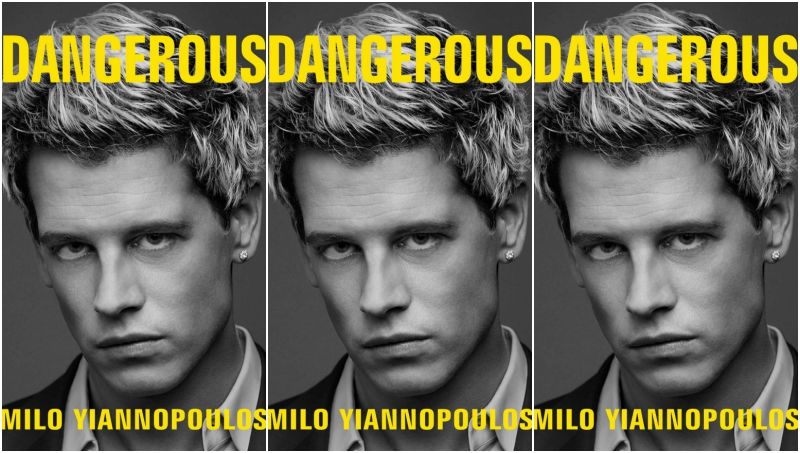 Milo Yiannopoulos resigns: 'This is a politically motivated witch-hunt'
Bill Maher Milo Yiannopoulos shit-show: The art of the spectacle
Ethical? Milo Yiannopoulos UC Berkely cancellation leads to Donald Trump threatening canceling school funding
Free speech? Milo Yiannopoulos Berkeley protests lead to talk cancelled
Told a dizzy Milo in a Monday morning Facebook post, 'I'm partly to blame. My own experiences as a victim led me to believe I could say anything I wanted to on this subject, no matter how outrageous. 
'But I understand that my usual blend of British sarcasm, provocation and gallows humor might have come across as flippancy, a lack of care for other victims or, worse, "advocacy." I deeply regret that. People deal with things from their past in different ways.'
As the tabloids began to rain their special ray of 'fxck you Milo', matters continued to devolve for our collective hero when the Conservative Political Action Committee rescinded a highly contentious offer to have the alt right poster boy appear at this weekend's upcoming convention which will see conservatives luminaries speaking, including President Donald Trump and Ted Cruz.
At the time, the chairman's committee, Matt Schlapp had insisted the forum had the right to hear all points of view as a matter of freedom of speech, even those views that potentially offended and alienated (liberals). Which is to say, it was now the conservative movement's turn to be offended with their boy hero.
My friend, a survivor of sex trafficking: "Milo straight up defended abusing 13 yr old boys…Please don't let that be normalized"

— Jake Tapper (@jaketapper) February 20, 2017
Until Monday's pedophile revelations, there had already been a measure of disconcert with Milo's upcoming CPAC weekend appearance, with the alt right boy having offended many with ongoing comments relating to immigrants, trans-people, blacks and the claim white superiority didn't exist.
Despite Milo's Facebook comments exhorting that his comments had been taken out of context and that video had been heavily edited to disparage the tone of his comments, the tire marks had fully made their mark on the alt right hero.
Told the CPAC's Matt Schlapp in a statement: 'We realize that Mr. Yiannopoulos has responded on Facebook, but it is insufficient,'
'It is up to him to answer the tough questions and we urge him to immediately further address these disturbing comments.'
From there followed a rehash of a Sunday night Facebook post from Milo, in which the alt right poster boy attempted in vain to clarify his comments on a subject that has always been a 'no go taboo topic.'
Exhorted Milo in part: 'People are messy and complex, particularly in the homosexual world. Some of those relationships between younger boys and older men, the sort of "coming of age" relationships, the relationships in which those older men help those young boys to discover who they are, and give them security and safety and provide them with love and a reliable rock where they can't speak to their parents.' 
Adding: 'Pedophilia is not a sexual attraction to somebody 13 years old who is sexually mature. Pedophilia is attraction to children who have not reached puberty. Pedophilia is an attraction to people who don't have functioning sex organs yet, who have not gone through puberty, who are too young to understand about the bodies. That is not what we are talking about.
'You don't understand what pedophilia is if you thing I'm defending it, because I'm certainly not.' 
With news by Monday lunchtime he'd been disinvited to appear at this week's conservative forum, Milo suggested there may be an ulterior motive in trying to ban him from the event this weekend.
Told the 'British impish faggot' as he'd been described by Bill Maher on the weekend: 'This rush to judgment from establishment conservatives who hate Trump as much as they hate me, before I have had any chance to provide context or a response, is one of the big reasons gays vote Democrat.' 
Simon & Schuster has canceled the publication of Milo's book DANGEROUS pic.twitter.com/pE89fLqoWs

— Alex Shephard (@alex_shephard) February 20, 2017
Matters only continued to devolve when Simon & Schuster Monday afternoon came out with their own cricket bat wacking Milo out of the ball-park.
Told the book publishers: 'After careful consideration, Simon & Schuster and its Threshold Editions imprint have canceled publication of Dangerous by Milo Yiannopoulos.'
'Dangerous' was set to be published under Threshold Editions, the conservative branch of the publisher according to USA Today. 
Of note, Simon & Schuster faced a flurry of criticism from the literary world late last year when word got out that the publishing house paid Yiannopoulos a $250,000 advance for a forthcoming book.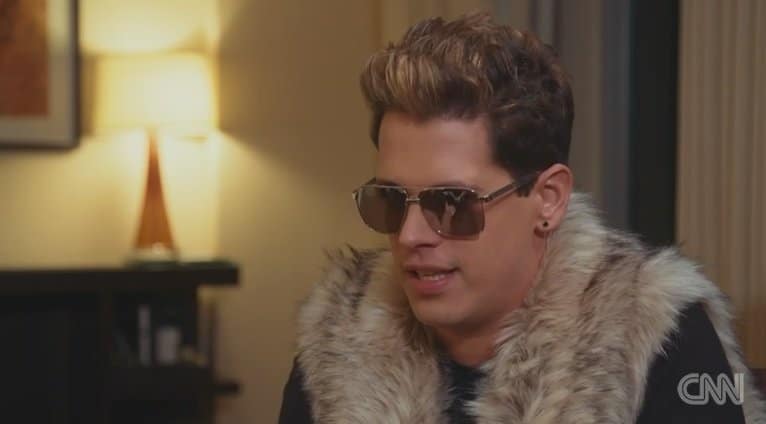 Until his seemingly imminent demise, the flamboyant Yiannopoulos and his employer at Breitbart had sought to portray the vehement conservative speaker as a defender of free speech who had been 'unfairly attacked' by the politically-correct media establishment, a fight his supervisors (and dare we wonder Donald Trump's current media rhetoric) seemed to relish.
The calls by fellow Breitbart employees to fire their star poster boy comes as a delicate time as an increasing spate of fortune 500 companies have become skittish about advertising on Brietbart given its reputation as being the news outlet and opinion destination for the fringe nationalist group known as the 'alt-right.'
It remains to be seen whether Milo's employer will now sack their golden boy wonder, who over the recent year and a half had ridden off the golden boy's shoulders with exponential web traffic, until it became too unbearable and politically expedient to continuing doing so.
Breitbart has yet to publicly confirm whether it has asked their senior tech editor to resign as of Monday evening…