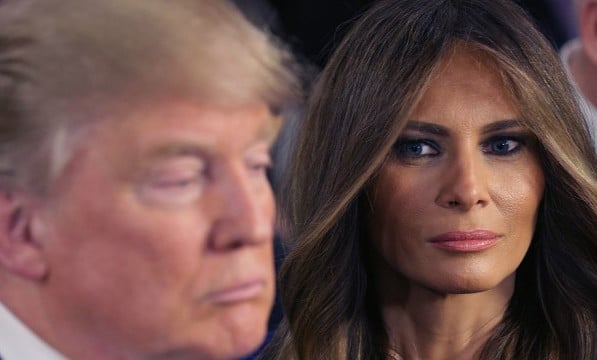 Melania Trump first lady misery. Sources reveal Donald Trump wife resenting new public scrutiny and role. Existential angst at the White House.
It seems beyond the shiny happy go lucky 'smile for me, smile for you' photos that have being making the rounds, sources reveal that Melania Trump is 'secretly miserable' as the new first lady.
A report via US Weekly tells of the former model and husband of newly elect president, Donald Trump struggling to come to terms with her new expected role.
Told a source via the tabloid: 'Melania is struggling with the realities of her new role and the scrutiny that comes with it'.
Reiterated family friend, stylist Phillip Bloch, 'This life wasn't her dream. It was Donald's,'
Adding: 'Truthfully, it's a lot to cope with.'
Look out the window, notice another headline cutting me to pieces….
Since Inauguration Day, Melania has spent almost all her time hiding inside the 'gilded cage' of the family's lavish, $100 million Trump Tower penthouse on Fifth Avenue, where she keeps company with treasured son Barron, 10, who has a whole floor to himself.
The move comes despite the customary dictum of first ladies moving to Washington DC to be by their president husband's side at the Oval house.
Easier said than done.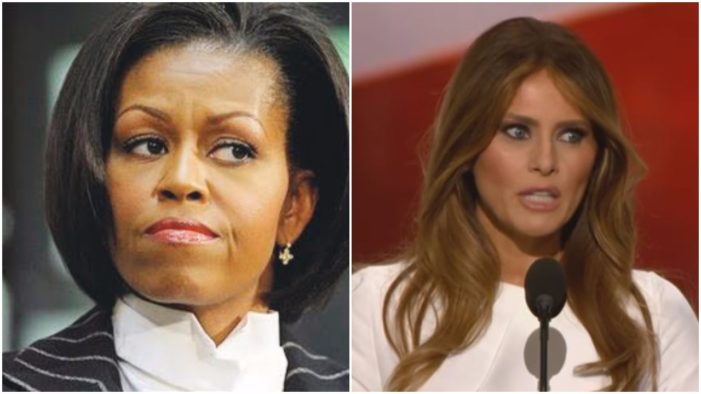 Melania Trump naked Max mag 1995 photo shoot is here
Melania Trump lesbian photos emerge starring Emma Eriksson
Citing her son's need to continue schooling at the post upper West Side private school that he attends, Columbia Grammar and Preparatory School, Melania continues to refuse gestures to move the entire family to DC.
Rankling the new first lady, unlike her husband, is her desire to maintain her privacy and be as little as possible in the constant public eye.
Hold on for dear life Melania!
Signs of fissures came when Melania declined White House overtures to travel to Washington and give her husband a PR boost when Japan's prime minister recently came to town.
She's been expected to preside over traditional first lady tours at 1600 Pennsylvania Ave along with posing for press photos. 
And how did that go?
In the end, Ivanka Trump saw herself being wrangled in to play hostess, a surrogate role that ironically the daughter of Donald Trump has come to relish. At least for now. Her name-sake fashion line has since found itself being dumped by a who's who of fashion retailers, as public sentiment against the new White House family remains hostile circumspect at best.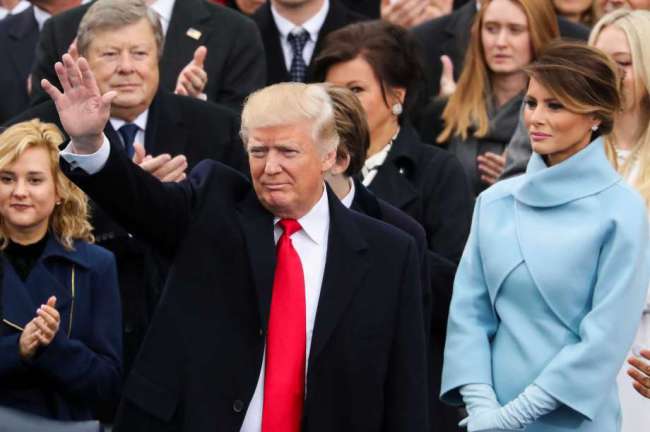 Also not helping Melania's cause is a recent episode courtesy of late night host, Jimmy Kimmel who recently quipped that the new first lady was 'trapped like Rapunzel' in Trump Tower.
And then there's her libel suit against the UK's Daily Mail, with the tabloid suggesting the first lady had once worked as a high end escort? Do you suppose.
The tabloid has since retracted but a suit is still in the air after Melania claimed the article led to her forfeiting commercial opportunities as the new first lady.
Yes kids, 'Melania's First lady eau de toilete- I sprinkle a dash before mingling with high world dignitaries. Shouldn't you try a dash too? Available at all participating bargain stores ….' 
And then there's Melania's accent, with the former model, despite her fluency in five languages, extremely conscious of her heavy native Slovenian accent. An accent that has seen her 'skeeeeweeered on ze late night talq zhows'.
So omnipresent has the glare of being the gilded wife of the much loathed (depending on which media outlet you trust) president, along with the daily picket lines outside Trump Tower, that Melania has also now forfeited taking chauffeured trips escorting son, Barron to and from his private school.
'Melania has the Secret Service take Barron to school and retrieve him,' claimed one family friend not quoted by name.
After school, they both stay in, with Barron doing his homework and watching cartoons, US said.
That said, Melania has found salvation with the weekends, with the first lady making treks to Mar-a-Lago, the iron clad Trump estate in Palm Beach, Florida, where she joins her husband, where the co exist in their gilded private world.
Last weekend saw Melania put down her guard and entertain Japan's Akie Abe in Florida, smilingly/posing/gritting for the requisite photo op at Morikami Museum and Japanese Gardens in nearby Delray Beach.
Nevertheless sources say even that was a struggle and a chore. 
'Don't let her smile [in the photographs] fool you,' told a source via US. 'She hates this.'
Added the source, 'Melania is unhappy with how her life ended up.'
'She is miserable.'
Aren't we all ….?