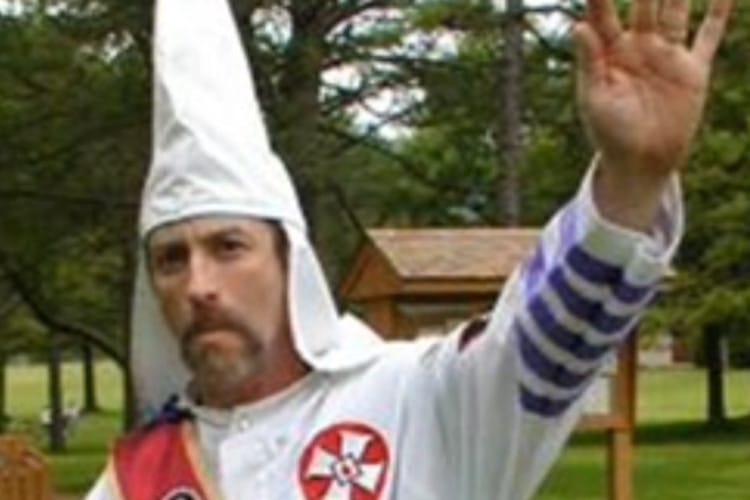 Frank Ancona Ku Klux Klan leader death: How did a KKK leader come to be murdered? A man despised by other white nationalist groups and protesters is found dead. 
Intrigue has ensued following the discovery the body of missing KKK leader, Frank Ancona after the Imperial Wizard of the Traditional American Knights of the Ku Klux Klan, was found dead Saturday in what authorities have deemed suspicious circumstances.
The discovery of the missing 51 year old man by a rural river in Missouri comes days after Ancona, a devout white nationalist was reported missing by his employer.
The St Louis Post Dispatch reports told of Ancona's body being discovered Saturday by a family who had gone to Big River for a fishing trip.
Told Washington County Sheriff Zach Jacobsen in a press release upon the discovery of the missing man's vehicle on Friday: 'Deputies responded on Friday and located the vehicle and secured it,'
'We left deputies at the scene and secured it overnight due to the loss of light. On Saturday morning we conducted a search of the area by foot by member of the Potosi Fire Protection District and the sheriff's office. We didn't locate much of anything in the woods, but we did locate evidence of a burn pile near Mr. Ancona's vehicle.'
Of note, Jacobsen while declining to describe the cause of death, went on to call Ancona's death a 'tragic and senseless act of violence.'
By Sunday evening, a report via the Daily Journal told of an autopsy revealing Ancona having died as result of a gunshot to the head. The outlet went on to note that police intended to press charges as early as Monday morning. No mention of whom the charges would be pressed again.
Why? Malissa Ancona Frank Ancona wife held on suspicion of murder of KKK Imperial Wizard leader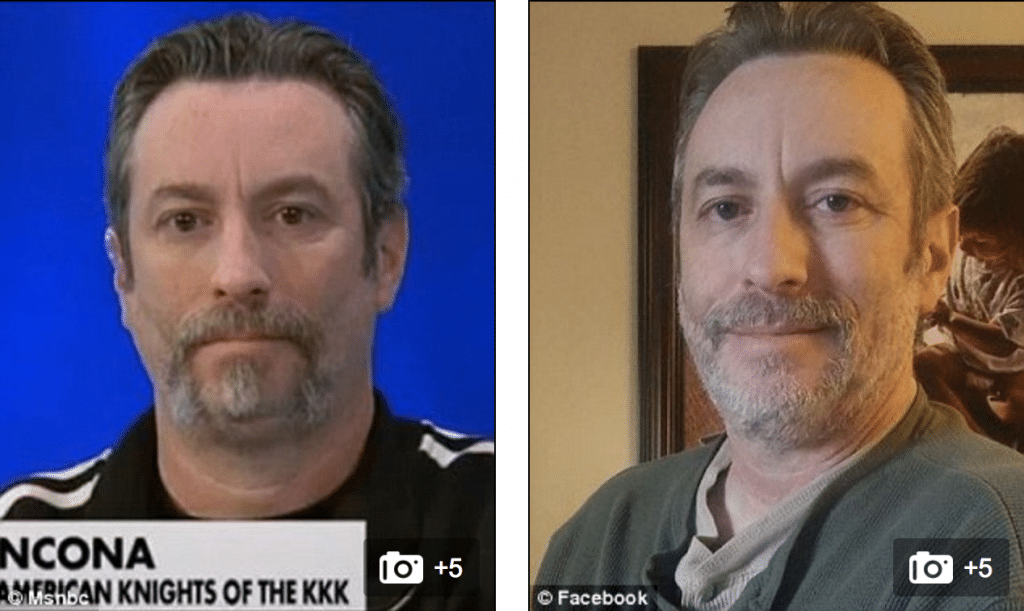 A previous report via the Daily Journal told of the self proclaimed 'imperial wizard' of a KKK chapter near St Louis being last seen at his Leadwood home Wednesday morning.
According to the man's wife, Malissa Ancona, Frank was called to work to make an out of state delivery for a part. Before making his way, the husband packed a bag, some guns (why?), only to fail to ever make contact with relatives ever since.
But here's where things get interesting, according to Frank Ancona's employer, the outlet made no such overture, saying they were forced to call authorities after Ancona was a no show come Friday.
Further increasing the mystery behind Ancona's disappearance and subsequent death, police told of a safe inside the couple's home being bashed with a crowbar and its contents missing.
Leadwood Police Chief William Dickey said a burglary was not suspected.
Also missing were all Ancona's firearms that the man normally kept in the family home. Adding to further intrigue, the gun that Ancona usually carried on a daily basis was left in the house with Malissa turned it over to officers.
Cops also questioned Ancona's wife on a Facebook posting she made the day of his disappearance that sought a roommate for her husband.
She said Ancona was filing for divorce when he returned and would likely need help paying for rent notes a report via the nydailynews.
Ancona's vehicle was found near the site of his body in Washington County. No arrests have been made and Leadwood police did not name a suspect. Commentators on the web have already begun to suspect that charges against the wife might be pending. Or were they?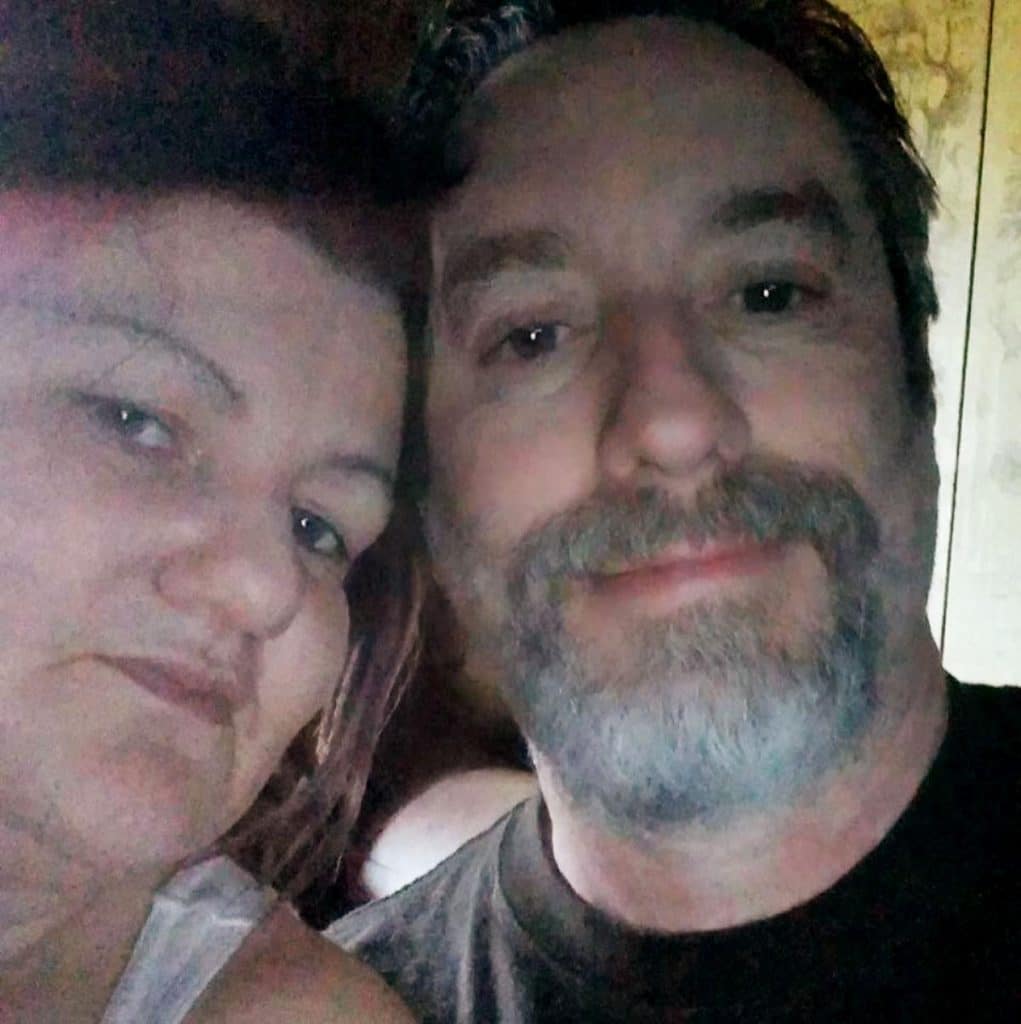 Ancona's son, whose name is also Frank, said in a Facebook post Thursday evening that his family had not had contact with his father since Wednesday night.
'This isn't like my dad,' the son wrote. 
Of note, the Daily Journal report makes no mention of Ancona's affiliation with the hate group or that Ancona ran a website dedicated to the 'Traditionalist American Knights of the Ku Klux Klan.' The site features Ancona wearing KKK regalia in front of a burning cross.
Reiterated the son, 'This isn't like my dad'.
In the wake of the police shooting death of Michael Brown in Ferguson, Ancona who always maintained that his charter was a religious one and not a racist one (do you suppose?) threatened that KKK members would use 'lethal force' against protesters. Protesters who Ancona on more than one occasion had described as 'terrorists'. 
Told Ancona in one interview: 'How can you be a Christian organization and hate other people?'
'I've actually taken a lot of heat from other white nationalists because of that," he said. "I'm called an N-lover and a Jew, blah, blah, blah. I'm doing everything I can to hold it to the principles it's supposed to be by.'
The same interview noted Ancona saying via the Kansas City Star he was not popular with other KKK groups and was vocal in his criticism of them.
A report via rt noted Ancona's recent relationship with the Loyal White Knights of the KKK deteriorating as its website accused Ancona of being a Jew and a 'federal informant.'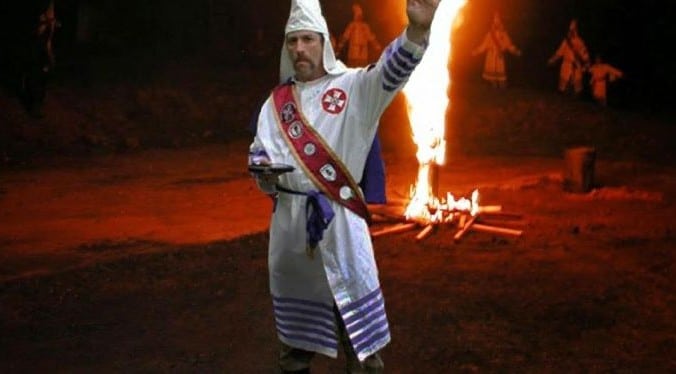 Ancona went on to say that there were few Klan organizations in the country that he considered legitimate and had been in squabbles with some of them. Some said that his Klan wasn't authentic and that Ancona was Jewish.
'I'm actually Italian and Irish,' Ancona said.
The KKK leader was named in a 2013 lawsuit lodged by the American Civil Liberties Union against the city of Desloge for allowing Ancona's KKK group to distribute neighborhood watch leaflets, according to the St. Louis Post-Dispatch.
At the time, the group were forced to stay on the curb during efforts to distribute 'literature'. 
Of note, The Klan filed a countersuit, saying that the curb-side ordinance violated the organization's First Amendment rights.
Ancona had also posted recruiting videos and cross burnings on YouTube (see below) and was profiled in The Star's 2015 domestic terrorism series.