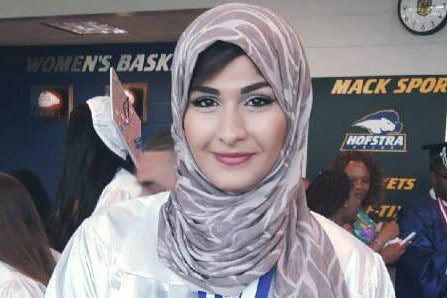 Yasmin Seweid arrested: What led to a Muslim teen making up a story about being harassed over her faith and Islamic garb? 
Yasmin Seweid the 18 year old Muslim college teen the focus of recent reports after purportedly being harassed because of her faith and outwardly appearance has been arrested.
The woman's arrest comes after admitting to police that she made up the story of being harassed by men who shouted 'Donald Trump' and who had allegedly demanded that she take her hijab off.
Soon after the incident the teen went missing only to be found a few days later, sparking disconcert. 
Since her arrest, the nydailynews reports that Seweid will now be charged with filing a false report.
The teen's arrest comes despite police sources saying Seweid having 'numerous opportunities' to admit the incident never happened only to time after time stand by her story.
The revelation that the teen had misled authorities came after on Wednesday after being confronted with questions from detectives increasingly suspicious of her story.
Soon after Seweid recanted, admitting she'd made it all up, citing family problems.
The police source said criminally charging her was appropriate.
'This isn't something we normally like to do but she had numerous opportunities to admit nothing happened and she kept sticking by her story,' the source said.
Adding: 'We dedicated a lot of resources to this — and don't get me wrong, this is what we do — but we had guys going back and forth, looking for video and witnesses. And we couldn't find anything.'
'Nothing happened — and there was no victim.'
It wasn't immediately clear what Seweid hoped to gain by lying to police.
Terrorist! Yasmin Seweid Muslim teen harassed by Trump supporters now missing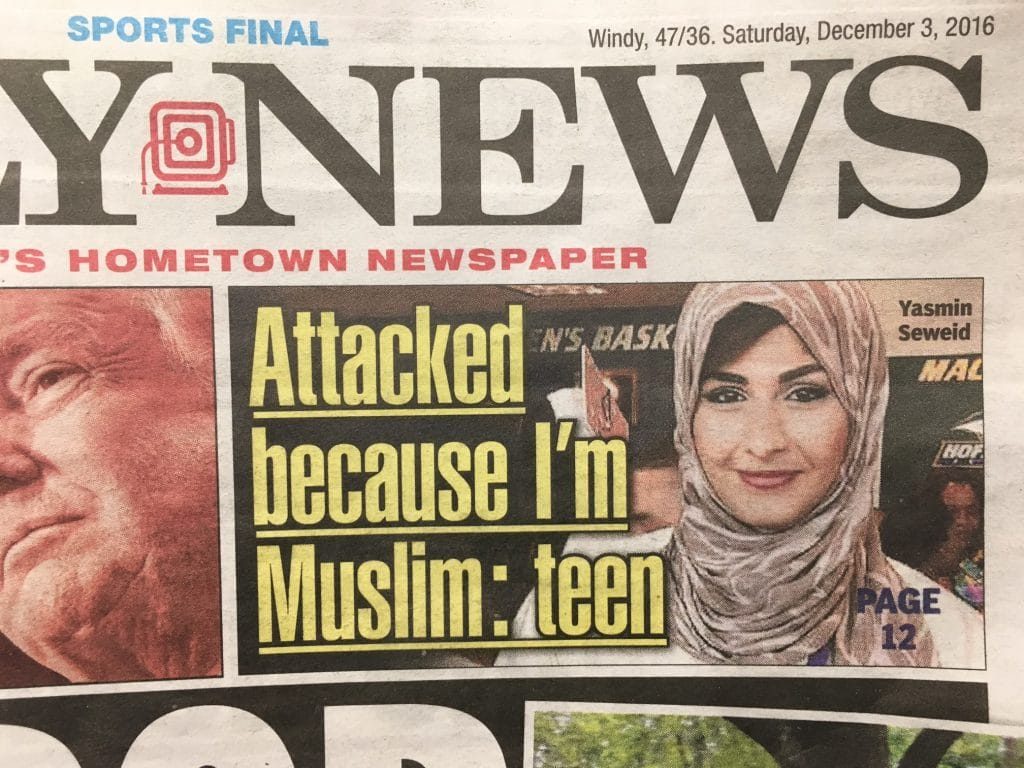 The Baruch College student claimed that on her way home to Long Island the night of Dec. 1 she encountered three drunken men on an uptown No. 6 train.
She said straphangers stood by and did nothing while the trio mocked her and tried to tear the religious garb from her head.
Told the teen at the time via the nydailynews: 'It made me really sad after when I thought about it,'
'People were looking at me and looking at what was happening and no one said a thing. They just looked away.'
The incident led to Yasmin Seweid providing a description of the suspects, one of whom police believed they saw on video following her when she got off the subway at Grand Central Station to look for police.
After failed attempts to come up with witnesses, and then the teen leaving home only to turn up the next day at a friend's home, cops grilled the teen.
The teen's arrest comes after initially taken to Facebook (since taken down) where she posted:
Three white racists ripped the straps off my bag & attempted to yank my hijab off my head,'
'They yelled such disgusting slurs at me, I was so helpless and felt defenseless.'
Adding: 'It breaks my heart that so many individuals chose to be bystanders while watching me get harassed verbally and physically by these disgusting pigs.'
Told the teen's father, a limo driver studying nights for a law degree, Wednesday afternoon:
'You try to raise your children as best you can,'
'Maybe she was afraid that night. She was running late.'
Ironically the Facebook post led to the teen being lashed out by detractors who believed the woman was lying and had simply sought to score political points in the wave of recent antagonisms with the election of Donald Trump and the spike in reporting of hate crimes year over year.