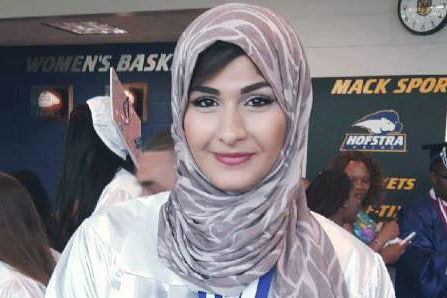 Yasmin Seweid a Muslim teen who found herself being taunted by Trump supporters and had her hijab pulled at has now gone missing. 
Yasmin Seweid an 18 year old Muslim Long Island teen who was called a a 'terrorist' by a group of men harassing her on the subway earlier this month has been reported missing.
The New Hyde Park teen of Egyptian heritage was reported missing by her father on Thursday, prompting the Nassau County Police Department to open an investigation according to the nypost.
The teen's disappearance comes after Seweid was last seen leaving her home on foot Wednesday around 8 p.m., police said.
Why? Yasmin Seweid arrested for lying about Muslim attack
According to patchny, at the time of her disappearance she was wearing a black jacket, a black head scarf, a blue sweater and black yoga pants, while also carrying a bag with clothing inside. The missing teen stands around 5 feet, 9 inches tall and weighs 150 pounds.
The teen, who attends Baruch College told sources hasn't shown up at school since Dec. 2, Friday week ago.
Concern for the missing teen's whereabouts comes after Seweid told cops of being harassed by a group of men at a local NYC subway stop last week.
It was while making her way home from a fashion show at Baruch college circa 11pm, December 1, when three men who'd been talking about Donald Trump started harassing her on the subway train.
'Oh look at this f–king terrorist,' one man said at the 28th St. stop, according to sources.
Despite Seweid ignoring the men they continued taunting her.
'Take that rag off your head,' one man said as he grabbed her bag. 'Go back to your country. You don't belong in this country.'
'Can you leave me alone,' she said, according to police sources.
The trio then followed her to the other side of the train car, continuing to taunt her.
Shouted one of the men, 'Go back to your own country.'
At this point one of the men is alleged to have grabbed Yasmin Seweid's hijab, demanding that she take it off.
Seweid finally got off the train at Grand Central.
The following day the teen wrote about the incident on Facebook.
Posted Yasmin in part: 'Three white racists ripped the straps off my bag & attempted to yank my hijab off my head,'
'They yelled such disgusting slurs at me, I was so helpless and felt defenseless.'
Adding: 'It breaks my heart that so many individuals chose to be bystanders while watching me get harassed verbally and physically by these disgusting pigs,'
'Trump America is real and I witnessed it first hand last night! What a traumatizing night.'
The comment section of Yasmin Seweid's Facebook post has since been inundated by Trump supporters accusing her of making up the story.
Her last post on social media was on Dec. 3 as Yasmin Seweid's whereabouts has yet to be accounted for.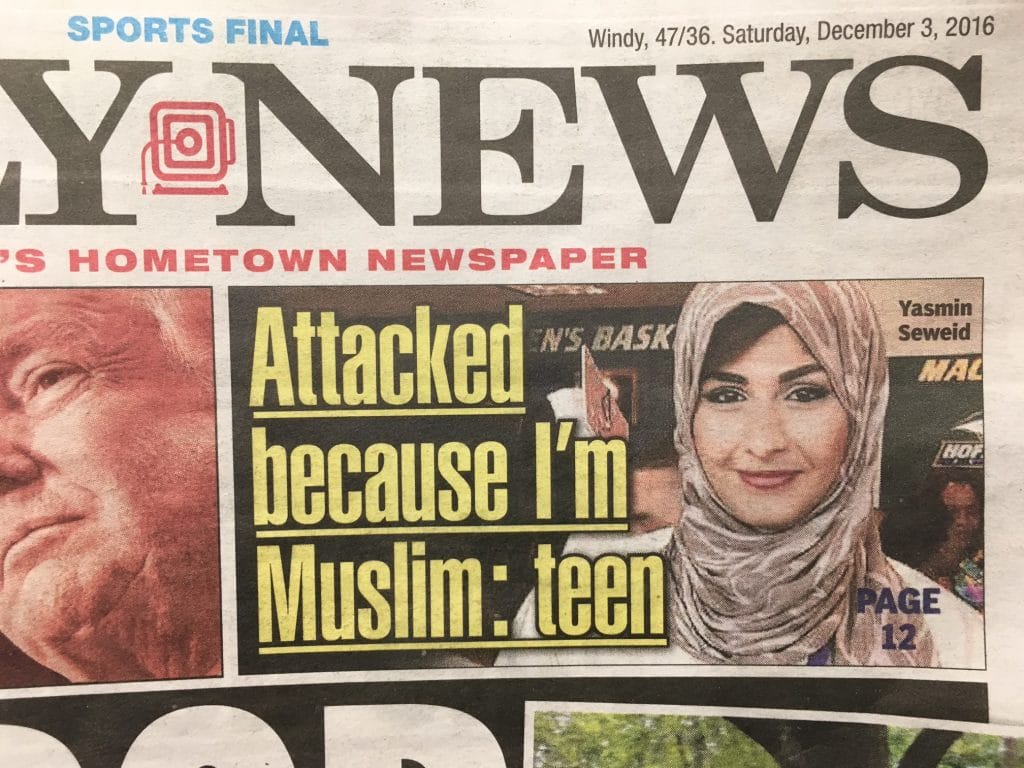 Shame #NYC: "People were looking at me and looking at what was happening and no one said a thing. They just looked away," Yasmin Seweid.

— Mona Eltahawy (@monaeltahawy) December 3, 2016
According to the nydailynews Seweid said the other passengers on the train did nothing.
Told the teen: 'It made me really sad after when I thought about it,'
'People were looking at me and looking at what was happening and no one said a thing. They just looked away.'
Detectives are now asking anyone with information regarding Seweid's whereabouts to call the Nassau County Police Department Missing Persons Squad at (516) 573-7347 or 911. All callers will remain anonymous.
The taunting incident comes off the back of an uptick in bias attacks in the past month.
Earlier this week the NYPD said that 43 hate crimes have been reported since Election Day, more than double the number reported at this time last year.