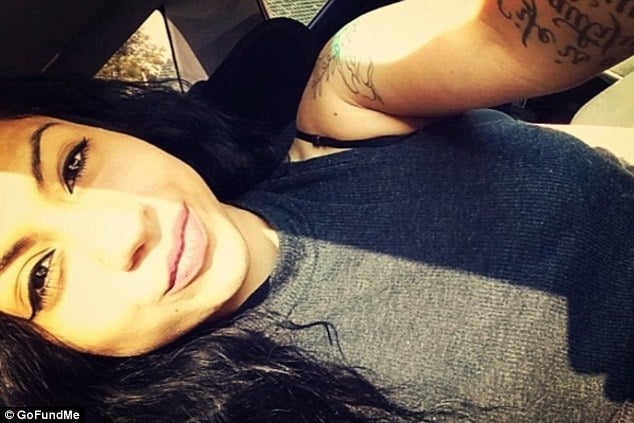 Melissa Contreras strangling death: What led to Uriel Leon an ex boyfriend strangling the mother of his two children and his on and off girlfriend to death? 
Uriel Leon a 24 year old Southern California man has been charged with murder after allegedly strangling his ex girlfriend in front of their toddler son.
The charges come after Melissa Contreras was identified as the 'person down' inside a vehicle near an Oceanside intersection, Monday evening circa 8.40pm.
According to prosecutor's the woman's death happened during an altercation in her car.
A report via KFMB told of Deputy District Attorney Ben Barlow saying that Leon was seen on surveillance camera in the moments before and after the killing at the house he shared with his parents near Luna and West Redondo drives.  
The murder happened after the woman had returned from a shift at work.
Appearing in court Thursday afternoon, the ex boyfriend pleaded not guilty to murder and felony child abuse charges.
In the footage, Contreras was seen pulling up to the home at about 5.30pm, as Leon walks out of the property with a young child, later identified as the couple's two-year-old son.
The boy is seen on the film climbing into the vehicle, before his parents become involved in an altercation.
Contreras was sitting in the driver's seat with her door open, while Leon, who was in the doorway, then got into the backseat behind her.
'That's when investigators suspect the strangulation occurred,' Barlow said.
Shortly after, Leon drove the car a short distance away before walking back home with his son.
A neighbor found Contreras in the car about 8.30pm, police said before officers found Leon at home shortly after.
Leon voluntarily went to the department for questioning, where he was later arrested in connection Contreras' death. He is being held on $2 million bail.
CBS News 8 – San Diego, CA News Station – KFMB Channel 8
Oceanside police Det. Rick Favela said the couple, who had two children together, had had an off/off relationship the last decade, and that over the last several months, the relationship had deteriorated. 
Investigators believe they had argued over accusations of infidelity the night Contreras was killed.
However, a friend said the couple were no longer together and Leon did not like the fact that Contreras was 'finally happy without him', notes a report via the sandiegouniontribune.
According to her social media accounts, Contreras was mother to three children, two girls and a boy, and the boy who witnesses the killing was her youngest child. 
A GoFundMe page has been set up to raise money to help her family.