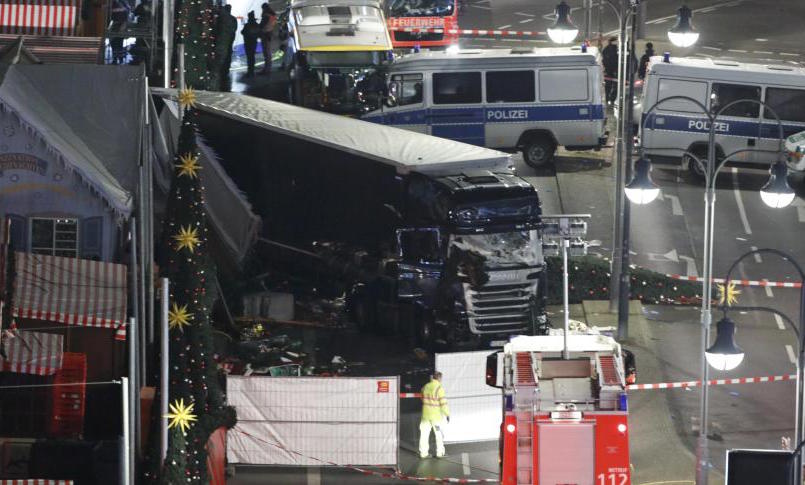 Naved B a Pakistan refugee has been identified as the Berlin truck attacker who hijacked a Polish truck driver before launching his attack. Lone wolf?
Preliminary reports from German authorities have told that a 23 year old Pakistan refugee by the name of Naved B was behind the wheel of a 25 tonne lorry which 'deliberately' barreled through a busy Berlin Christmas market, killing 12 and injuring 48.
The vehicle laden with steel cargo mounted the pavement at 7pm local time, before tearing through stalls and shoppers on Breitscheidplatz Square, outside the Kaiser Wilhelm Memorial Church in Berlin's main shopping area.
At the time the truck was observed to be traveling at speeds of up to 40 miles per hour, 65km per hour with the headlights off.
The man at the wheel – who according to German newspaper Berliner used different aliases, was of Pakistani heritage and had arrived in Germany in February – fled the scene before being arrested  at a nearby zoo. 
The Pakistani national according to local reports entered Germany via the Balkans on December 31 before applying as an asylum seeker in February. He was believed to be living in a refugee camp at Berlin's Tempelhof airport, which was raided by an elite group of armed anti-terror police at 4am this morning.
Police confirmed the original driver, a 37 year old husband and father who was transporting steel beams from Poland to Germany, was a Polish national who was found dead in the truck's cabin.
Police said the original driver found inside the truck was shot dead, and had been confirmed to be a Polish citizen.
A report via the dailymail cites German authorities saying that they believe the Polish based driver, a cousin of the fleet owner had been earlier hijacked. 
Why? Berlin Christmas truck attack kills 9, injures 50. Suspect detained
Berlin after attack.
Blood in the streets. Bodies sprawled out everywhere. Merkel has to pay for destroying Germany. pic.twitter.com/JiUsheoAN1

— America First! (@America_1st_) December 20, 2016
Shocking footage shows chaos at the scene of Christmas market #attack in #Berlin, which killed 12 and injured dozens of others pic.twitter.com/sGH62xbRfa

— China Xinhua News (@XHNews) December 20, 2016
Speaking to local Polish press, the Polish owner of the lorry confirmed his driver was missing, with German police saying that the truck had been stolen from a construction site.
Speaking on Polish news channel TVN24, the owner of the haulage firm, Ariel Zurawski said his relative would not have committed an act of terror: 'I can say hand on heart that the man who drove into those people in the centre of Berlin was not my driver.
'This is my cousin. I've known him since I was born. I can vouch for him. 
'My scenario is that they did something to the driver – they hijacked this vehicle because it was practically in the centre of Berlin and they had a good vehicle with which they could do what they did.
'They did something to my driver, God forbid, something serious. It looks like that.
'We haven't heard from him since this afternoon. We don't know what happened to him.'
Added the company's transport manager, Lukasz Wasik: 'We lost contact with him around 3pm local time. We don't know what happened – whether he was taken hostage, killed. We know nothing. We're very worried about him. What a tragedy.'
In the interim, German authorities have been reticent about explicitly labeling Monday's attack as an act of terrorism as it continued to investigate.
Addressing national media, German Interior Minister Thomas de Maiziere said the circumstances of the deadly crash were still unclear, while agreeing 'a lot pointed to an attack'.
Told the official: 'We don't yet have anything conclusive regarding the circumstances and the course of events,' 
'I don't want to use the word 'attack' yet although a lot points to that,'
Adding: 'We want to be very, very cautious and operate close to the investigation results, not with speculation.'
Nevertheless eye witness have already determined Monday night's incident was indeed a deliberate calculated attack, with some noting that the lorry had come barreling with no lights on when it smashed into the market.
Told a witness: 'He just drove onto the square from the Kant street. That had to have been intentional, because his lights were not switched on. And then I just heard this loud bang and hysterical screaming.'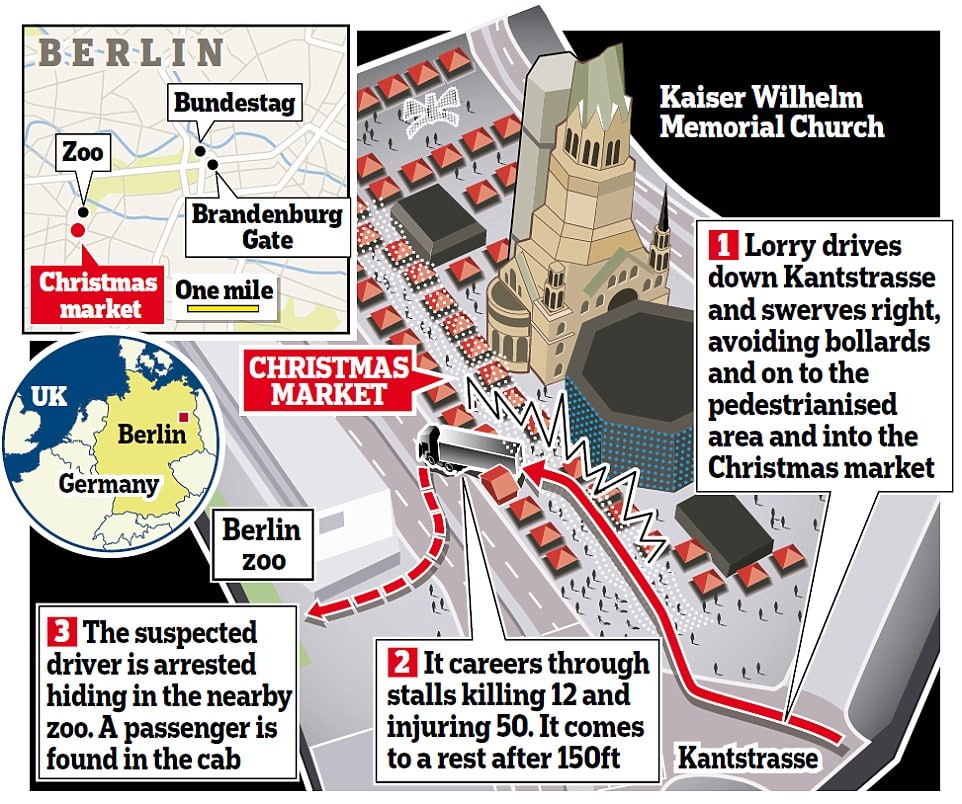 Mohammed Jankhan, 23, says he knew suspect Naved B from Tempelhof refugee shelter. "He was just a normal guy" pic.twitter.com/6Jn9YT4Hyj

— Philip Oltermann (@philipoltermann) December 20, 2016
Pursuant to Monday's carnage, Islamic terror group ISIS allegedly claimed responsibility for the attack, despite the claim being verified by German authorities.
That said the Berlin truck attack comes just weeks after the terror group called for "festive slaughter".
In recent weeks, repeated warnings from various security agencies told of ISIS planning to wreak havoc on European countries during the festive season, specifically threatening Christmas markets.
Whether Naved B was an agent of the group, had acted in concert with their belief system or was simply a lone wolf remains to be seen as a once again battered Europe contends with another what many believe to be an Islamic based attack on its doorstep.
Police believe that Naved B. was only recently radicalised in Germany and may have been ordered by an Isis handler in the middle east to carry out the attack.
Returning Jihadist fighters to Germany have told intelligence operatives that Isis regards the country as a prime target for terror and has been striving all this year for a 'spectacular' outrage to match those carried out in France.
Officials currently classify around 500 Islamists in Germany as high risk and 250 of them are monitored around the clock. But lone wolves like Naved B are hard to spot and, when not part of an organized network leaving electronic footprints, almost impossible to apprehend before the event.
This is the Breitscheidplatz a week ago. It's one of the most beautiful Berlin Christmas markets and popular among tourists. #Berlin pic.twitter.com/JrMQuvamBS

— Mischa Heuer (@mischaheuer) December 19, 2016
#BreakingNews#German police suggested a #terrorist attack. Truck plows through crowded #Christmas market in #Berlin. Video from the scene: pic.twitter.com/JuHrRlHJtp

— Konstantin Krammer (@KonstantinKlug) December 19, 2016