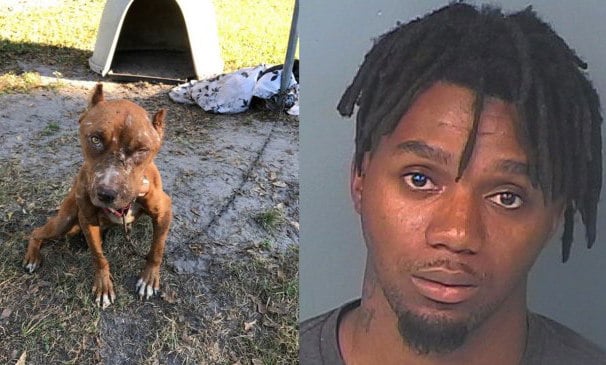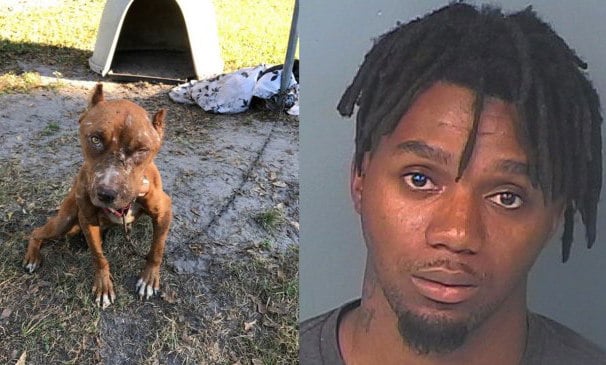 What led to Deandre Goodson a Hernando County, Florida man so heinously abusing his pit bull dog that the animal resorted to eating its own puppies?
Deandre Goodson a 21 year old Brooksville, Florida man has been arrested and charged with animal cruelty after his starving pit bull resorted to eating her own puppies after been abandoned.
The man's arrest came after Hernando County Sheriff's Office responded to a call from an address in Leonard st after a man was bitten by a pit bull.
Upon arriving at the home, cops found three dogs tied up in heavy chains, two appearing relatively healthy with a third dog appearing exceedingly ravaged.
Animal enforcement officers told of discovering Goodson's third dog without water, badly malnourished along with sporting multiple scars and injuries, including mutilated ears.
So weak was the dog, Chi Chi, that the female dog who'd been tied up by the side of the home was unable to walk.
Investigators said the dog had been forced to eat her own poppies after being deprived food.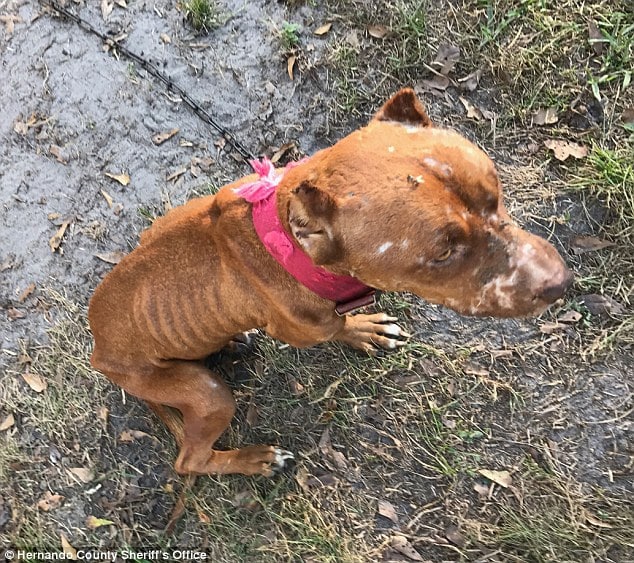 Told the Hernando County Sheriff's Office in a statement: 'Authorities were able to contact Goodson by phone who agreed to meet deputies at the Hernando County Animal Services offices in Brooksville. 
'Goodson said a friend, Breon Wyatt, had given him the dog about a year ago. 
'He indicated the dog got out of the yard a couple of months ago and he had only recently found Chi Chi and brought her back home. 
'Goodson confirmed Chi Chi gave birth to two puppies about two week ago, but she had eaten them. 
'Goodson said he feeds Chi Chi regularly and wasn't sure why the dog was so skinny. 
'He also stated the dog's injuries were the result of the other two dogs attacking her.'
Goodson told officers he decided not to seek medical attention for his pet, and Chi Chi was transported to Animal Services for immediate treatment. 
After she was examined, the veterinarian said she had numerous injuries and was suffering from neglect. 
Goodson was charged with one count of animal cruelty. 
He was taken to the Hernando County Detention Facility where his bond was set at $5,000. 
A report via abcationnews tells of the sheriff's office looking into whether Chi Chi or the other dogs removed from the property, were used in any type of dog fighting due to the scars on their faces but at this point don't have any evidence to support that charge.