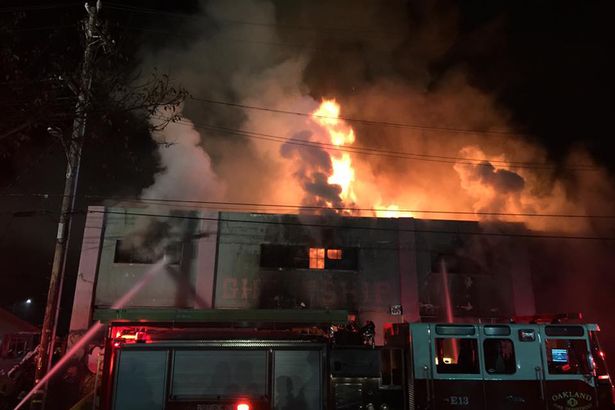 Rave Cave Oakland nightclub fire has left 9 clubbers dead and 25 missing as investigators search for remaining clubbers and cause of fire, possibly arson.
At least nine people have died and 25 are missing after a fire broke out at a warehouse party billed the Rave Cave at Oakland, California.
The blaze which started a at 11.30pm local time on Friday quickly spread throughout the whole building, with firefighters saying the building having no sprinklers while also adding that there was no evidence that smoke detectors were activated.
Officials said that between 30-70 people were in the club during the Rave Cave party which took place at 1300 block of 31st Avenue. Officials now fear up to 40 persons may have died in the inferno.
The fire is thought to be one of the deadliest single-structure fires in Oakland's history.
Between 50 to 100 people were at the party which started at 9pm and was supposed to last until 4am, officials say. 
At least 55 firefighters were on the scene, according to authorities. It wasn't until 4 am local time that the fire was described as 'being under control.'
According to firefighters, the blaze had 'heavy smoke' from the beginning, and they told the East Bay Times that most of the dead were found on the second floor, which was connected to the first floor with a 'makeshift' stairwell.
@OaklandFire chief Teresa Deloach-Reed gives an update on #Oaklandfire where at least 9 people died. @EastBayTimes @mgafni pic.twitter.com/0XWRHyaurP

— Ray (@rayinaction) December 3, 2016
The event featured musician Golden Donna's '100% Silk' West Coast tour.
Of note, the DJ – real name Joel Shanahan – who has not yet been accounted for, just before going live had written on his Facebook page that this was his last tour because he was 'on the verge of a nervous breakdown'.
Told the man: 'Leaving for tour this week. I'm completely broke and on the verge of a nervous breakdown, but I'm excited to go to some new places, see friends, and share music with people.
'This is my last full-on tour as Golden Donna for the foreseeable future, although I might do some one-off dates or whatever over the next year or two. So yeah, please come out, by all means. Also if you're gonna be in any of these zones and want to get some good hangtime in, please hit me up, cuz I don't know when I'll be back.'
DOZENS DEAD Or Missing After Joel Shanahan Golden Donna RAVE CAVE Goes Up In FLAMES https://t.co/IXDahah3vF @golden_donna #GoldenDonnaFire pic.twitter.com/wRk5ANpefE

— Count – TheCount.com (@THECOUNTnews) December 3, 2016
LA friends, anyone have s last minute floor I could crash on tonight?

— Joel Shanahan (@golden_donna) December 1, 2016
Told Fire chief Teresa Deloche-Reed: 'We still have to do a more thorough search of the building and we don't know the potential number of other victims.'
'We're not sure if they have already self-transported to the hospital or they have gone to friend's home. We're not sure.'
'This is a true loss for the city, for the firefighters who responded, and the people who lost family and friend. Its just tragic, a real tragedy.'
#BREAKING Officials preparing for "many" more casualties from deadly #Oakland fire. Building unstable, they can't complete search now. pic.twitter.com/IMe8vjCQFe

— KPIX 5 (@CBSSF) December 3, 2016
31st Ave- #oakland @KTVU @kron4news @CBSSF @abc7newsbayarea @allaboutgeorge pic.twitter.com/OecGgnuF6s

— Oakland Firefighters (@OaklandFireLive) December 3, 2016
31st- pic.twitter.com/8TX6jk0iYq

— Oakland Firefighters (@OaklandFireLive) December 3, 2016
While investigators have yet to say what may have initially caused the fire, arson teams will now be brought on to further investigate.
In terms of efforts of party-goers trying to flee or firefighters trying to rescue people, Deloach-Reed said, 'We know it was going to be difficult if it started anywhere near that stairwell.' 
Alameda County Sheriffs Office Sergeant J.D. Nelson told KTVU that the building is not safe enough to enter.
He added that the coroner's office is preparing for 40 or more bodies, but no bodies have been removed from the building.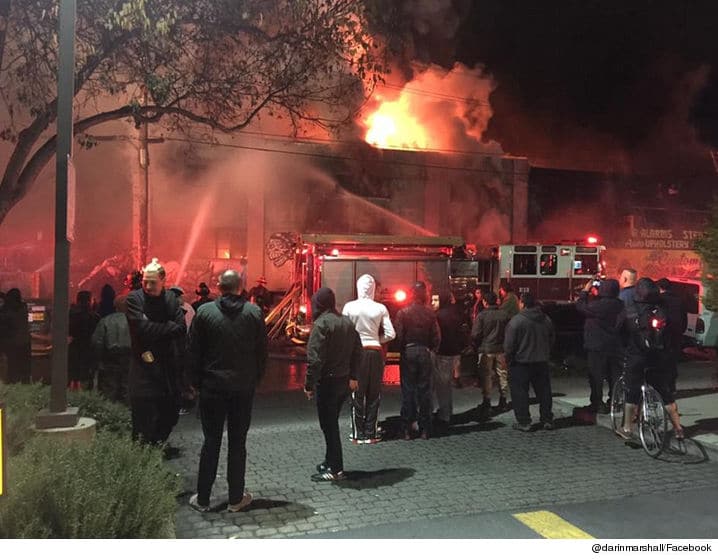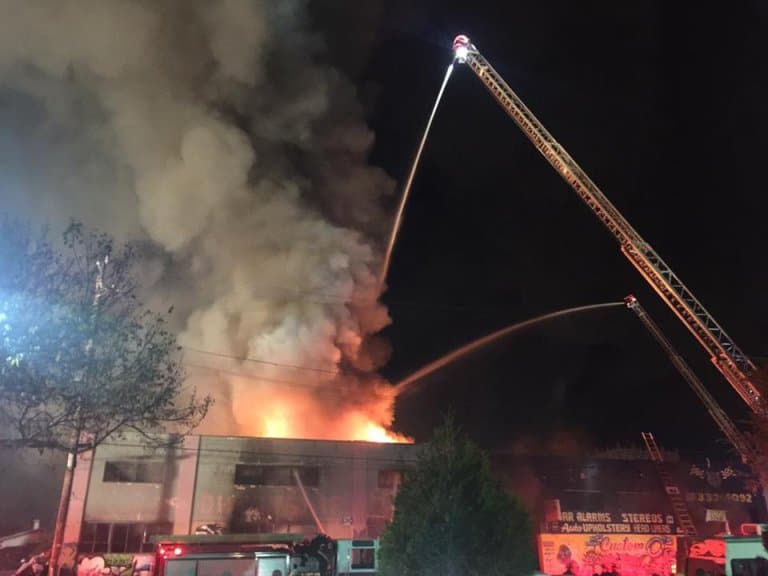 Offered Bob Mule, who lives in the same building, who managed to escape with his life: 'It was too hot, too much smoke, I had to get out of there.
'I literally felt my skin peeling and my lungs being suffocated by smoke. I couldn't get the fire extinguisher to work.'
He said he could see someone calling for help from second floor window and tried to get a ladder but they jumped out the window.
Battalion chief Lisa Baker said crews found flames on three sides of the building.
Firefighters were inside doing 'an aggressive attack' when conditions changed and they were forced to go back outside.
In the aftermath of the fire, revelers have compiled a Google doc spreadsheet which is being circulated on social media containing the names of missing people which according to a report via the mirror can be immediately updated by anyone the moment there is any information on their whereabouts.
Accessing the google doc spreadsheet can be made here.
As of midday EST, some 27 names are on the list – and only three have been identified as 'safe' so far.
Revelers also have taken to posting photos searching for missing friends and loved ones on a Facebook page that originally advertised the event.
Wrote Eveline Darroch: 'Hi, I am here with the fire inspector going through the list of missing names of missing/safe. At this point there are several threads. I am requesting that you only post in this thread their name and missing or safe next to it.'
She said police are requesting photos and names of the missing with detailed description in order to identify them.
Denim Decades wrote: 'My brother Griffin is there please is he safe.'
Lana Voronina posted: 'They are still trying to put out the fire. no communication or sight of people who might still be in there. Waiting here with a group in the parking lot. It's confusing and chaotic.'
Oakland Firefighters said: '31st Ave: Fire through the roof, Command requests all units out of the building, going defensive.
'31st Ave- crews will remain on scene for several more hours. 2 ladder pipes and hand lines still deployed extinguishing hot spots.'
There are lists of unaccounted people pinned up in local hospitals as the community reels from the devastating blaze.
Lana Voronina posted: 'There's a station at 2425 e12th that people are gathered at, u can come here , they say fire department needs another several hours to determine what's happening in that building, also they trying to make a list of people in hospitals. also people here making comprehensive list of missing people. We r going to Eli's at 3629 mlk if anyone wants to go theret.'
Oakland police said those who were concerned about missing people in the fire should contact the Alameda County Sheriff's Coroner's Bureau 510-382-3000.
#GoldenDonna is toast – #drugs #alcohol – #rave in #oakland warehouse w no sprinklers w no way out – $$s for lawyers https://t.co/uvbyTum1Ss

— wattsa matta (@wattsa_matta) December 3, 2016
peace to Golden Donna and the Oakland party people

— Stupid Scientifical (@DrScientifical) December 3, 2016
Assistance for ppl searching for loved ones after #oaklandfire at 2425 E. 12th Street. https://t.co/oxnj3Uh7PQ

— KQED News (@KQEDnews) December 3, 2016