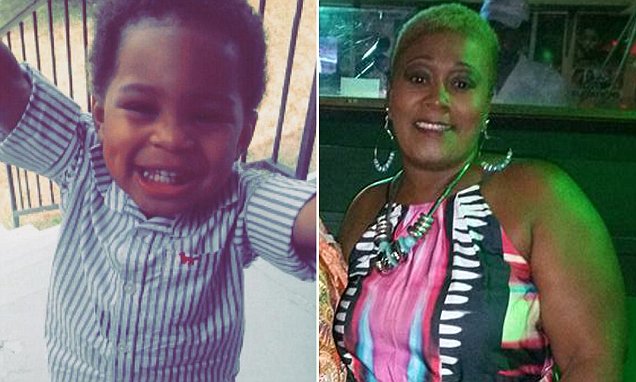 Acen King three year old toddler killed in a Little Rock, Arkansas road rage incident Saturday night as police seek the boy's killer who remains at large.
Acen King a three year old Little Rock, Arkansas boy has been identified as the toddler who was shot to death in a road rage incident over the weekend.
The toddler's death came Saturday night while shopping with his grandmother when a driver opened fire on Kim King-Macon on account of her 'not moving fast enough at a stop light' told police.
The 47 year old woman was with her grandson and a one year old when another driver stepped out of his car and began shooting, striking the boy at least once.
From there, a report via arkansasonline tells of King-Macon driving to a nearby shopping center where she called police.
According to the grandmother a black Chevrolet Impala pulled up behind her 2006 Dodge Charger while at a stop light.
In turn the other driver honked his horn with King-Macon honking back.
A police report told of a 'black male exiting (the Impala) and fired one shot.'
It wasn't until the grandmother drove to the shopping center that she discovered her grandson had been hit.
King-Macon told police she thought the man had fired the shot into the air, so she drove the J.C. Penney at the Shackleford Crossings shopping center in west Little Rock, where she was meeting other family members to drop off the kids.
Not injured in the attack was the one year old boy who had been sitting in the back with Acen King.
Investigators have been searching this car, right outside the store. pic.twitter.com/o4AlnPKQrK

— David Lippman THV11 (@david_lippman) December 18, 2016
According to LRPD, this is the intersection where a 3-year-old was shot and killed. Mabelvale Cutoff & Warren Rd. More details at 5:00 pic.twitter.com/WVcSpX3Uj7

— Kimberly Rusley (@KATVKimberly) December 18, 2016
'Gone insane' Gary Holmes arrested shooting Acen King in Arkansas road rage
Police Lt Steve McClanahan said investigators believe the victim and his grandmother 'were completely innocent' and have no relationship with the shooter who remains at large.
Police have appealed to the public in a bid to find the wanted man, described as an older black male. 
A report via the dailymail notes Little Rock being the scene of where two infants have died in road rage gunfire in the past two months.
In November, a two-year-old girl was killed while being driven by her mom, Shunta Johnson, 37, when the driver of a passing vehicle fired into it.
The shooter in that case hasn't been captured, and the girl has not been identified.
The latest road rage killing is also the 40th murder in Little Rock this year.
In the aftermath of Acen's death, Crime Stoppers is offering a $20,000 reward for information leading to the arrest and conviction of the boy's killer.
Those with relevant information can call (501) 371-4636 or (501) 340-8477 to submit tips.