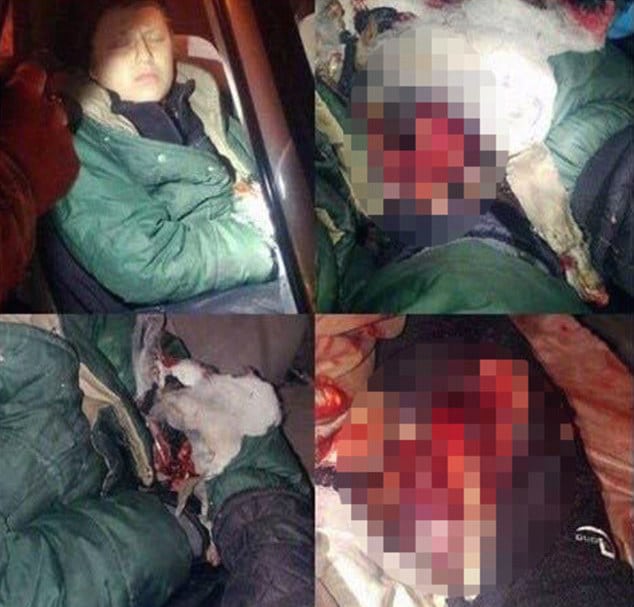 How did Sophia Wilansky a Dakota Access pipeline protester come to have her arm blown out during police stand-off? Authorities deny launching grenade attack.
Sophia Wilansky a 21 year old NYC woman has been critically injured during a police stand off whilst at the Dakota Access pipeline protest site, Standing Rock.
Protesters have been gathering at the site since April after indigenous and local groups expressed disconcert after plans to build the pipeline under the Missouri river, potentially polluting the water supply.
In danger of now losing her left arm, the recent Williams College graduate was with a group of protesters Sunday night attempting to push past a blocked bridge on a state highway in North Dakota when police officers began using tear gas, rubber bullets and water hoses to stop the un-armed group.
From there, the environmental activist said a member of law enforcement threw an object at her which exploded and 'blew the bone out of her arm.'
Despite being airlifted to a hospital in Minneapolis 400 miles away to be treated, medics believe it may be too late to try and save Sophia's arm. 
End of first amendment? Amy Goodman Democracy Now journalist faces riot charges over North Dakota Pipeline protest
The incident in turn reports democracynow led to the Morton County Sheriff's Office denying that any object was thrown at Sophia following reports from her fellow protesters that she was hit with a concussion grenade.
A spokesperson for the sheriff's office said Sophia could have been injured as a result of small propane tanks that authorities claim the protestors had rigged to explode. 
A report via commondreams.org in turn refuted police claims, citing several eye-witnesses who said they watched police intentionally throw concussion grenades at unarmed people, also pointing out the the lack of charring of flesh at the wound site as well as the grenade pieces that were removed from Sophia's arm in surgery.
Sophia Wilansky. lost her arm due to concussion grenade last nite shot by DAPL Law Enf! Never be silent! Help her~> https://t.co/BXpBgNLOc0 pic.twitter.com/rT7t35bSaW

— lastrealindians.com (@lastrealindians) November 22, 2016
Responding to police claims, Sophia's father Wayne Wilansky in an interview with CBS News, said: 'That's ridiculous, the doctors removed shrapnel from her arm.'
Adding: 'There is evidence that our own government is throwing explosives at the protesters.'
The father said that the shrapnel was being saved in case it needs to later be tested to determine what happened to his daughter.
'I died a thousand deaths today and will continue to do so for quite some time,' Wayne Wilansky said in a statement. 'I am left without the right words to describe the anguish of watching her look at her now alien arm and hand.'
Reiterated the father at a news conference Tuesday: 'We cant be throwing grenades at people who are peacefully protesting,'
'This is not Afghanistan. It's not Iraq. We don't throw grenades at people.'
'She saw them throw it right at her. There's no question,'
'This is a weapon of war.'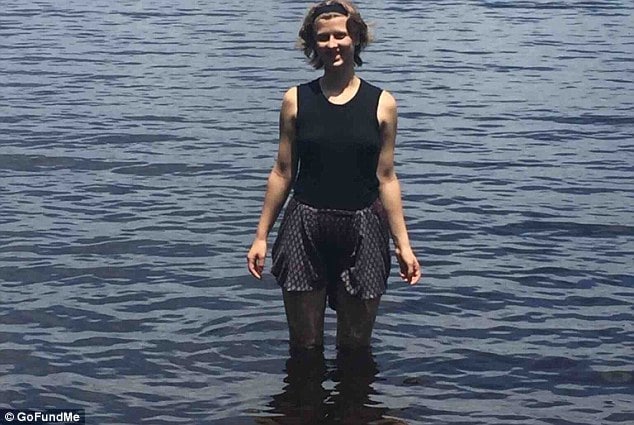 While Sophia Wilansky who'd arrived in North Dakota three weeks ago and had planned to stay though the winter, has yet to publicly speak, her father did relay a message.
Told the father: 'I told her that I did a little bit of an interview with a few reporters, and she said please go and tell them it's not about me, it's about the indigenous peoples.'
Adding: 'Even though she's lying there with her arm just about blown off, she's not doing this for herself.'
Sophia will require additional surgery in the next few days and her arm may still have to be amputated,
On Tuesday, a report via the dailymail told of an official saying North Dakota likely will have to borrow more money to help with police protests against the Dakota Access oil pipeline, with costs having exceeded the $10 million in emergency spending authorized by the state.
State Emergency Services spokeswoman Cecily Fong says law enforcement costs related to the protests that have been ongoing since August, and reached $10.9 million last week.
She said it is 'very likely' that officials will need to request more money from the state's Emergency Commission, which earlier approved borrowing $10 million from the state-owned Bank of North Dakota.
The CEO of pipeline developer Energy Transfer Partners says he made a verbal offer to Gov. Jack Dalrymple to reimburse the state. 
Of note, Dalrymple's spokesman says no formal offer has been made. 
To date, more than 400 protesters have been arrested by law enforcement officers who have deployed pepper spray, teargas, rubber bullets, Tasers, sound weapons and other 'less-than-lethal' methods.
Following Sunday's confrontation a report via the guardian told of 26 protesters being taken to hospital and more than 300 injured, according to the Standing Rock Medic & Healer Council.
In the interim a gofundme set up by friends and verified to help with Sophia's recovery has to date amassed over $281 000.
"The force of the explosion blew the bone out of her arm."#NoDAPL activist Sophia Wilansky was gravely injured during standoff w/ police: pic.twitter.com/PLIqFiHXbe

— Fusion (@Fusion) November 23, 2016
#StandingRock Protector's Arm Mangled By Oil Police #SophiaWilansky #NoDAPLhttps://t.co/Ga1BL8UmBY

— The Young Turks (@TheYoungTurks) November 22, 2016
#NoDAPL: Police brutalize innocent for oil! Sophia Wilansky, 21, may lose arm. 300 more injured: https://t.co/b8tKNvd9ON #TuesdayMotivation pic.twitter.com/sf6g1gURh1

— RoseAnn DeMoro (@RoseAnnDeMoro) November 22, 2016