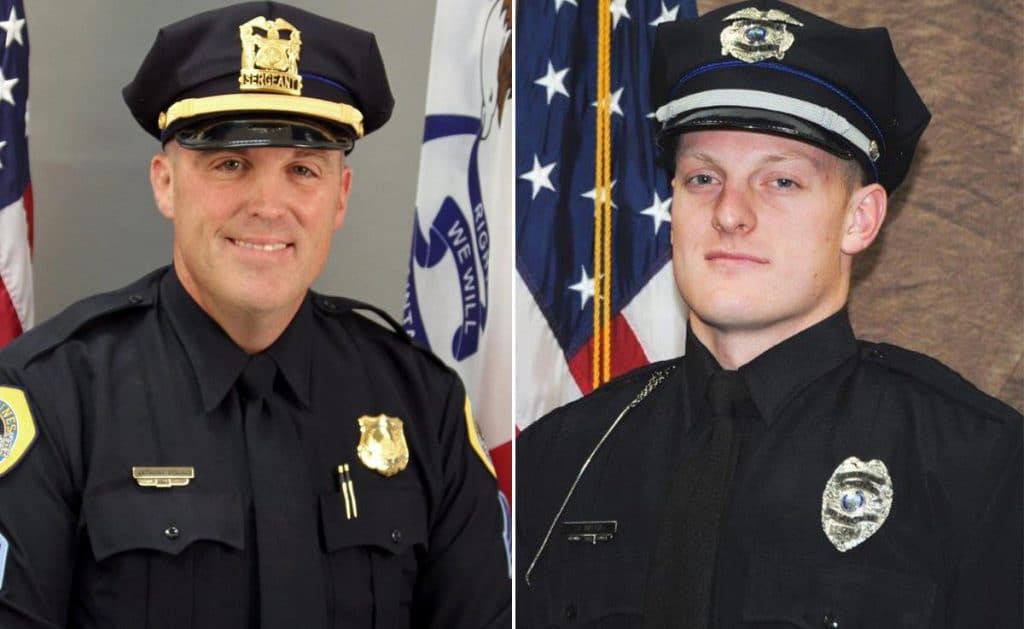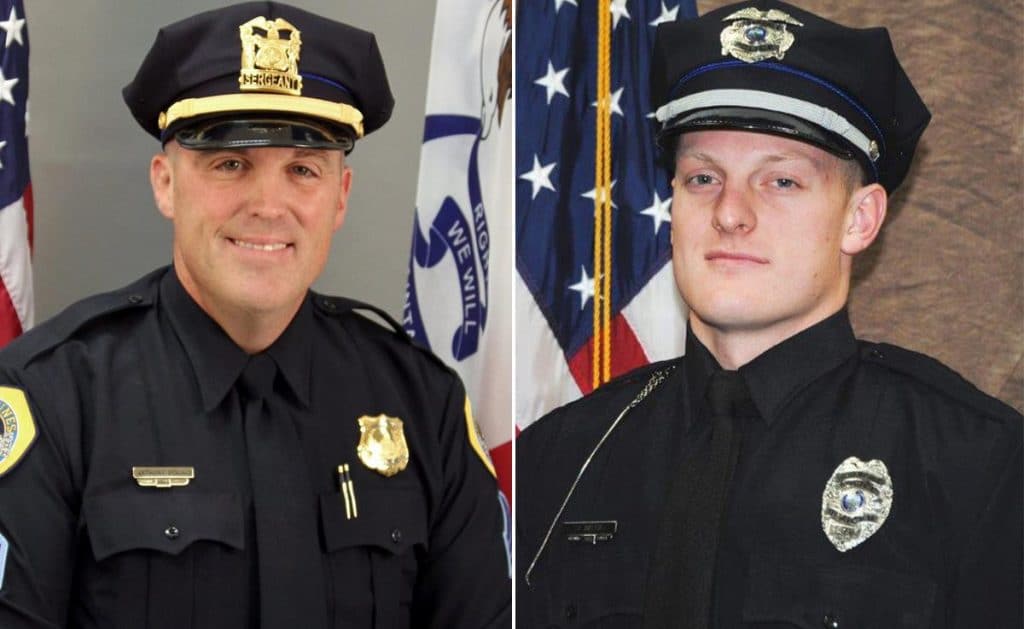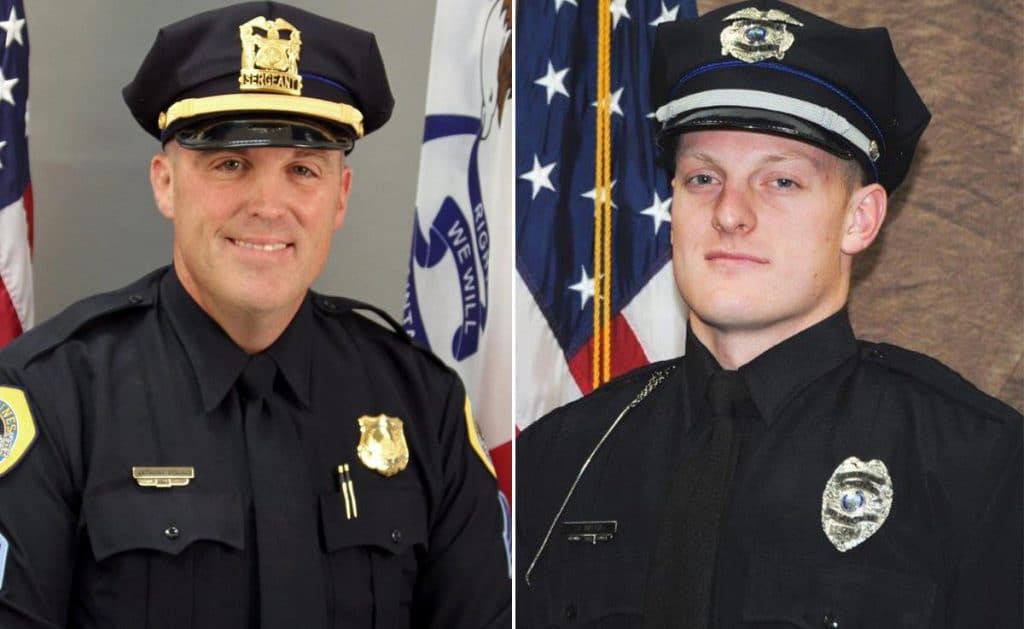 Sgt Anthony Beminio and Urban Police Officer Justin Martin identified as Scott Michael Greene victims. How two police officers paid the price of one man's rage with authority.
Des Moines Police Department has released the names of the two police officers who were shot in cold blood in the early morning hours of Wednesday in an ambushing shooting at since captured fugitive, Scott Michael Greene.
Killed were Des Moines Police Sgt Anthony Beminio and Urban Police Officer Justin Martin. 
A report via ketv told of Sgt. Beminio, 38, had been with the Des Moines Police Department since 2005. Officer Martin, 24 who was the first officer killed at the hands of Greene joined the Urbandale Police Department in 2015.

Their killer, Scott Michael Greene, 46, is in custody in connection with the shootings.
Why did Scott Michael Greene ambush two Iowa police officers?
Police say Greene flagged down an officer Wednesday morning in rural Dallas County, west of Des Moines, and presented his identification.

He was taken into custody and is being treated at a Des Moines hospital.

A report via kcci told of police saying Greene was not armed when he was captured.
Upon the man's arrest, officials set up a line searching for the weapon involved at the field where Greene was captured for evidence.
The shootings took place 20 minutes apart, and just blocks apart, starting at 1:06 a.m. when Officer Martin was shot and killed near the city's high school.

The second shooting happened blocks away at. A responding Des Moines police officer was shot there. He was transported to Methodist Hospital, where he died a short time later.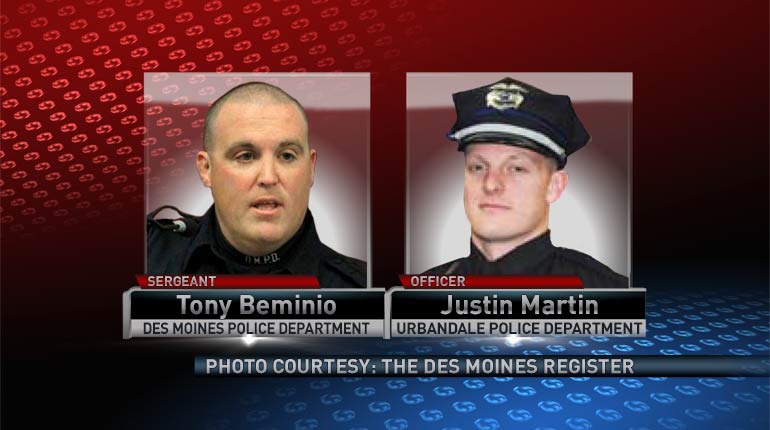 My cousin Tony Beminio was sergeant with the Des Moines PD. He was killed in cold blood by a coward. Don't make it political. Pray. pic.twitter.com/4yUDYKINOB

— Jason (@stlrnhwk) November 2, 2016
The 2 Iowa Officers ambushed & murdered in their cruisers last night have been identified as Sgt. Tony Beminio & Officer Justin Martin. pic.twitter.com/10LsV1XuUt

— I love my U.S.A (@WEdwarda) November 2, 2016
Des Moines police said the shootings appear to have been ambush-style attacks.
Des Moines Police Sgt. Paul Parizek said both officers appear to have been shot while sitting in their cars.
Told Parizek: 'It doesn't look like there was any interaction between these officers and whoever the coward is who shot them while they sat in their cars.'
Urbandale Police Sgt. Chad Underwood indicated that this is the first deadly Urbandale police shooting he is aware of. He said the Urbandale department employs about 50 officers.
In the aftermath of the double shootings, Urbandale police said Greene was known to them. Officers had escorted Greene from an Urbandale High School football game in October. The man had been asked to leave the property after displaying a confederate flag inside the stadium.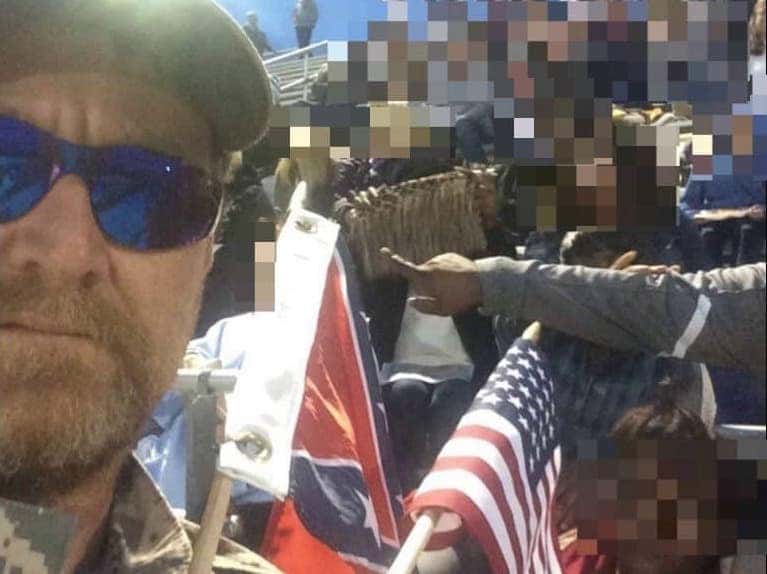 The incident led to a furious Greene later posting a video, titled,'Police Abuse, Civil Rights Violation at Urbandale High School,' on social media complaining about the incident.
In the video, the fugitive explained how he had been asked to leave for 'committing a disturbance in the stands,' with Greene repeatedly asking police, 'have I committed a crime?'
He also accuses an officer of 'assaulting' him by 'grabbing' him and 'shoving' him around.
In the comment section of the video which appeared on youtube, Greene wrote, 'I was offended by the blacks sitting through our anthem. Thousands more whites fought and died for their freedom. However this is not about the Armed forces, they are cop haters.'
Wrote Green in the description box of the video, 'This is an assault on a person exercising his constitution rights on free speech!'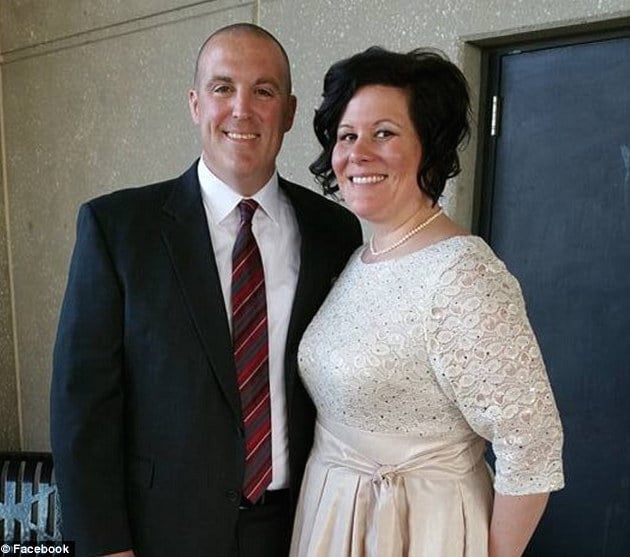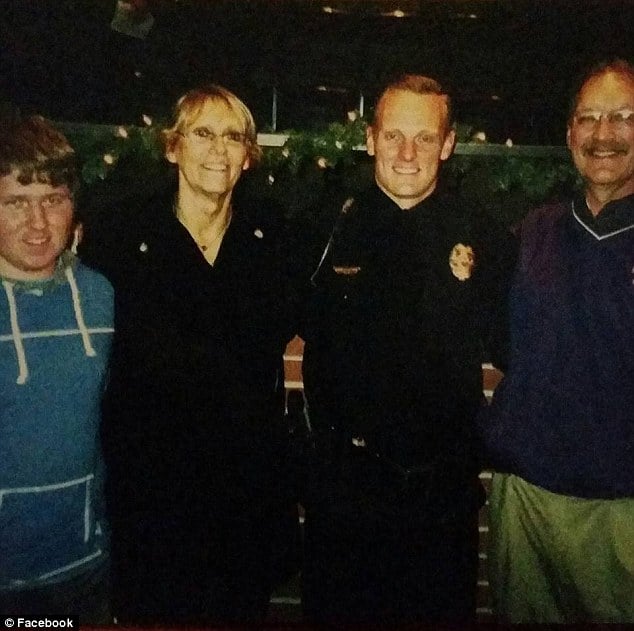 Responding to the shootings, Iowa Gov. Terry Branstad said: 'An attack on public safety officers is an attack on the public safety of all Iowans. We call on Iowans to support our law enforcement officials in bringing this suspect to justice.'
Adding: 'This tragic incident is yet another reminder of the tremendous dangers that law enforcement officers face each and every day.'
'Violence creates nothing; it only destroys,' she added.
Police did not disclose a motive for Greene.
Wednesday's shootings occurred nearly two years after an assailant, Ismaaiyl Brinsley ambushed NYPD officers Rafael Ramos and Wenjian Liu as they sat in a patrol car in Brooklyn. The shooter later committed suicide, posted online threats before the attack about seeking revenge for the police-involved deaths of African American men, Eric Garner and Michael Brown.
Similarly Wednesday's shootings echo that of attacks on police this summer in Dallas and Baton Rouge in the wake of several high-profile police shootings of black men, 
It is believed Greene is a fervent hater of African Americans .
In the aftermath of the double shootings, both Sgt Anthony Beminio and Urban Police Officer Justin Martin were widely lauded as a community tries to make sense of what motivated one seemingly maladjusted man to take his personal battle with freedom of speech to give himself the freedom to take the lives of two men who had valiantly served to uphold the law.
Perhaps most tragic is a recent facebook commiseration that Officer Justin Martin had made on April 1 when Des Moines police officers Carlos Puente Morales and Susan Ferrell were killed by a wrong-way driver on Interstate 80 in March.
The NYPD sends condolences to the friends and families of @UrbandalePolice Police Officer Justin Martin & @DMPolice Sergeant Tony Beminio pic.twitter.com/wsA5jIQQu8

— NYPD In Memoriam (@NYPDInMemoriam) November 2, 2016
Murdered Police Officers identified: Tony Beminio of Des Moines & Justin Martin of Urbandale #BlueLivesMatter ? ?? https://t.co/r5zfj1TvhT pic.twitter.com/HERnFME5dw

— David Wordsmith (@WordSmithGuy) November 2, 2016
Tony Beminio, 38, identified as Des Moines officer killed in ambush; was a standout football player/wrestler at Iowa City West in 1990s

— Ryan J. Foley (@rjfoley) November 2, 2016
One of the fiercest competitors I've known and one of the greatest people! Thank you for your service and RIP Tony Beminio pic.twitter.com/O0YttLZeFE

— Fecht (@AmesWrestling) November 2, 2016
Ofc. Justin Martin and Sgt. Tony Beminio, rest easy. Thank you for your service. EoW, 11/2/16. #ThinBlueLine #DesMoines #Urbandale #LEO pic.twitter.com/gVPa0lCYxM

— Sammy Bammy (@lightbarriers) November 2, 2016