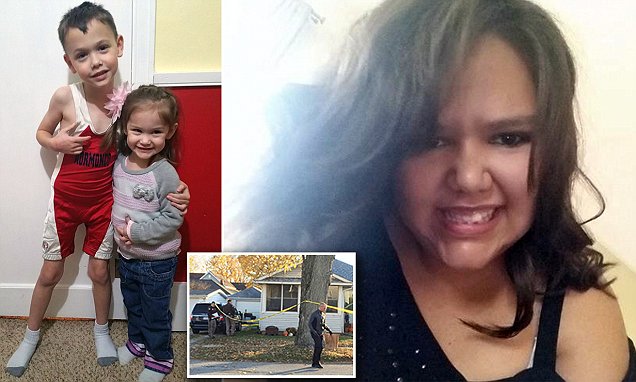 How Brandi Worley an Indiana mother stabbed her two children to death, herself in the neck before calling 911 a day after her husband filed for divorce.
Brandi Worley an Indiana mother stabbed her two children to death along with stabbing herself in the neck before calling 911 to confess.
According to dispatcher records the 30 year old Darlington, Indianapolis woman 'matter of fact' calmly admitted attacking her 7 year old son Tyler and 3 year old daughter Charlee early Thursday circa 4.30 am.
The woman's actions told the Montgomery County Sheriff's Office came a day after the woman's husband filed for divorce.
Offered Sheriff Mark Casteel: 'She was matter of fact and with an unremorseful manner when she said, 'I just stabbed myself and killed my two children.''
The children's father Jason Worley, who filed for divorce the day before according to the Lafayette Journal & Courier was asleep in the basement of the home, where the children were discovered dead in a bedroom.
Reiterated the sheriff during a press conference: 'We are not used to dealing with things like this,'
'I can't imagine the pain and the grief these families are experiencing this morning,'
'Please keep these families in your thoughts and prayers.'
BREAKING: Montgomery county sheriff confirms 2 kids killed by mother Brandi Worley. Suspect is in custody and admitted she killed kids. pic.twitter.com/nnVi8XPyfV

— Jesse Wells (@JesseWellsNews) November 17, 2016
Sheriff says Brandi Worley had no remorse when she called 911 to tell them she killed her kids. "She sounded matter of fact" @WTHRcom pic.twitter.com/AzcDaxbd4c

— Carrie Cline (@CarrieWTHR) November 17, 2016
Sugar Creek Elementary, where Tyler was in first grade, said that counselors would be available for students.
A cause of death for the children has not been released, and autopsies are scheduled for Friday.
Brandi Worley was taken to IU Health Methodist Hospital to be treated for her self-inflicted stab wounds to her neck. She is yet to be questioned by authorities.
Authorities said a motive for the attack was unclear and that there was no history of violence at the home.
Facebook pages belonging to Jason and Brandi lists their relationship status as separated.
Officials said the woman is now under arrest but have yet to press any charges pending an investigation.
To date it is not necessarily clear why the husband filed for divorce, or is it?