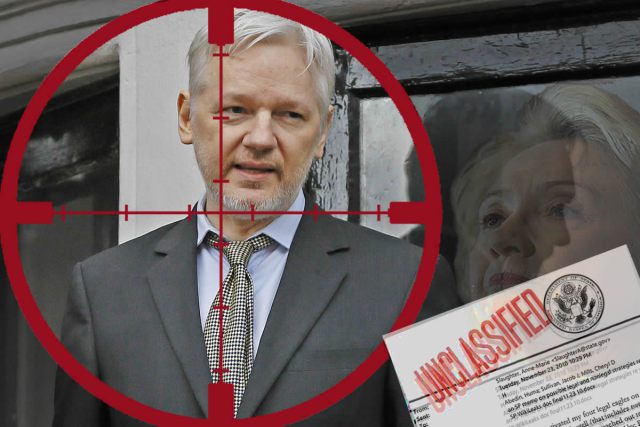 Julian Assange internet link goes down: A US covert mission to silence the activist? A range of theories emerge as the activist's internet access goes down.
In the days after a slew of revealing and incriminating leaking of emails against Democratic Presidential contender, Hillary Clinton and her controversial super charitable fund, the Clinton Foundation, Wikileaks Julian Assange on Monday announced that his internet access to the outside world from the Ecuadorean embassy where he is holed up has been suddenly cut.
According to a statement released by Assange, the much maligned journalist and activist who has been forced to seek sanctuary at the London based Ecuador embassy over the past four years for fear of arrest and extradition to the US, the activist said his 'internet access has been cut by an unidentified state actor.'
Was Ecuador embassy pressured to cut Julian Assange internet access?
Despite the constant threat of immediate arrest should he ever step outside of the London compounds after skipping bail to face purported sex crime allegations against him in Sweden, the activist has continued to unsettle government and corporate agencies the world over with a swath of disconcerting and revealing leaks.
Yet to be necessarily understood is if whether the attack targeted only Assange, or whether the entire embassy had been affected?
Told a spokesperson at the Ecuador embassy after media requests for further comment: 'I cannot disclose any information.'
Also declining to comment is London's Metropolitan Police who have a phalanx of operatives outside the embassy perimeters awaiting to arrest the Australian activist should he ever step out.
Julian Assange's internet link has been intentionally severed by a state party. We have activated the appropriate contingency plans.

— WikiLeaks (@wikileaks) October 17, 2016
The shut down comes as rumors floated over the weekend that Assange may have died after a 'surprise visit' from BayWatch actress and permanent Hollywood persona, Pamela Anderson, 49.
On Saturday the former Baywatch star walked into the Ecuadorian embassy in London clutching bags from Pret A Manger, the popular UK sandwich shop. The visit piqued eyebrows with many wondering the pair's association, even spawning a theory that the actress had been sent in to poison the activist who has been a constant thorn to the underbelly of the US  government.
@alburyj GET ASSANGE OUT OF THERE AND INTO HIDING. How do we know that Pamela Anderson isn't working 4 someone to set up him up?

— Rosa Marzullo (@niftyrosa1) October 17, 2016
Offered Anderson, an animal rights activist after her weekend visit: 'I really believe in him and think he's a good person, and I'm concerned about his health, his family, and I just hope that by some miracle he's set free.' 
Conspiracy theorists have since reacted to the closing of Julian Assange's internet access with the claims that the closure was linked to John Kerry's visit to London to meet Foreign Secretary Boris Johnson, sparking debate whether Kerry might be Wikileaks 'next victim.'
John Kerry has threatened the Ecuadorian President with "grave consequences for Equador" if Assange is not silenced @StoneColdTruth

— Roger Stone (@RogerJStoneJr) October 17, 2016
Interestingly, former Donald Trump insider, Roger Stone went so far as to tweet John Kerry has threatened the Ecuadorian President with 'grave consequences for Equador' if Assange is not silenced.'
Online commentators also pointed to cryptic tweets being disseminated tweets as a 'dead man's keys' or 'dead man's switch'– encryption codes revealing highly classified secrets to be unveiled in the case of his death.
'Praying for Julian. I hope he isn't dead. This does look like an emergency dead man's switch,' wrote one Reddit user.
pre-commitment 1: John Kerry 4bb96075acadc3d80b5ac872874c3037a386f4f595fe99e687439aabd0219809

— WikiLeaks (@wikileaks) October 16, 2016
pre-commitment 3: UK FCO f33a6de5c627e3270ed3e02f62cd0c857467a780cf6123d2172d80d02a072f74

— WikiLeaks (@wikileaks) October 16, 2016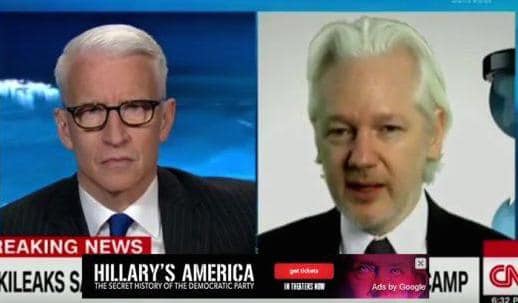 Not overlooked is the timing of the internet closure, with many pointing to WikiLeaks having dumped more than 1,000 emails leaked from the account of John Podesta, Hillary Clinton's campaign chairman, to the public on Saturday. Leaks that the mainstream press continue to overlook as they continue to jump over each other's shoulders to relish in Donald Trump allegations of sexual misconduct.
Media coverage that many wonder is geared to ensure that Hillary Clinton gains the presidency where she can continue to do the bidding of entrenched financial interests and oligarchic interests where she was recently revealed to have covert public and private points of views courtesy of Assange's Wikileaks.
Not ignored are comments that then Secretary of State Hillary Clinton made in 2010 asking if Assange could be killed in a drone strike.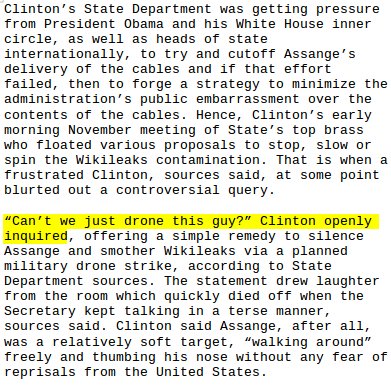 Of note, a report via fox describes experts speculating that WikiLeaks is not an independent organization, but in fact a front for the Russian government.
Reports the news outlet: 'Podesta suggested recently on "Fox News Sunday" that his emails had been hacked by the Russians, and officials also have determined a recent hacking of the Democrat Party's computer files was likely the work of Russian actors.'
Responding to the disruption of Assange's internet service, Zero Hedge contemplated:
'So far there had been no intervention by outside entities to attempt to silence Julian Assange, so the latest intervention "by a state party", if confirmed would be a notable escalation in the status quo, and suggests that Wikileaks may have even more damaging revelations to come.'
WikiLeaks in turn have told late Monday morning, local UK time, that they 'have activated the appropriate contingency plans' as they try to restore Julian Assange's internet link.
It appears Julian Assange is in danger & internet intentionally cut out!

Please #PrayForJulian

— Baked Alaska 3X™ (@bakedalaska) October 17, 2016
Did he reach his bandwidth cap on the Ecuadorean Embassy guest wifi? https://t.co/1hvOFWU6O9

— Bad Take Bernie (@bernietb) October 17, 2016
don't worry I'm calling Time Warner right now https://t.co/vlhjPINdFK

— John Carpenter's (@MilesKlee) October 17, 2016
We and many others believe Julian Assange's internet was cut for criticizing Hillary Clinton. #FreeJulian

— Anonymous (@LatestAnonNews) October 17, 2016
Right now it appears, at the best, Julian Assange's internet has been severed. There's no question Hillary is hiding something big! #Assange

— Hispanics for Trump (@HispanicsTrump) October 17, 2016
Julian Assange's internet has now been TURNED OFF! Hillary & the globalists are in full panic mode!

— Makada (@_Makada_) October 17, 2016