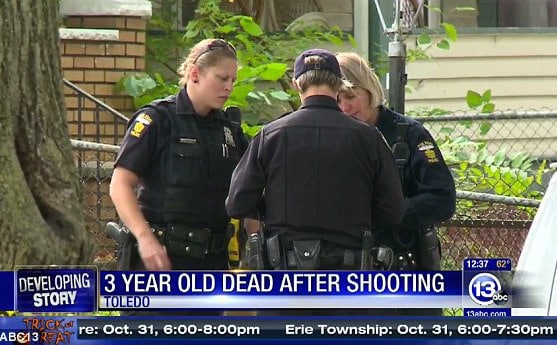 What led to Tyrne Hoskins, a 3 year old Toledo, Ohio toddler being 'accidentally' shot dead by a seven year old child.
Tyrne Hoskins a three year old Toledo, Ohio boy has died after police say a seven year old found a gun in a house with several other children and accidentally shot the toddler.
Since Saturday's shooting, police have yet to necessarily understand how the 7 year old child came across the gun, with police to date having filed no charges.
According to ABC 13, the tragedy happened at a yellow home with a porch on the tree-lined 100 block of Rockingham Street near Cherry Street.
At the time of the shooting, there were adults were in the house.
Police said they were called to the Toledo home around 1pm on Saturday, where they found the three-year-old toddler with a gunshot wound, and several other children in the home being babysat.
Despite the child being rushed to Mercy Health St. Vincent Medical, Tyrne Hoskins was pronounced dead.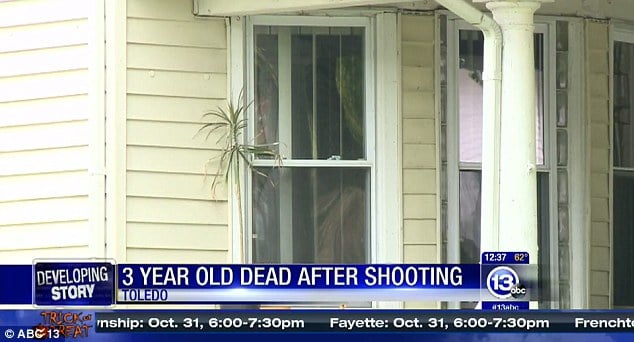 An autopsy is scheduled for Monday, said Dr. Jeffrey Hudson, a Lucas County deputy coroner.
Initial reports were that the boy was shot in the chest by another child in the house, Dr. Hudson said.
In the aftermath of the shooting, police have interviewed several people were taken to the Safety Building where they were interviewed.
Told neighbor Travis Borowski: 'These parents need to keep better track of their children,'
'These kids with these guns out here on the streets, it's no joke.'
Yet to be understood is how the gun was brought into the house, whether it was legally owned and whether negligence played a part in one the babysit children obtaining the gun?
Authorities say the case remains under investigation and anyone with information regarding this incident is asked to call Crime Stopper at 419-255-1111.