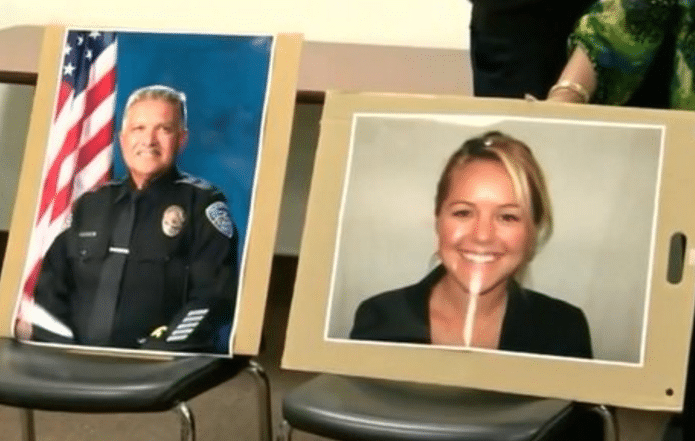 Jose Gilbert Vega Lesley Zerebny Palm Spring Police Officers identified as fatalities after responding to family altercation which turned into a blood-bath.
Jose Gilbert Vega and Lesley Zerebny have been identified as the two Palm Spring Police officers killed Saturday afternoon after responding to a 911 call of a family altercation.
The shooting took place near Sunrise Way and Racquet Club Road as officers responded to a 'family disturbance' around 2pm, Sgt. Hutchinson of Palm Springs Police Department said.
Also caught up in the shooting according to KMIR was a third police officer who survived the shooting incident which saw the responding officers shot at up to 10-20 times as they attempted to de-escalate tensions at the family front door.
Told Palm Springs Police Chief Bryan Reyes in an emotional press conference: 
'This is extremely difficult for me,'
'Today Palm Springs lost two brave officers. They go out every day and put their boots on the ground for everybody in this community, they gave it all for you.'
#DEVELOPING: Pictures of the two Palm Springs Police Officers killed in shooting today. Jose Gilbert Vega & Lesley Zerebny. pic.twitter.com/YYARUflxE8

— Veronica Miracle (@VeronicaABC30) October 9, 2016
Reyes said Jose Gilbert Vega was a 35-year veteran of the police department who was set to retire in December. Ironically, the Chief told how Vega was not originally scheduled to work on Saturday, but picked up the shift to work overtime. 
Lesley Zerebny, 27, was a rookie who had only worked on the police force for about a year and a half. 
According to the Police Chief, Zerebny had just returned back to duty after giving birth to a baby four months ago. 
Reyes said the third police officer who was shot was 'alert and doing well' at the local hospital.   
The police presence here is larger than any I've seen in Palm Springs, but cops on the perimeter seem calm. Armored car going in. pic.twitter.com/ouPJSuW2Zn

— Brett Kelman (@TDSbrettkelman) October 8, 2016
Matters came to the fore after a local woman called 911 saying her son was causing a disturbance at a home on 2700 Cypress Road. 
When officers arrive, the male refused to open the door, while threatening to shoot through the closed door.
The officers were trying to negotiate with the suspect to comply. 
Told Police Chief Bryan Reyes: 'It was a simple family disturbance and he elected to open fire on a few of the guardians of the city.'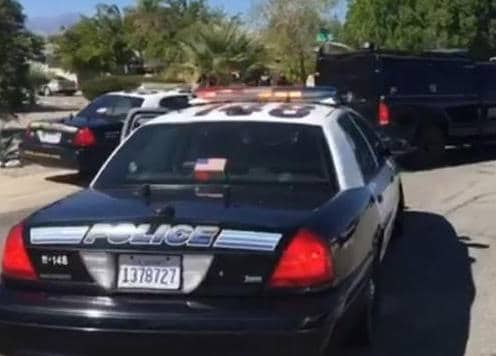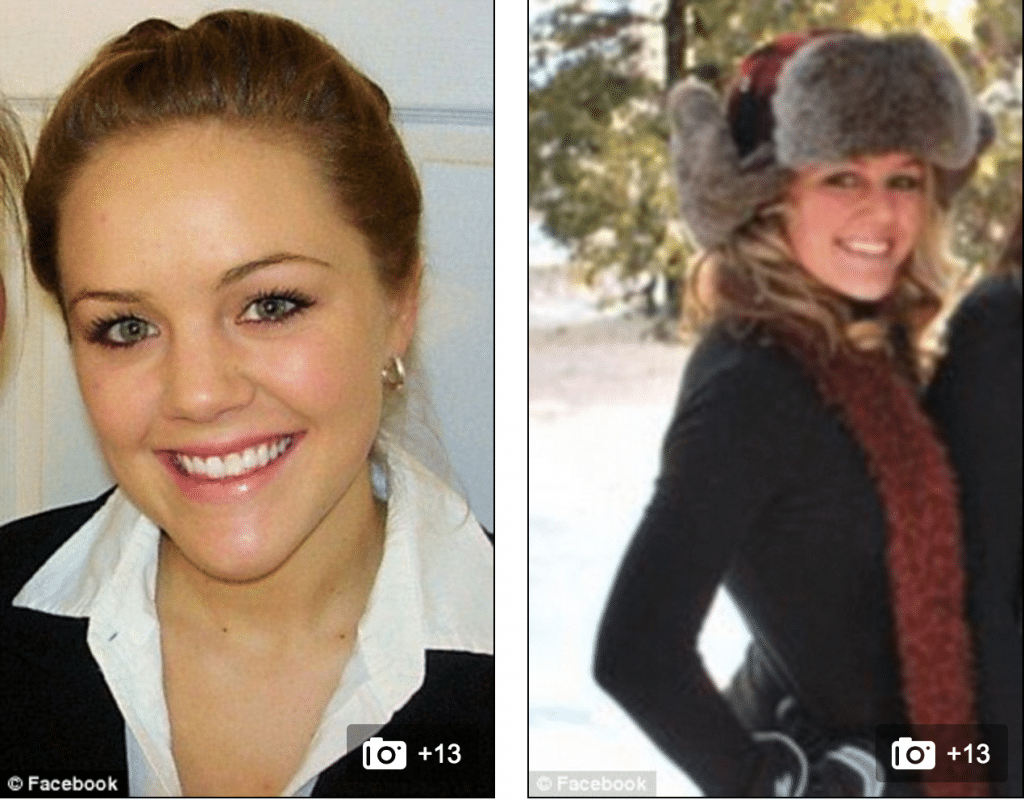 In the hours after the shooting, dozens of law enforcement officers, including a SWAT team, searched for the as of yet un-identified shooter in the area of Cypress and Del Lago roads in Palm Springs. 
Reyes said it's unclear what type of weapon the man used and that the central homicide unit of the Riverside County Sheriff's Department is in charge of the investigation. 
Police are asking for residents in the area to stay indoors as they conduct the investigation. 
Numerous officers in tactical gear maintained defensive positions behind a four-foot concrete wall at 3:15pm, as if the shooter were still on scene.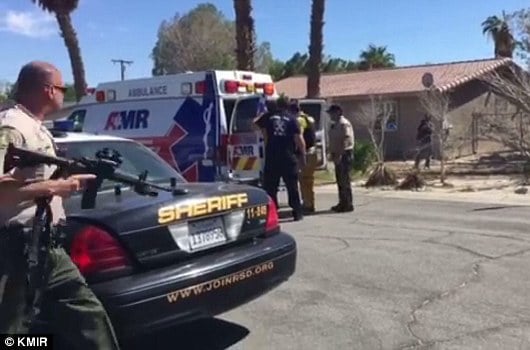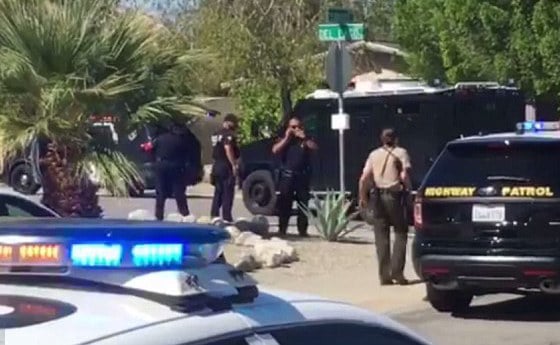 A report via the desertsun tells of witnesses saying hearing between 10 and 20 gunshots from what sounded like machine guns.
Frances Serrano lives directly across the street from where the deadly incident happened and she spoke to the father of the suspected gunman not long after the shooting. 
Serrano was reportedly told that the son, who allegedly has mental issues, wanted to shoot police officers and had a gun.
Told the woman: 'He came over and asked for help.'
Serrano called 911 and the man walked back towards his house and then soon after she said she heard gunshots.  
Told another witness, Gerardo Barrera: 'I saw a person on the ground,' who was working near the scene. 'Someone kept pumping her chest but she wasn't moving.' 
Barrera said that police arrived right away to the scene.   
'It sounded like fireworks at first,' said Juan Garciano. 'I came out of the house and saw police start to block the roads.'
Added Georgie Eden, who was outside in her garden with her son her husband doing yard work, when, 'All of a sudden I hear this pow, pow, pow pow.'
'At first, I'm thinking perhaps it party poppers in the neighbor's garden or something, and my husband's like, 'Uh, that's gunfire – get in the house.''
Police have since told the scene is an active one while urging all local residents to remain indoors and remain vigilant as they seek the assailant.
Always remember: Police Officer Jose Gilbert Vega, Palm Springs Police Department – https://t.co/CuzldRJV5i RIP pic.twitter.com/JLU9QrKqjS

— Little Rock Police (@LRpolice) October 9, 2016