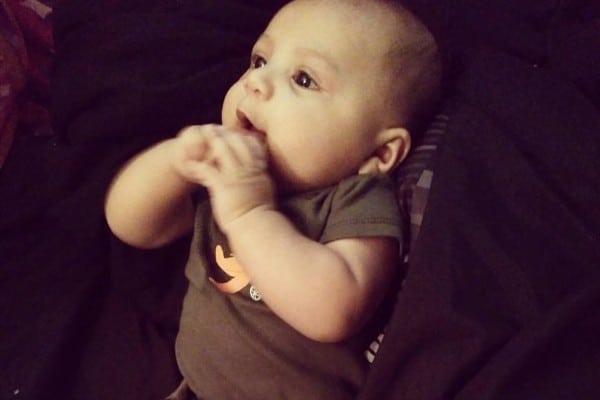 How did Israel Avila a 5 month old Arizona baby come to die after being left in the care of the child's aunt and her boyfriend? More than just negligence? 
A five month old Arizona baby, Israel Avila has died after being left behind in a hot car by the child's aunt and her boyfriend.
Arrested was Monique Avila, 23 and her 18 year old boyfriend, Jose Garcia. Jr after the pair left Israel Sebastian Avila in the back seat of a parked car at the Cedar Meadows apartment complex parking lot on Sunday.
At the time, the couple had agreed to take care of the child on behalf of the mother as she went to work, only to 'forget' the child after picking Isreal up and returning home to cook breakfast and listen to music.
It was only after the couple were set to pick up the mother later that day circa 2.45pm from work did they 'remember' having left the child in the backseat. By then 3-4 hours had passed notes a report via 12news.
At the time, the car had been parked in an unshaded area.
Noticing baby Israel Avila was unresponsive, Monique Avila raced back upstairs in a bid to revive the child, throwing cold water on it and putting it by an air vent.
But it was already too late, attending medics told of the baby having stopped breathing. Despite performing CPR and taking the child to a nearby hospital, Israel Avila was declared dead.
Temperatures in Peoria that day had ranged from 77 to 84 degrees. Police estimate temperatures inside the car were most likely in the low 100's.
A report via abc15 tells of police saying Avila called 911 at 2:47 p.m., 17 minutes after the baby was found in the back seat.
Told Lottie Baker, a neighbor: 'Everybody was in a panic. I go (into the apartment) and she was like "Can you help me? Can you help me?'
'I tried to administer CPR to the baby — the baby was blue, he was dead. I tried anyway.'
'This serves as a tragic reminder to take that extra second to double check your vehicle to ensure that you are not leaving any children or pets behind,' the Peoria Police Department said in a statement. 'Even though it is cooling off in Arizona, the temperatures inside a vehicle can raise very quickly to unsafe levels.'
One of Israel's relatives set up a GoFundMe page to cover funeral costs for the boy.
'He lost his life in a very tragic incident,' the donation page says. 'Israel was a very happy baby full of smiles and laughter.'
Both caretakers face one count of child abuse and remain in custody in lieu of $100 000 bond each. Police say additional charges could still be added against the two suspects.
Monique Avila and Jose Garcia. Jr are scheduled to return back to court Oct. 10.