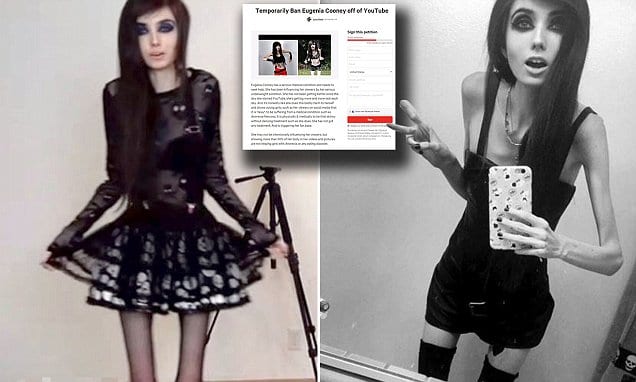 Eugenia Cooney video blogger eating disorder: At what price fame? What's led one rising vlogger resorting to anorexia to shore up her fame and subscribers?
Eugenia Cooney a 22 year old NY based video blogger with an online following of almost 900 000 has disconcerted the internet with pundits demanding that her popular youtube page be ousted on fears that she is promoting anorexia.
In the days past, momentum to have the video blogger's youtube account suspended has led to more than 17 000 people signing a petition on change.org, with demands that the woman seek medical help.
Along with pleas to get help, Eugenia Cooney has also been subjected to a torrent of abuse, accused of abetting the notion that the body beautiful is best when one is undernourished.
Reads the petition against the popular video blogger (why she is popular beyond the drama she represents is yet to be understood by this author … alas):
'Eugenia Cooney has a serious medical condition and needs to seek help.  She has been influencing her viewers by her serious underweight condition,'
'She may not be intentionally influencing her viewers but showing 50 per cent of her body in videos and pictures are not helping girls with anorexia or any eating disorder,' said administrator Lynn Cloud. 
Jordan Younger, Vegan blogger admits eating disorder, orthorexia.
Among those to have signed the petition is one person who claimed their cousin starved herself to look more like the vlogger. 
'My little cousin lost 17lbs because she wanted to look like Eugenia. She is now receiving care. She is only 12-years-old,' notes a report via the dailymail.
Which is to wonder to what degree is Eugenia Cooney responsible for the actions of others, if at all?
Assuming that the woman has little control over her own body, how can the general observer believe an online persona (that one is free to ignore) has such power over the lives of young girls and women? Which is to wonder how did Cooney come to attain such presumptuous control and influence over young women?
Since joining youtube in 2013, Cooney has amassed a following of 893,481 and receives financial contributions from fans. 
She is also popular on social media with 432,000 Instagram followers and 115,000 fans on Twitter.
Her videos range in content but most include hair, make-up and wardrobe advice.
Among the stream of comments beneath recent posts are many condemning Cooney's weight. 
Fans have told the woman how she will 'die soon' unless she 'starts eating', with some accusing Cooney of promoting eating disorders. 
'Look at those legs. I've seen cripples in wheelchairs with thicker legs than those,' said one user beneath a recent video. 
'You look so ill I can see your bones through your skin,' said another.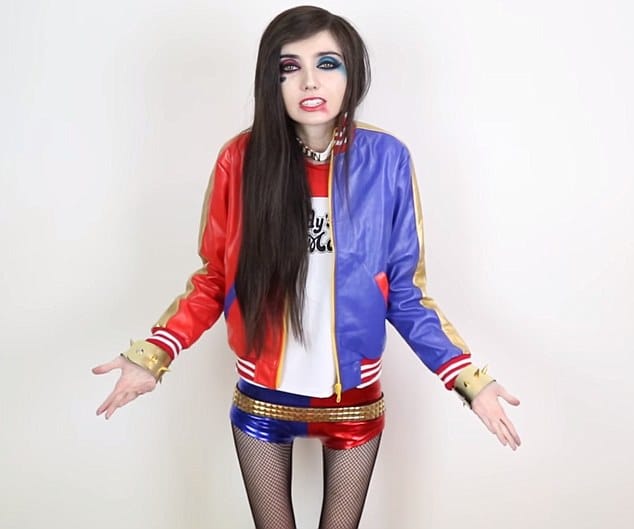 Yet perhaps most shocking are comments from some viewers who have accused the vlogger of being 'fat' in mocking posts.  'Lose some weight fat ass,' said one. 
Cooney's images also appear on 'thinspo' accounts and websites. One collage was shared with the hashtags 'bonespo'. 
A Twitter user responded to it: 'I need to be her size.' 
In a Facebook comment on her public page, one person said: 'How many times do I need to throw up a day to look like you?'  
The calls to have Cooney ousted comes after the vlogger told followers recently she'd declined an offer to appear on Dr Phil to discuss her 'anorexia.' 
Told Cooney in a video to followers last week: 'I'm just kind of naturally like that, I guess. There isn't really a reason.'
Is she naturally fit like that or is she in the midst of self denial about an extreme eating disorder obvious to a starving a sparrow?
Acknowledging the rise in negative comments against her, the vlogger quite rightly told anyone who didn't like her content to tune out, apologizing to anyone she had offended (why even offer an apology?)/
Told the woman: 'I just have noticed there is a lot of hate. I just wanted to say since obviously some people are really, really angry.
'I'm really sorry, I seriously never mean to do that. It kind of sucks that so many people on the internet feel like I'm a really bad person.' 
Told the vlogger in another video: 'Some people are saying I'm a 'bad influence on girls' and I just want you guys to know that I've never tried to be a bad influence on YouTube. I would never want to do that,'
'I would never tell anybody to try to lose weight, or to try to change the way they look, or to look like me or anything like that. I would never tell anybody to do that because I just think that everybody should be themselves and do what makes them happy and be happy with themselves.'
Paradoxically as much as the vlogger denies seeking to influence young impressionable women (who feed off who they believe to be symbolic media icons), Eugenia Cooney's following thrives on images of her emaciated body.
Notes yahoo: Photos and videos evidence Cooney's declining weight — but as her weight drops, her following grows, and she has gained more than 200,000 subscribers in the last three months. The thumbnails on Eugenia's most popular videos feature images of her thin body, and fans seem to come to her page for the shock value. Eugenia likely knows this, giving her videos stirring titles like, "I'm not dead" with a thumbnail view of her body, and "How to ratchetly twerk," with her extremely thin frame on full view. For Eugenia, gaining weight would likely mean the decline of her YouTube following.
So much for pretending that one doesn't care what viewers think? Which is to wonder is Eugenia Cooley literally willing to die for her fame and are viewers abetting her morbid act of self denial?
YouTube would not comment on Cooney's channel. It instead highlighted its list of policies and advised that viewers could flag any content they deemed worrying. 
Any videos which contain 'an express intention to glorify or promote eating disorders' are removed. 
The petition seeks to gain 25,000 signatures.  
What do you think? Should Eugenia Cooney be ousted or should you turn her off as she has suggested and for her to find the courage to get the treatment she so desperately needs.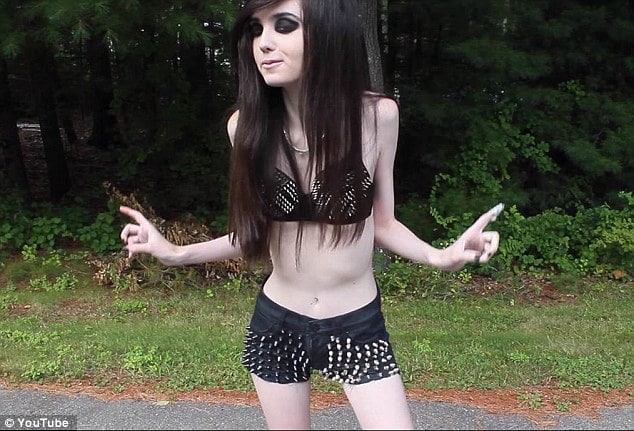 Eugenia Cooney is on the verge of death & wont let listen to anyone. Just let nature take its course since she wont listen.

— ❖ Nevar ✖ (@dearxmyxghost) October 16, 2016
@Eugenia_Cooney You have a lot of inner beauty. I love you. But I am scared to death of this world losing you. Please. . Please get better❤

— Ashley Elizabeth (@asheofhearts) October 27, 2016