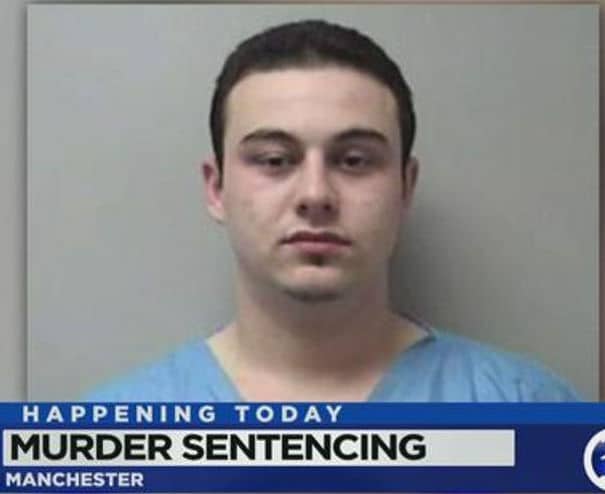 Steven Durdek sentencing: A Connecticut man protests his innocence as he is sentenced to 115 years jail after being declared unfit to remain in society.
Steven Durdek a 23 year old Manchester, Connecticut man who murdered his next door neighbor and then bragged about it on Facebook was today sentenced to 115 years jail.
Steven Durdek Jr's conviction comes after being accused of murder, sexual assault and arson amongst other crimes after climbing into the apartment of Sarah Kelloway and killing her in January 2014. The man's sentencing on Tuesday comes after being found guilty in May.
During trial proceedings, a report via WFSB-TV told of Durdek repeatedly denying having anything to do with Kelloway's death.
According to prosecutors, Steven Durdek beat the mother of four to death then wrapped her in a blanket before setting her body on fire.
Of note, Durdek then posted images of his victim on Facebook.
Hartford Superior Court Judge Hunch Kwak told Kelloway's daughter in law and son that they shouldn't hold themselves accountable for the death. During proceedings, Kelloway's daughter in law testified wondering if they have could have prevented the Jan. 18, 2014, killing by staying with her at the Park St. apartment that night.
Responded the judge: 'You could not have known,'
Adding, 'Durdek committed these horrendous acts and he will answer for them.'
Upon sentencing Steven Durdek the judge told of the guilty man having 'forfeited his right to live in society.'
During his defense, Durdek argued he had never known Kelloway. Nevertheless prosecutor David Zagaja said Durdek targeted his victim and that the murder had been a 'predatory act with a great deal of planning'.
Added Zagaja: 'The victim, a 56-year-old woman, was asleep in the security and comfort of her own home when she was attacked by this defendant,'
'She was beaten to death. She was sexually assaulted. Her home was invaded. Then as a final act, she was set on fire.'
Zagaja emphasized DNA recovered from Kelloway's body and from a doorknob placed Durdek and no one else in the crime scene, despite the protestations of the defense.
A report via the Courant told of Zagaja acknowledging Durdek suffering during his childhood as the son of two criminals and a ward of the state child welfare system. For his part, Durdek looked at the judge and the victim's relatives and repeated his claims of innocence.
'These things aren't true,' Durdek said. 'I'm sorry that your anger is misplaced. That's all I can really say.'
Offered Debbie Noble, the victim's sister: 'His actions show how very sick he is,'
'There's no rehabilitation for him. There's no medical wonder that will fix him. He's an absolute danger to society.'
While another sister, Linda White, said Kelloway's death still haunts her, saying, 'I never think of her without tears,'
'Her death was just too horrific.'