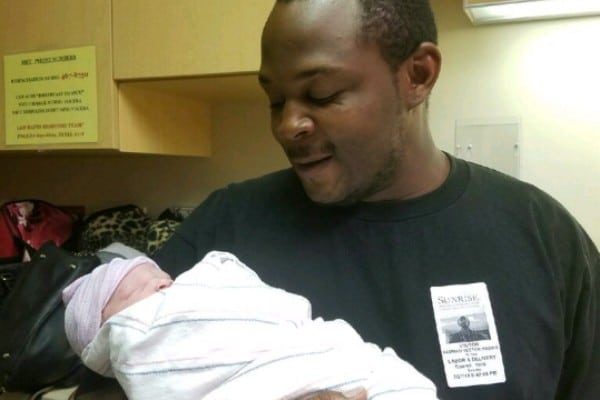 What led to Mohammad Robinson a Las Vegas dying a senseless death over claims he refused to hold a door open at a local McDonald's.
Mohammad Robinson a 31 year old Las Vegas man has been shot and killed after being accused of refusing to hold a door open for a women at a McDonald's outlet.
The incident happened late Saturday evening when Mohammad Nestor Robinson visited the Pecos Road franchise when he was accused by the woman's boyfriend for failing to oblige his girlfriend.
Police now tell the boyfriend is on the run after gunning down the father.
Told the victim's mother via KVVU: 'He was coming into McDonald's and some female was going out,'
'The door closed before she could get out and what happened is she said a few choice words to him.'
The unidentified woman's boyfriend confronted Robinson in the parking lot, according to police, and the two argued before the man pulled out a gun and shot him multiple times.
Mohammad Robinson was rushed to University Medical Center where he died Sunday morning.
Robinson's girlfriend and the mother of their 3-month-old child told KSNV her boyfriend was not the type to look for a fight, saying, 'He was the utmost respect for his elders. Yes, ma'am — no sir. He's not confrontational even when we would argue he'd walk away.'
Told Mohammad Robinson's 14 year old daughter, Miniya Sampson: 'It's horrible. I want my dad back and you took him away from me!'
Adding: 'It was a stupid reason honestly, irrelevant. It doesn't make any sense why would you actually take someone's life over not opening a door.'
Sampson believes her father died because of a misunderstanding.
'My dad would open the door and hold it for the lady but he probably didn't hear her,' said Sampson.
The family is asking for GoFundMe donations to help pay for Robinson's burial costs.
Witnesses say Robinson was shot because he did not hold door open for woman.@News3LV pic.twitter.com/UDGooBBmPc

— Antonio Castelan (@AntonioNews3LV) August 29, 2016
31-year old Mohammed Robinson was gunned down outside NLas Vegas McDonald's. @News3LV pic.twitter.com/qdqfaSvSHC

— Antonio Castelan (@AntonioNews3LV) August 29, 2016