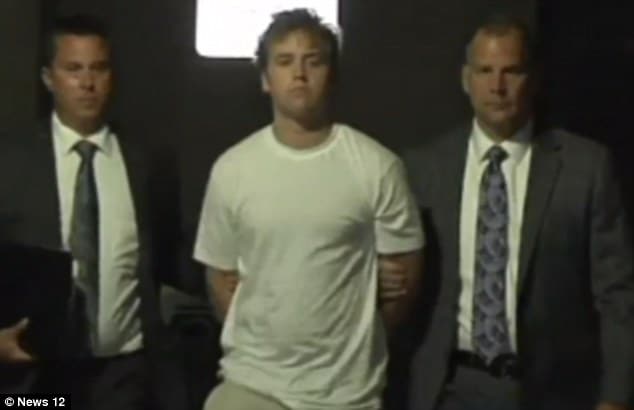 What led to Denis Cullen Jr the son of a prominent Cold Spring Harbor family purposefully drowning his mother? Faces court appearance Thursday.
Denis Cullen Jr a 23 year old unemployed Cold Spring Harbor man has been arrested after allegedly drowning his mother at their upscale Long Island, NY home.
The man's arrest, Wednesday afternoon comes after Suffolk County detectives responded to a call where they found the body of 63 year old woman, Elizabeth Cullen in the backyard of the family home.
Told Suffolk County Police Commissioner Timothy Sini during a press conference Wednesday night: 'The evidence suggested that she was intentionally drowned.'
A report via the nypost tells of Elizabeth Cullen's lifeless body being found circa 4pm at the White Hill Rd home after cops received a request to check on the mother's welfare.
Lloyd Harbor Police contacted the Suffolk County Police Homicide Squad detectives to conduct an investigation and the homicide squad determined that the mother of five had been drowned.
At some point during the investigation, Denis Cullen Jr. returned home to the scene of the crime, and cops cuffed him, Sini said.
During interrogation, the son admitted killing his mother, telling cops he put his mother in a headlock, dragged her towards the pool and then held her under the water until she died.
A report via the nydailynews told of Denis Cullen Jr being charged with second-degree murder, with the son believed not to have a criminal record.
Police would not confirm reports that he called his sister to confess to the murder or that he had a history of mental illness.
Cullen is expected to appear in an initial court arraignment Thursday morning.
Not necessarily understood is what led to Denis Cullen Jr drowning his mother and what friction that may have existed between the pair which led to the son seeking retribution?
In the interim, others have suggested that the murder may have been the result of the son having a history of mental illness or drug abuse.
A cursory regard of social media revealed the assailant's father being a Managing Director at RBC Capital Markets. The mother is believed to have come from a stock of high ranking army chiefs.
Of note, a report via the dailymail describes Cold Spring Harbor, where the drowning took place as a celebrity hotspot, purportedly known for its multi-million dollar estates that covet the Long Island shore.
Among the celebrities who have lived in the area are singer Billy Joel, political commentator Sean Hannity and the late singer Robin Gibb.
Since his appearance earlier on Thursday a judge remanded Denis Cullen Jr to jail in lieu of $8 million bond.
A silent Denis Cullen led to transport van for arraignment. Police say he intentionally drowned his mom @News12LI pic.twitter.com/RG3bW8mRuQ

— Tim Kelchner (@TimKelchner) August 18, 2016
Lloyd Harbor, NY- Suffolk Homicide detectives have arrested Denis Cullen for the drowning murder of his mother. pic.twitter.com/kBVrhVyxIU

— Stringer News (@Stringernews) August 18, 2016