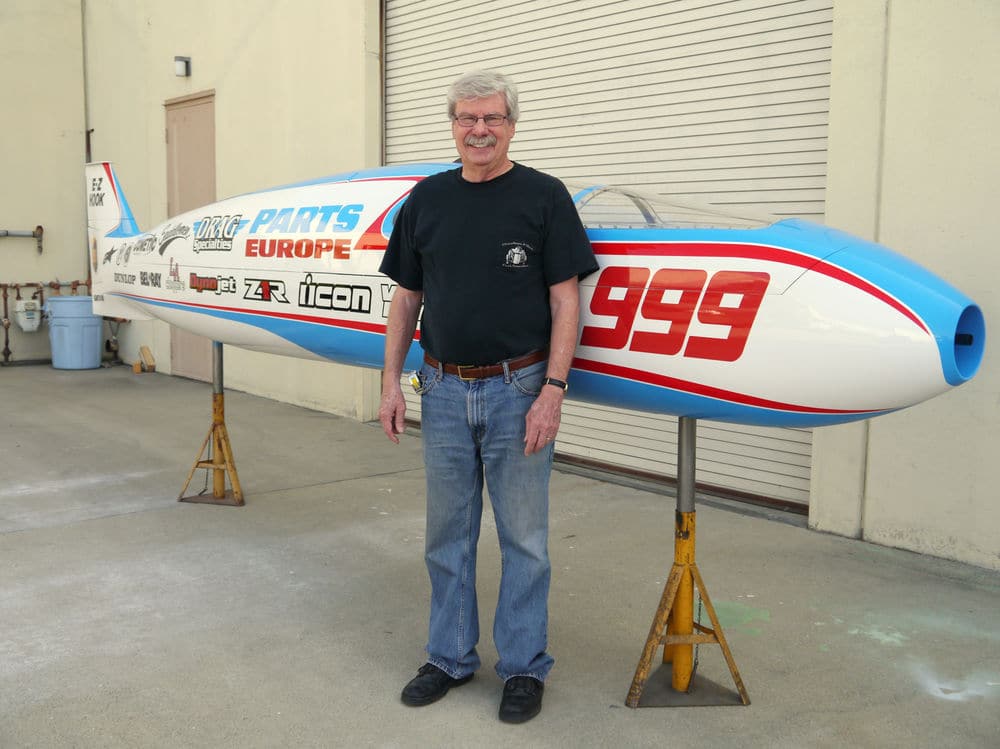 Sam Wheeler dead. Could a renowned land speed racer's death have been averted? How the quest for breaking a speed record led to a legend's ultimate undoing.
Sam Wheeler a noted motorcycle land speed racer has died while testing a high performance bike at Utah's Bonneville Salt Flat.
The 72 year old land speed racer's death came after the vehicle he was traveling in fish tailed, went airborne and crashed while traveling at a speed of 200 mph (322 kph).
Wheeler who at one point held the world record fastest speed for a land speed bike had over the course of the last 50 years pursued besting the motorcycle land-speed record. At the time of his death, Sam Wheeler had hoped to travel at up to speeds of 400 miles an hour in lieu of upcoming meets next month.
A report via motoamerica tells of the renowned land speed motorcycle racer dying Monday afternoon at Intermountain Medical Center at Salt Lake City after being rushed to hospital with 'traumatic' injuries.
After the vehicle he was traveling fishtailed, Wheeler's motorcycle slid before going airborne and crashing down on the caged section where Sam Wheeler was seated according to event organizer Mike Cook.
At the time of the crash, Cook told of Wheeler being alive, only to mortally succumb after being taken to hospital.
Told Cook: 'We all have real heavy hearts'
'Land speed racing is one of the most family orientated sports there is in the world.'
According to a report via abcnews, Sam Wheeler, an engineer from Arcadia, California, was known as an innovator and pioneer in the sport.
Longtime friend and fellow racer, Pat McDowell told of the sporting enthusiast having spent more than two decades building, fine-tuning and racing a motorcycle on which he reached speeds exceeding 300 mph.
Told McDowell, vice president of the Southern California Timing Association: 'He's was pretty much one of the legends of our sport,'
'He did it with his brain, not his wallet.'
Adding: 'Everyone was rooting for him, even competitors,' 
Ironically, Sam Wheeler's death comes while testing in anticipation of two big races in August and September at the Salt Flats. The site brings races from around the country to use the flat, glass-like surface to set speed records.
Leading into the events, Wheeler had been optimizing the motorcycle with a goal of setting the motorcycle speed record and surpassing 400mph.
Told Sam Wheeler in an interview with The Orange County Register in August, 2014: 'It's a goal I've had all my life, to have the fastest motorcycle, which I have had a couple of times now, but for some reason that didn't end it.'
The fastest speed Wheeler had ever topped came in at 355 mph at Bonneville a decade ago. The current world record stands at 376 mph.
According to Bill Lattin, the president of the Southern California Timing Association, Wheeler was known for his ability to build and modify his motorcycle by himself. He was perfectionist who knew aerodynamics well.
Told Lattin: 'He built that motorcycle by hand. Every single part on it,'
'He's been rebuilding it, making it stronger, faster and more aerodynamic.'
Added Lattin: 'He was the nicest guy in the world,'
'He would do anything for anybody.
To date organizers have told of no impropriety or negligence that may have played a part in Sam Wheeler's death as some wonder if the pressure of breaking a new record led to Sam Wheeler making an unforced error?
Sam Wheeler is survived by a wife and two children. Media attempts to reach Wheeler's family for comment haven't been returned.