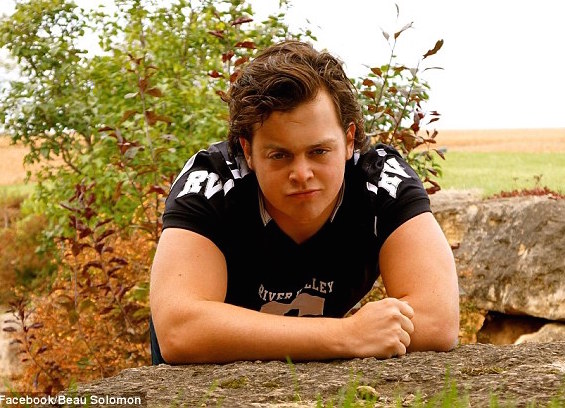 What led to Beau Solomon a University of Wisconsin student on a study abroad trip being targeted? Missing sophomore student found dead near last seen.
Italian authorities have yet to necessarily understand how Beau Solomon an American university student who had only arrived in Rome, Italy four days ago on a study abroad trip came to be found dead.
Concerns for the rising 19 year old University of Wisconsin Madison sophomore student came after he was reported missing mere hours after having arrived in the Italian capital.
Did Massimo Galioto murder Beau Solomon?
It wasn't until the following morning after having failed to show up for orientation after heading out to the G-Bar near Piazza Trilussa with fellow students, the evening of Beau's day of arrival, that calls for the student's welfare were made.
The University of Wisconsin student's friends told police that Beau Solomon did not appear drunk when they last saw him.
It wasn't until Monday that a school press release told of Beau Solomon having been found deceased along the Tibet River near Guglielmo Marconi bridge with a fatal wound to the head and a bloodied shirt.
At the time of his discovery, some 2.5 miles from where Solomon had been last seen, the student's cellphone and wallet had been stolen with $1500 charged on his credit card in Milan, 355 miles north of Rome.
Local reports of fraudulent use of Solomon's card began to trickle in early Friday morning after a series of dubious charges began to appear on his card.
Of note, Italian news agency ANSA reported Monday that two people had come forward, telling police they'd witnessed a person being thrown into the Tiber River.
Italian media are now investigating Solomon's death as a homicide and are awaiting the results of an autopsy test to show how exactly Beau Solomon was murdered.
A report via NBC tells of the student, a cancer survivor, having enrolled in the John Cabot University in Rome where he had been set to begin tenure on Friday.
The transfer came after Solomon, a well regarded football player had finished his first year of college as a personal finance major. After having taken two semesters of Italian, the youth was keen to study abroad, on track to graduate college in three years.
Prior to having arrived in Italy, Beau Solomon had spent the first part of the summer working as a camp counselor back home in Wisconsin.
Ironically, a report via the nydailynews told of Beau Solomon's parents warning their son to be weary of potential pickpockets.
Upon arriving on Thursday the son wrote to his parents: 'Everything's so pretty, it's so beautiful.'
According to Beau Solomon's brother, Jake, his younger sibling was a well loved social butterfly, while noting 'he's the glue that kept our family together,'
Adding: 'He was full of life. We may never get over this. But we hope that he's in a better place.'  
His older brother Cole said he was 'the most responsible kid ever' and credited his younger brother's ability to beat cancer survivor due to his 'incredible grit.'
Told Cole via WKOW: 'He had over 15 to 20 procedures growing up throughout his life and was able to overcome all of that and still became a phenomenal high school athlete.'
According to his brothers, Solomon played basketball, golf and football in high school and aspired to become a politician. The youth had been scheduled to only have been in Italy for six weeks. After that, Beau had planned to return to Wisconsin to study finance, and pursue his dream of becoming a politician.
To date authorities have yet to identify the perpetrators involved in Beau Solomon's death and how or why the University of Wisconsin student came to be targeted?
UW-Madison officials have since told based on the investigation so far, there is no indication of a broader risk to students in Rome.
@MakeAWish Beau Solomon is missing in Italy. You know him as the boy who wanted to meet Brett Favre.#bringbeauhome pic.twitter.com/D0G3HPCnnl

— Madisun Holverson (@missmadisun) July 4, 2016
Candlelight vigil in Spring Green tonight in honor of Beau Solomon, the UW-Madison student found dead in Italy. pic.twitter.com/DQFVCaj1GS

— Madeline Anderson (@mandersonfox6) July 5, 2016
Beau Solomon was a bright and caring young man who lived the Wisconsin Idea. All of us at UW-Madison are greatly saddened by this loss.

— Becky Blank (@BeckyBlank) July 4, 2016
Images via facebook.